A vibrant dip with a beautiful flavour and texture, this beetroot dip recipe looks incredible. It is the perfect accompaniment for simple finger food – from bread and crackers to vegetables and other snacks.
Best of all, it's so effortless to make! So, could you make it for your next party and impress your guests?
Why you'll love this recipe
So simple to make
There are only six ingredients in this healthy dip
The homemade kind is so much better than shop bought beetroot dip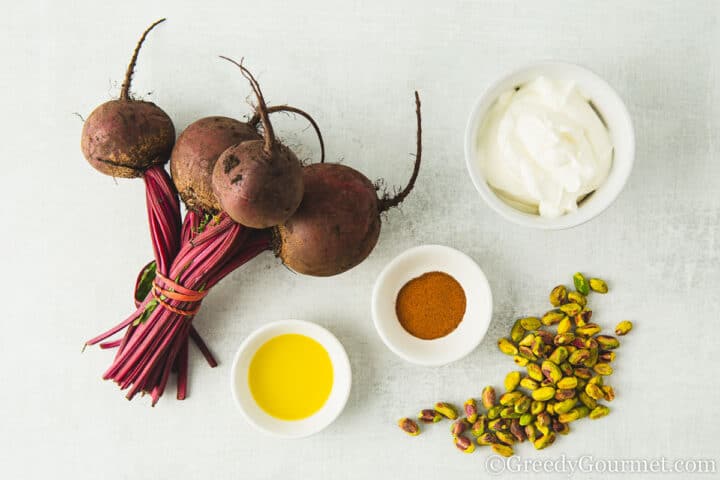 Equipment you'll need
There are a few key items you'll need for beetroot dip recipe:
How to make beetroot dip
Top Tip
Toss the beetroots around halfway through the roasting time.
What to serve with Egyptian beetroot dip
Dishes
Lamb meatballs and lamb shish kebab would be excellent pairing options with this dip.
Pita bread or crusty bread
This beetroot dip tastes fabulous when served with fresh pita bread or crusty bread. Take things to another level and pair it with my homemade chia seed bread.
You could pair this Egyptian beetroot dip with a flatbread for a delicious appetizer. Try the Pakistani flatbread favorite Aloo ki kachori for a delightful fusion of cuisines.
Crudités
Chopped raw vegetables, such as carrots, celery, cucumber, bell pepper strips, broccoli, and the like, are a fantastic way to enjoy this delicious beetroot dip.
Chilli
This burnt aubergine chilli is a vegan classic that works particularly well with this Egyptian beetroot dip.
Variations to this recipe
Roasting is optional, but the cooking process deepens the dip's flavour. You can skip this step by simply buying ready-cooked beetroot and placing all the ingredients in a blender, and be finished in 5 minutes. I like my dip with a bit of a bite, but nothing stops you from making it perfectly smooth.
Cinnamon is the secret ingredient to this recipe, which is quite forgiving in adjustments. Add more yogurt if you'd like it sloppier. Use cumin or cardamom instead of cinnamon. Have fun experimenting!
Add a squeeze of lemon juice to add acidity to this beetroot yogurt dip.
Add a couple of garlic cloves for extra flavour
Popular substitutions
You can use pine nuts in place of pistachios
If you prefer a thick texture, use strained Greek yogurt. It's thicker than the standard Greek-style yogurt and helps to prevent a runny dip.
Top Tip
As with most root vegetables, it's a good idea to buy organic because, for some reason, they are sweeter. Also, if sweetness is your thing, opt for more but smaller bulbs rather than fewer but bigger ones.
I prefer to wash and scrub the vegetables thoroughly rather than peel them, not wanting to miss out on the extra vitamins, roughage, and flavour.
Go for a high-quality extra virgin olive oil, for a more refined taste.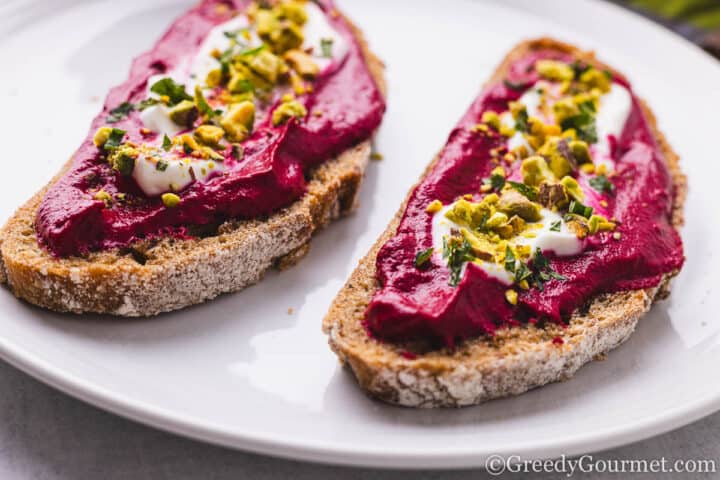 Should I roast the beetroot beforehand?
Yes! Roasting beets brings out their natural sweetness, which tones down the earthiness that can be off-putting for some.
Why do beetroots taste 'earthy'?
For some people, beets taste too earthy. That's due to a compound called geosmin. Geosmin is found in other earthy foods such as spinach and mushrooms. Also… you know that distinctive earthy smell that comes after a rainstorm? That's geosmin!
Some people love the earthy flavour that comes from this particular compound. However, other people are susceptible to geosmin.
That's why roasting them beforehand helps to balance out the flavour.
How do you scrub beetroot?
As I said, I prefer to scrub beetroot, as you get more flavour and nutrition. However, many people have never tried – if you've never cooked a beet before, you might not know how to prepare them for cooking.
Yes, it's time-consuming, but don't worry, it's straightforward! First, twist off or cut the stems and leaves and place them on one side. Don't throw them away – they make for a delicious salad ingredient.
Using a vegetable scrubbing brush, scrub the beets in cold water until all the dirt and debris have been removed. Don't stress too much about the dirt around the stem area; you'll need to chop off the stems once your beets have been cleaned.
Can I make this beetroot dip ahead of time?
Absolutely. This beetroot dip lasts 3–5 days in the refrigerator when stored in an airtight container. 
You can also heat it through if you'd instead serve it warm. Place it into a saucepan and heat gently until thoroughly warmed.
More delicious dips
Need some inspiration for your next show-stopping dip? Any of these recipes will get the party started: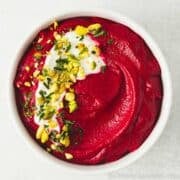 Beetroot Dip
---

Author: Michelle Minnaar

Total Time:

1 hour 15 minutes


Yield:

10

servings

1

x

Diet:

Vegetarian
Description
Elevate your appetizers with our vibrant Beetroot Dip. A colorful and flavorful addition to any spread, it's as delicious as beautiful!
---
1

kg

(2lbs) raw, whole beetroot

45

ml

(3 tbsp) olive oil

250

ml

(1 cup) raw pistachio nuts, shelled

5

ml

(1 tsp) ground cinnamon

500

g

(1lb) Greek yogurt
salt, to taste
---
Instructions
Wash and scrub the beetroot thoroughly and cut into slices.
Place the beetroot in a single layer in an ovenproof dish.
Drizzle with oil, sprinkle with salt, and bake at 180°C/fan 160°C/355°F/gas mark 4 for around an hour or until fork tender. Halfway through, tossing them around a bit is a good idea.
Let the beetroot cool down.
Place the beetroot, pistachios, cinnamon, and yogurt in a blender and process until desired consistency. Do it in batches if needed.
Season to taste and serve with lamb meatballs and your favourite type of bread.
Prep Time:

15 minutes

Cook Time:

1 hour

Category:

Dip

Method:

Roast

Cuisine:

Lebanese
Keywords: beetroot dip, beet dip, turkish beetroot dip, lebanese beetroot dip, egyptian beetroot dip, middle eastern beetroot dip, healthy beetroot dip, beetroot spread, beetroot yogurt dip, beetroot and mint dip, beet yogurt dip, greek beetroot dip, roasted beetroot dip, roasted beetroot recipe