An old fashioned classic British dessert with a modern twist, my gooseberry cobbler recipe is sure to please the whole family. Once you've got the baking process on the money, you'll be coming back to this recipe again and again!
It's a very easy recipe to get right, as long as you follow the step by step instructions and look for the important tips in the post below.
Why you'll love this recipe
A light and tasty traditional fruity pudding
Less sugary than many baked desserts
When gooseberries are in season, this dessert takes some beating!
It's really easy to pull off!
Equipment you'll need to make this gooseberry cobbler recipe
There are a few important kitchen items and extras you'll need when it comes to making this fantastic gooseberry cobbler recipe:
Kitchen scales – a good set of kitchen scales are worth their weight in gold. Baking is all about precision, so make sure your scales are up to the job
Large bowl – you'll need this for mixing your cobbler topping ingredients
Large baking dish – an ovenproof dish is essential when it comes to making gooseberry cobbler
How to make gooseberry cobbler
Top Tip
Forage for your own gooseberries in summer. This recipe will be even more satisfying!
What to serve with gooseberry cobbler
Tea or coffee
The perfect pairing with gooseberry cobbler! The slightly spiced cobbler will taste amazing with a cup of tea or coffee.
If you fancy something a little more refreshing, try my iced rooibos tea with raspberries and mint – an ideal pairing to your gooseberry cobbler.
Ice cream
If you're feeling particularly indulgent, add a scoop or two of your go-to ice cream. A few suggestions for you:
Custard
Homemade, tinned or packet custard would be terrific drizzled on top of the cobbler. You could try my deliciously fruity pink custard.
Variations to this recipe
Add a touch of cinnamon or nutmeg to the filling for extra warmth and depth of flavour.
Sprinkle sliced almonds or chopped walnuts on top of the cobbler topping for added crunch.
Substitute part of the all-purpose flour with whole wheat flour for a nuttier taste and texture.
Experiment with other fruits like raspberries or blackberries in combination with gooseberries.
You can use caster sugar or demerara sugar for this recipe
Popular substitutions
Instead of gooseberries, you can use green grapes or currants for a similar tartness.
If fresh ginger root is not available, you can substitute it with 5 grams (1 teaspoon) of ground ginger.
In place of butter, you can bake this recipe with coconut oil or margarine.
To cook this recipe with an eggless version, omit the egg and increase the milk slightly or use a plant-based milk alternative.
You can also use buttermilk in place of milk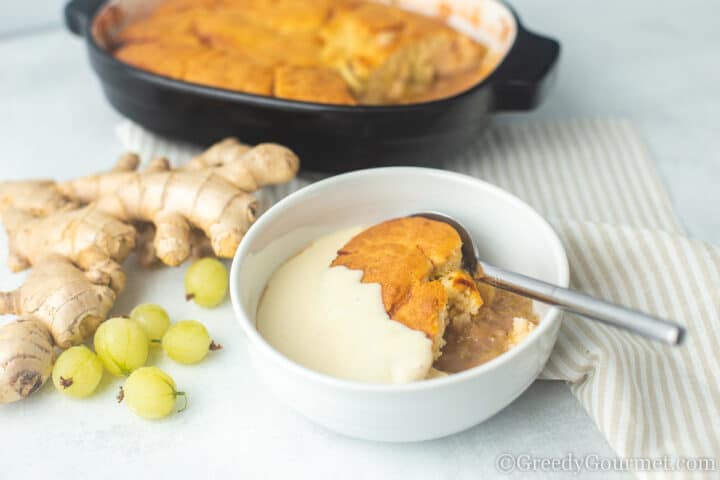 What is a cobbler?
A cobbler is a baked dessert that contains a variety of stewed fruit, along with a baked batter on top. It's a quick and easy one tray recipe that has been made for centuries.
What are gooseberries?
Little green grape-sized berries, gooseberries have a slightly fuzzy outer skin and a tart taste. They ripen as they are cooked, which makes them ideal for baking pies, crumbles and cobblers.
Gooseberries are considered quite an old fashioned ingredient, but in the UK they're enjoying a big resurgence. A big part of this is due to the growing popularity of foraging and baking traditional recipes.
When is gooseberry season?
In the UK, gooseberry season is between May and September. The very best gooseberries are available in the middle of Summer, between late June and early August.
Where can you pick gooseberries?
Gooseberries thrive in hedgerows and woodland areas, as well as along streams and riverbanks. 
Follow a foraging guide for the best chance of collecting lots of gooseberries.
How do you store gooseberries?
In the fridge in an airtight container. Don't wash them beforehand though – the moisture speeds up the spoiling process. So, wash them just before you use them.
How do you prepare gooseberries?
Wash and drain them thoroughly, before topping and tailing them with scissors.
How do you store gooseberry cobbler?
The best way to store gooseberry cobbler leftovers is in the fridge. Allow it to cool completely and then place it in an airtight container. Leftovers will keep for about 2-3 days when stored in an airtight container.
Can I reheat leftovers?
Yes. To reheat gooseberry cobbler, use the same oven-proof dish that you baked it in, cover it with foil, and bake it at about 160C for 10 to 15 minutes, until heated through.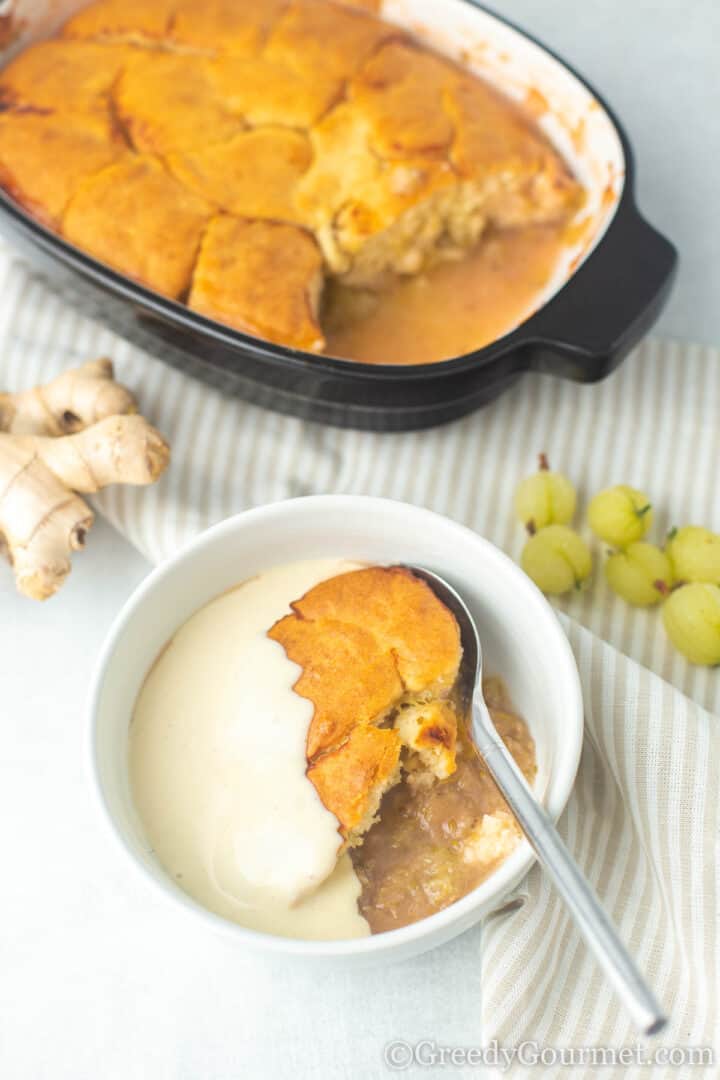 More gooseberry recipes
When gooseberries are in season, it's time to start making some wonderful gooseberry recipes. Here are some of my favourites: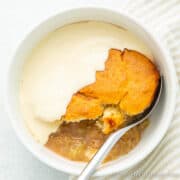 Gooseberry Cobbler
---

Author: Michelle Minnaar

Total Time:

55 minutes


Yield:

6

portions

1

x

Diet:

Vegetarian
Description
Treat your taste buds to the sweet-tart goodness of Gooseberry Cobbler. It's a warm, comforting dessert that's simply irresistible!
---
Gooseberry Filling
500

grams

(1.1 lb) gooseberries

15

grams

(0.5 oz) fresh ginger root, grated

100

grams

(1/2 cup) sugar
Cobbler Topping
150

grams

(1 1/4 cups) all-purpose flour

10

grams

(2 teaspoons) baking powder

50

grams

(1/4 cup) sugar

75

grams

(5 tablespoons) butter, cold and cubed

1

large egg

80

ml

(1/3 cup) milk
---
Instructions
Preheat your oven to 180°C (350°F).
In a mixing bowl, combine the gooseberries, grated ginger root, and sugar. Mix gently until the gooseberries are well coated. Allow the mixture to simmer gently for 10 minutes to let the flavors meld.
In a separate bowl, whisk together the flour, baking powder, and sugar. Add the cold butter cubes and use your fingertips to rub the butter into the flour mixture until it resembles coarse crumbs.
In a small bowl, beat the egg and milk together. Pour this mixture into the flour mixture and stir until just combined. The dough will be slightly sticky.
Pour the gooseberry filling into a baking dish and spread it out evenly. Drop spoonfuls of the cobbler topping over the filling, covering it as evenly as possible.
Bake in the preheated oven for about 35-40 minutes or until the topping is golden brown and the filling is bubbling.
Remove from the oven and let it cool for a few minutes before serving. Serve warm as is or with a scoop of vanilla ice cream. Enjoy!
Prep Time:

15 minutes

Cook Time:

40 minutes

Category:

Dessert

Method:

Bake

Cuisine:

American
Keywords: gooseberry cobbler, gooseberry cobbler recipe, gooseberry dessert, gooseberry recipe, old fashioned gooseberry cobbler, gooseberry cobbler variations, gooseberry cobbler substitutions