Packed with fresh herbs and spices, this crispy baked falafel recipe is bursting with flavor. Stuff it into a pita wrap with all the fixings, and enjoy!
I'll never forget the first time I tried falafel. Stuffed into pita bread with fresh herbs, crisp veggies, and a big slather of hummus, it was crispy, rich, and bursting with earthy, aromatic flavor. I devoured the entire wrap in minutes, amazed at the medley of tastes and textures dancing across my tongue. Falafel has been one of my favorite foods ever since. I still order it out to eat whenever I get the chance, but these days, I more often make this homemade falafel recipe.
What Is Falafel?
I'm getting ahead of myself. What is falafel, anyway? In case you're not familiar with this traditional Middle Eastern dish, falafel are fried balls of ground chickpeas or fava beans seasoned with herbs like parsley and cilantro and spices like coriander and cumin. They're a popular street food throughout the Middle East and Europe (if you're ever in Paris, make a stop at L'As du Fallafel), where you can find them stuffed into pitas brimming with fresh veggies, herbs, sauces, and pickles.
I'm not a fan of frying at home (to be totally honest, the hot oil scares me!), so instead of deep frying falafel myself, I prefer baking it. It still comes out deliciously crisp, so I think it rivals any fried version. I hope you love it too!
Falafel Recipe Ingredients
To make this baked falafel recipe, you'll need these key ingredients:
Uncooked dry chickpeas – When I was first working out how to make falafel at home, I learned that traditional falafel is made with dried, NOT canned chickpeas. In fact, the chickpeas are never fully cooked before the falafel is formed. Instead, you'll soak them overnight, then grind them up to form the falafel balls. Trust me, you don't want to use canned chickpeas here! Your falafel will turn to mush.
Shallot and garlic – They add a delicious savory bite! You can also use yellow onion in place of the shallot.
Lemon zest – It's not traditional, but I love the brightness it adds to these patties.
Cumin, coriander, and cayenne – For warm, aromatic flavor and a kick of heat.
Sea salt – It punches up the rich flavor of the herbs and spices.
Baking powder – A pinch gives the balls the perfect light texture.
Cilantro and parsley – I use a good amount to make my falafel bright green and flavorful. There's no need to toss the herb stems for this recipe – blend them straight into the falafel mixture along with the leaves!
Extra-virgin olive oil – It helps the falafel become nice and crisp in the oven.
Find the complete recipe with measurements below.
How to Make Falafel
The first step to this method for how to make falafel is soaking the chickpeas. You'll need to plan ahead here. The chickpeas need to soak for 24 hours, or at least overnight, before you form the balls. Drain and rinse them before proceeding with the recipe.
Once the chickpeas soak, pulse them together with the other ingredients. Add the chickpeas to the food processor with the shallot, garlic, herbs, spices, lemon zest, baking powder, olive oil, and salt.
Process until the ingredients are finely ground, but not pureed.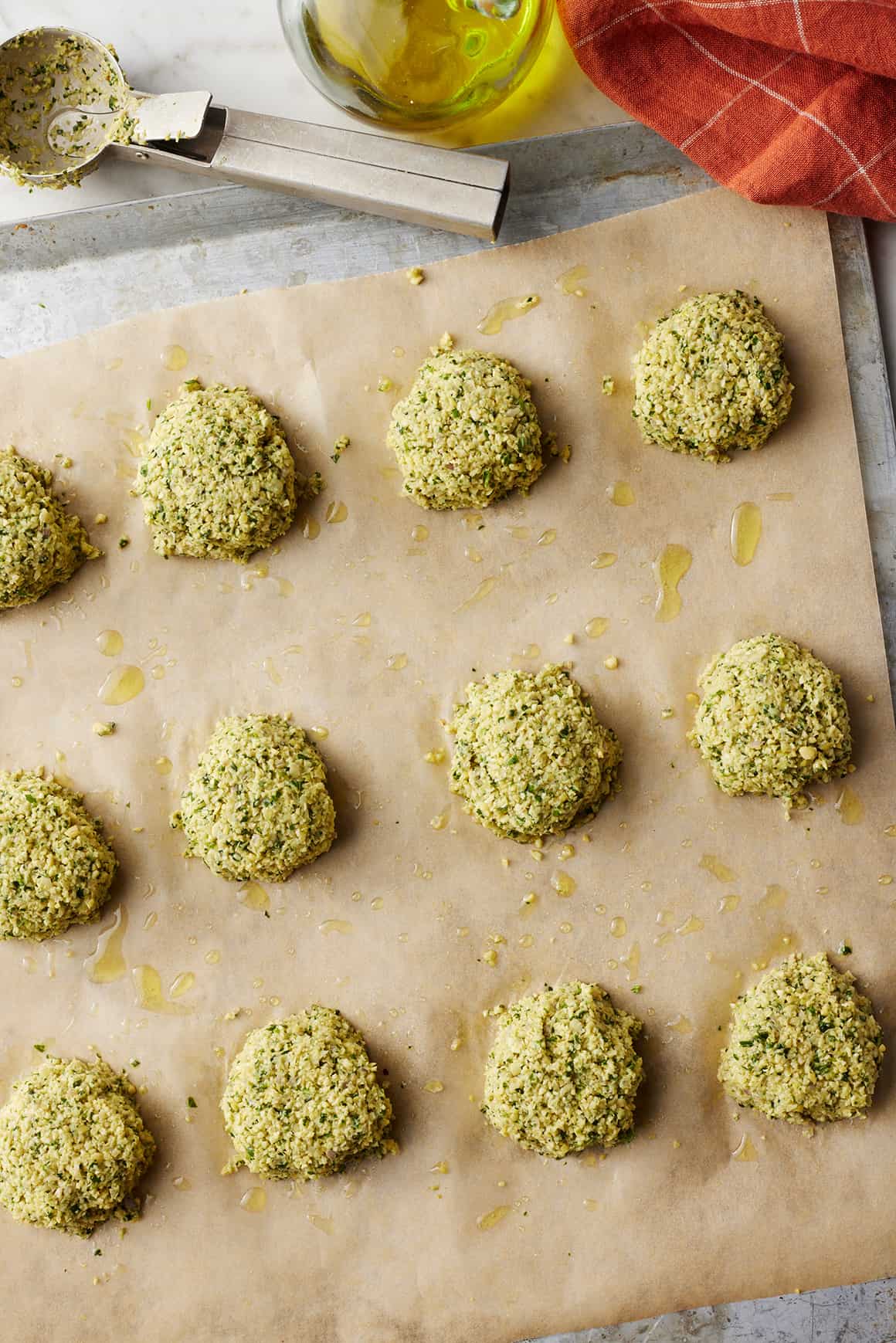 Next, form the falafel balls. Scoop up the chickpea and herb mixture with a 2-tablespoon cookie scoop, then use your hands to form it into balls or patties. If they're not holding together, give the mixture a few more pulses in the food processor.
Finally, bake! Arrange the patties on a parchment-lined baking sheet, and drizzle them generously with olive oil. Seriously, don't hold back on the oil here! We're not frying, remember, so a good drizzle of oil is essential for helping the balls bake up nice and crisp.
Transfer the pan to a 400°F oven. Bake for 14 minutes, then flip and bake until the falafel is golden brown and crisp. That's it!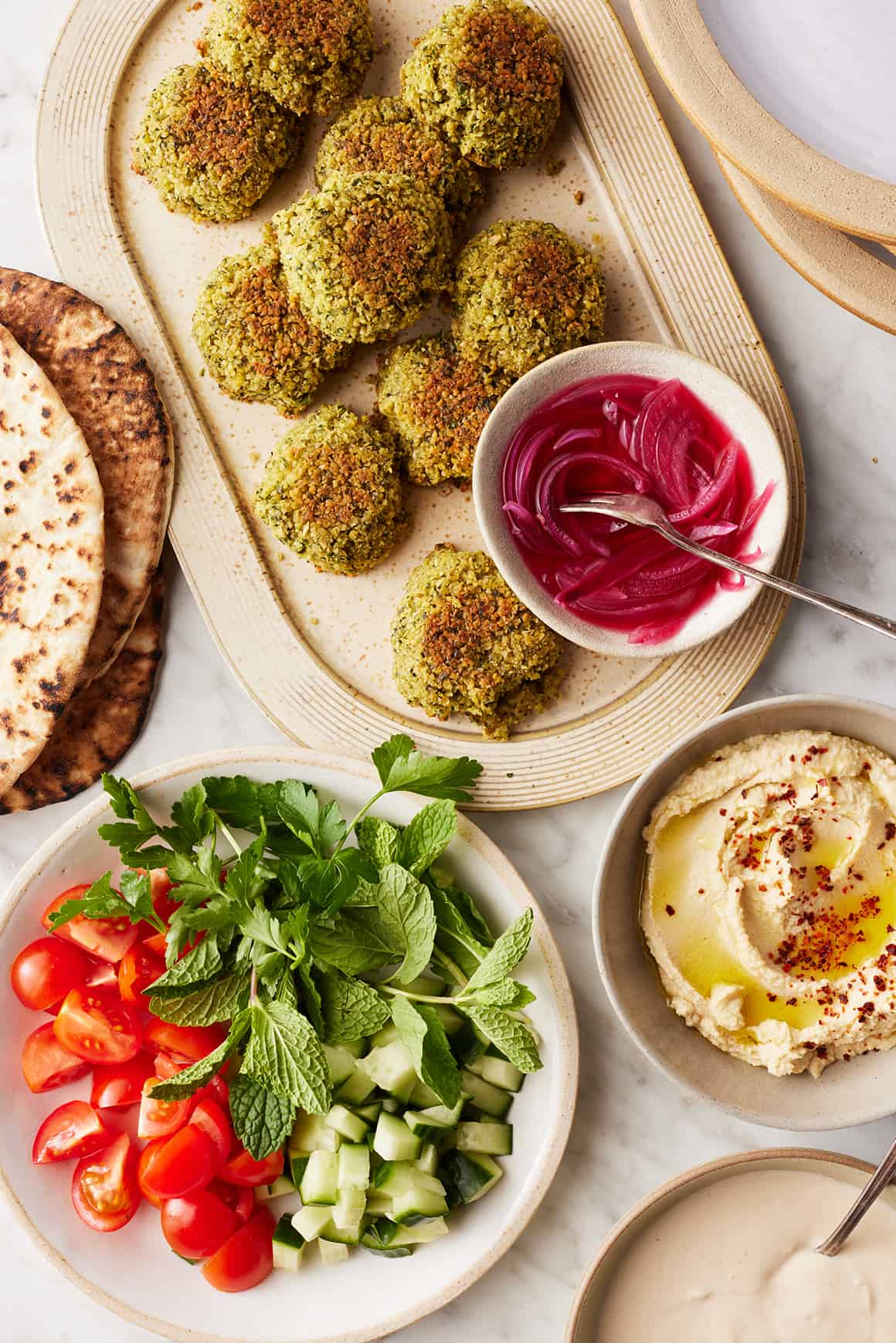 Best Falafel Recipe Tips
Used dried, NOT canned chickpeas. Really, canned chickpeas will NOT work! They'll throw off the ratios in this recipe, and they'll make the patties too wet and mushy. In order to achieve the light texture of traditional falafel, you MUST use dried chickpeas here. Soak them overnight (but don't cook them!) before making the recipe.
Drizzle the patties generously with oil before baking. Because we're baking falafel here and not frying it, we're automatically using much less oil than we would in a traditional falafel recipe. But oil is an important ingredient in falafel. It helps it become crisp on the outside while staying moist inside. To achieve this delicious balance, you need to drizzle your patties generously with oil. Don't hold back!
Don't pack your patties too tightly. It's tempting to really pack the patties together tightly, but doing so will make them tough and dense. Form the falafel balls gently, and if your mixture isn't holding together, pulse it a bit more in the food processor until it sticks together. If it's still too crumbly, pop it in the fridge to chill for 30 minutes before shaping and baking the patties.
Make a double batch, and freeze the extras. These guys keep well in the freezer, so go ahead and make a double batch to have on hand for salads, bowls, or wraps. To reheat frozen falafel, pop them in a 400°F oven for about 10 minutes, until they're crisp and heated through. For more make-ahead meal ideas, check out these 31 Healthy Freezer Meals and these 60 Healthy Meal Prep Ideas.
Serving Suggestions
My favorite way to serve falafel is in a pita wrap. I stuff it into the pita bread with a slather of hummus or a drizzle of tahini sauce, veggies like chopped tomatoes, cucumbers, and/or lettuce, pickled onions, and fresh herbs. Other sauces and spreads are great here too. Try using tzatziki instead of the hummus, or drizzle on cilantro lime dressing instead of tahini sauce.
Not in the mood for a falafel sandwich? Serve the patties on a salad or grain bowl instead, or add them to a mezze platter. They're fantastic with few dips or spreads, like muhammara, baba ganoush, or homemade labneh, and a salad or two. Try pairing them with any of these:
Round out the platter with lots of fresh pita bread!
More Favorite Vegetarian and Vegan Dinners
If you love this crispy baked falafel recipe, try one of these tasty vegetarian or vegan meals next:
Falafel
Serves 4
Falafel are flavorful balls of ground chickpeas, herbs, and spices. In Middle Eastern cooking, they're typically fried, but here, I bake them for an easy homemade twist. Serve them in a pita wrap with all the fixings, or find more serving suggestions in the post above.
1

cup

uncooked chickpeas

,

soaked 24 hours, drained, rinsed, and patted dry* (see note)

½

cup

chopped shallot or yellow onion

1

teaspoon

lemon zest

1

teaspoon

ground cumin

1

teaspoon

ground coriander

¾

teaspoon

sea salt

¼

teaspoon

cayenne pepper

¼

teaspoon

baking powder

1

cup

chopped fresh cilantro leaves and stems

,

patted dry

1

cup

chopped fresh parsley leaves and stems

,

patted dry

1

tablespoon

extra-virgin olive oil,

plus more for drizzling
Prevent your screen from going dark
Preheat the oven to 400°F and line a large baking sheet with parchment paper.

In a large food processor, place the chickpeas (note: the chickpeas will have expanded during the soak time, be sure to use ALL of them here), shallot, garlic, lemon zest, cumin, coriander, salt, cayenne, baking powder, cilantro, parsley, and olive oil. Pulse until well combined but not pureed. Use a spatula to scrape down the sides of the bowl as needed.

Use a 2-tablespoon scoop and your hands to form the mixture into 12 to 15 thick patties (be careful not to pack them too tight or your falafel will be dense). If they're not holding together, give the mixture a few more pulses in the food processor.

Place the patties on the baking sheet. Drizzle generously with olive oil (this is the key to making these moist and crisp since we're not frying) and bake for 14 minutes. Flip and bake for 10 to 12 minutes more or until golden brown and crisp on the outside. During the last few minutes of baking, wrap the pita in foil and warm in the oven.

Assemble pitas with a slather of hummus, diced veggies, falafel, herbs, pickled red onions, and generous drizzles of tahini sauce.
*Canned chickpeas cannot be substituted in this recipe or your falafel will turn out mushy.