This dish screams satisfaction – a luscious lamb chop curry with subtle spices in a decadent silky sauce that makes those taste buds tingle!
While there are a lot of different ingredients, including a whole host of fragrant spices, this recipe is easy from start to finish. You're going to love it!
Why you'll love this recipe
This lamb curry is a cut above the rest – the way the spices work with the marinated meat is incredible
Succulent and juicy chops are the perfect ingredient in a spicy curry recipe
It's a real people pleaser… the whole family will love this lamb chops curry
Amount of prep time is minimal
Equipment you'll need
You'll need a few important kitchen items for this Indian lamb chops curry recipe: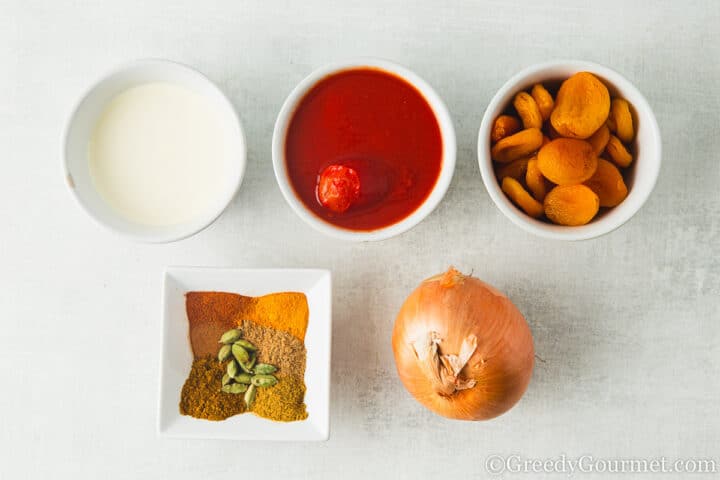 How to make lamb chop curry
Top Tip
When frying the onions, garlic, and ginger, add water to the pan if it's starting to catch on the bottom. This will prevent any bitter flavours in the curry.
What to serve with Indian lamb chops curry
Sides
Steamed rice is the perfect simple side to serve with this Indian lamb chops curry.
Drink pairing
A beer is ideal for pairing with lamb curry.
Try a South African red like Pinotage, Cabernet Sauvignon, or Shiraz if you like wine.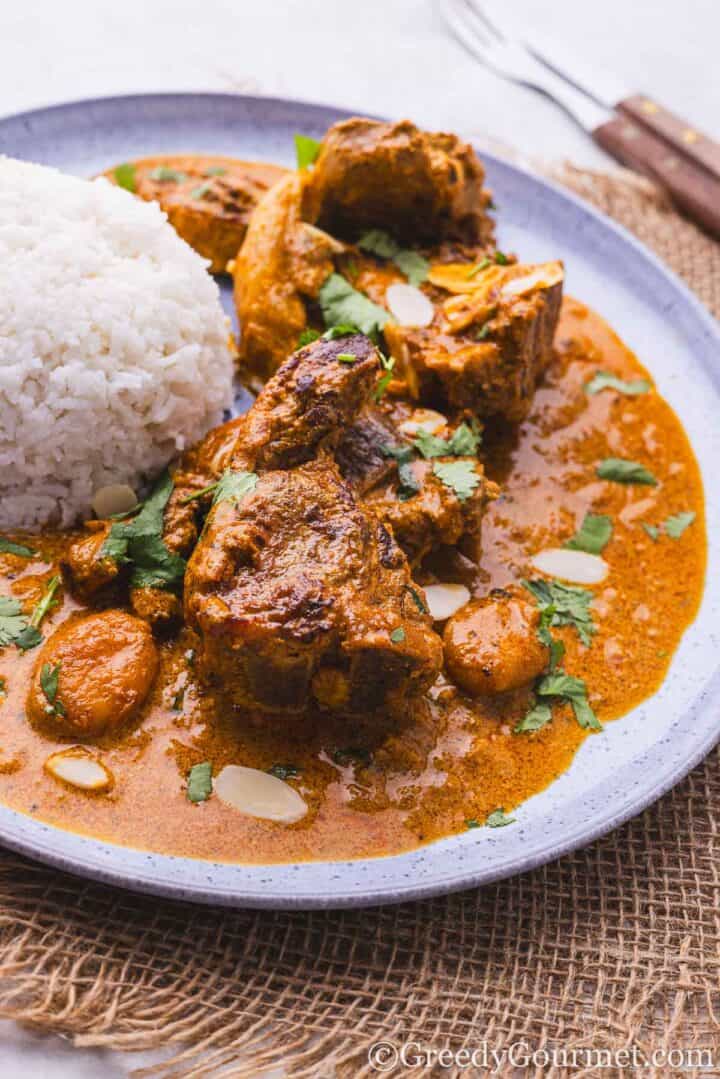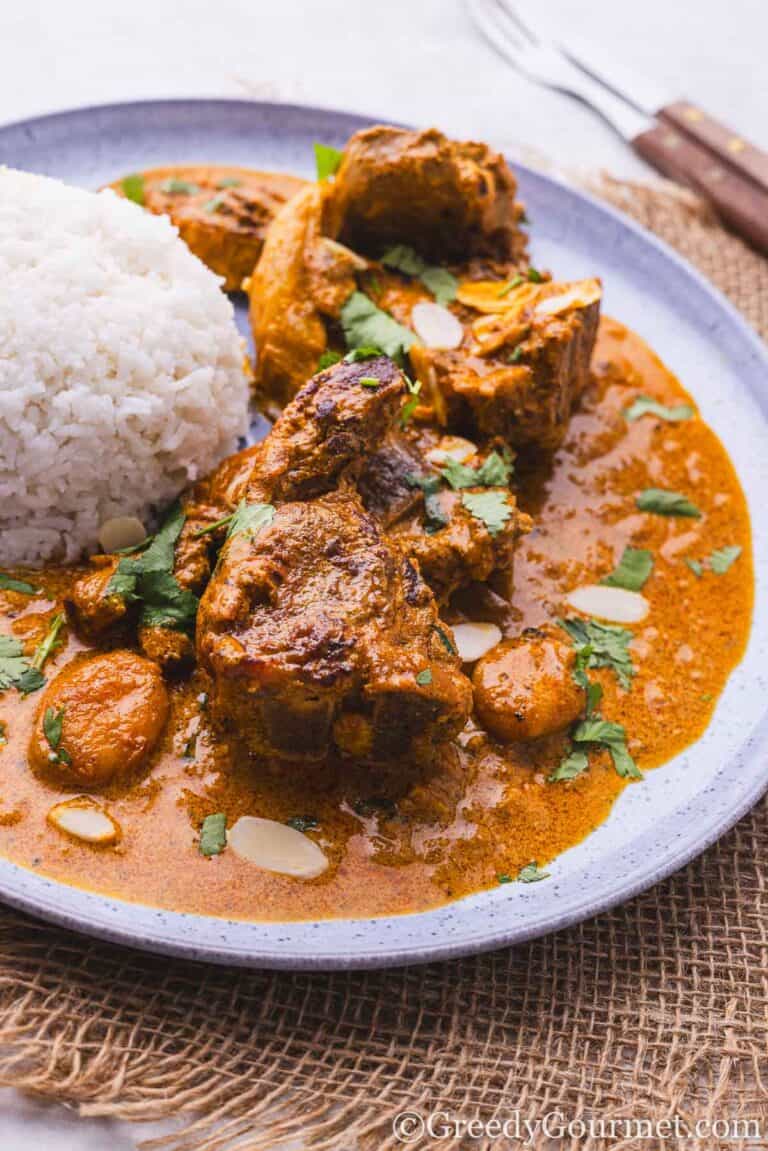 Variations to this recipe
Grind your cumin and other seeds – freshly ground spices have more flavour and fragrance than pre-ground powders. Just toast them in a dry frying pan before crushing them with a mortar and pestle.
Red or green chillies can be used in this recipe
Popular substitutions
You can use fresh tomatoes using the same weight instead of canned tomatoes. 
In place of the ground cinnamon, you can use a cinnamon stick – remember to remove the stick once the curry is cooked.
If you can't find fresh ginger, substitute it for 1/4 teaspoon of ground ginger.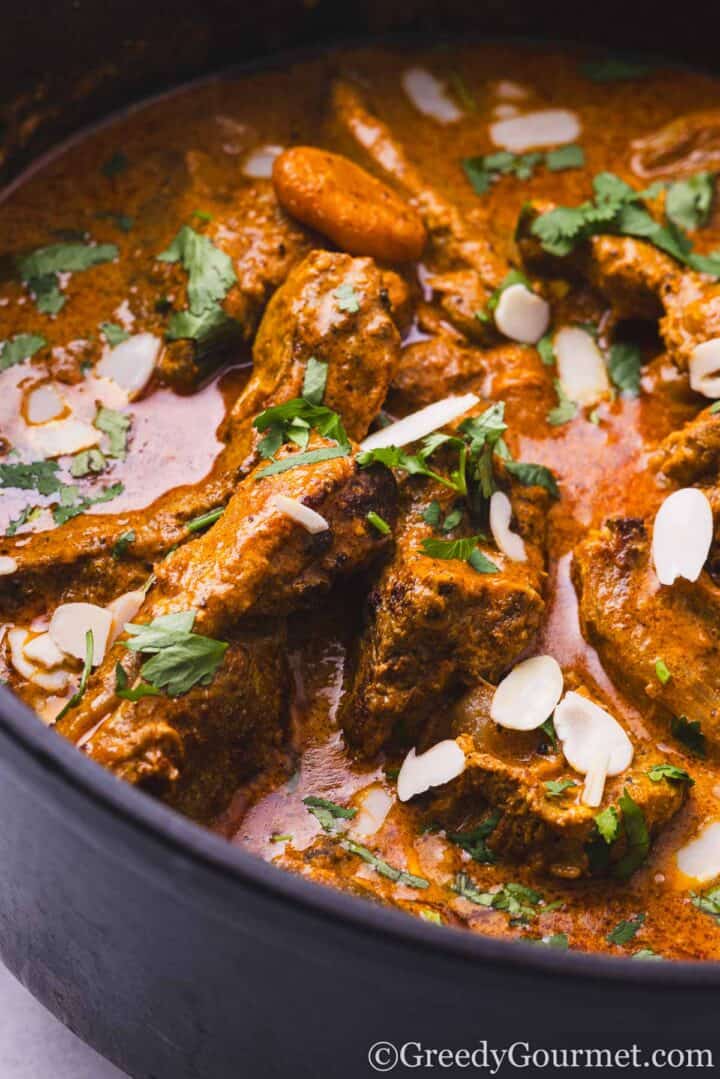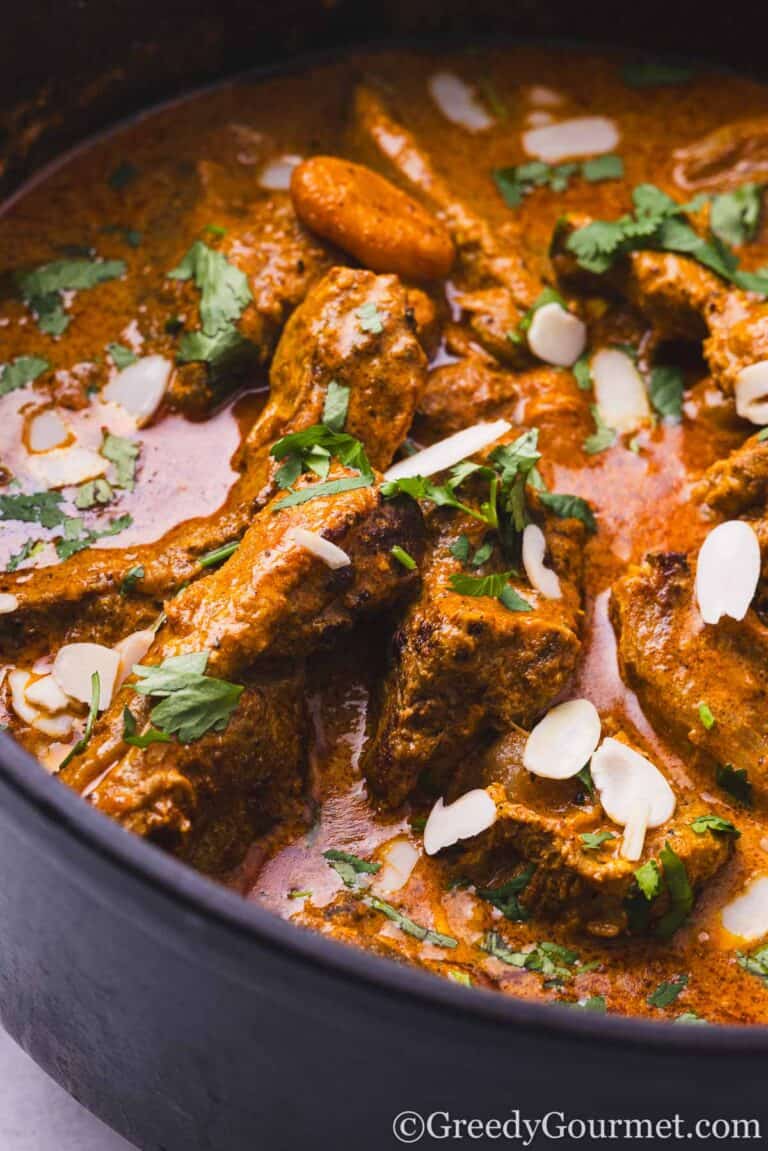 What is lamb chop?
The cut of meat known as lamb chops comes from the lamb's sirloin, shoulder, rib, or loin. Some cuts, such as shoulder chops, need shorter cooking time, while others, such as lamb loin chops, need more time.
Do lamb chops need to be marinated for this recipe?
Yes! Marinating lamb makes the meat deliciously tender but infuses them with the marinade's flavor. The longer you marinate them, the better. For this recipe, marinating them overnight brings fantastic flavoured, terrifically tender lamb chops.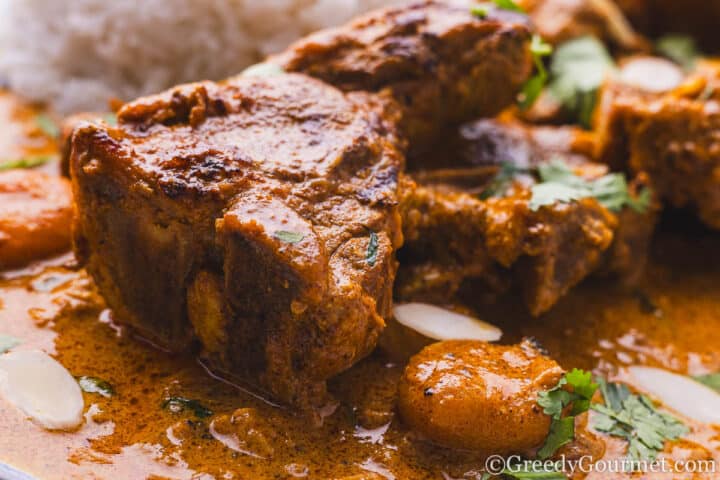 More luscious lamb curries
If you're after more lamb recipes after cooking this Indian lamb chops curry – more delicious recipes with sumptuous spices and rich flavours – feast on these!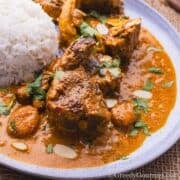 Lamb Chop Curry with Apricots
---

Author: Michelle Minnaar

Total Time:

3 hours 35 minutes


Yield:

Serves 8


Diet:

Gluten Free
Description
Savour the exquisite blend of spices and sweetness in our Lamb Chop Curry with Apricots. A taste of culinary perfection awaits!
---
Marinated Lamb Chops
1

cup

plain yogurt

3

garlic cloves

1

inch piece of fresh ginger, grated

1.5

kg

lamb chops
For the Spice Mix
1.5 teaspoons

ground cumin

1.5 teaspoons

ground coriander

3/4 teaspoon

turmeric powder

3/4 teaspoon

red chili powder (adjust to your spice preference)

3/4 teaspoon

garam masala

1/2 teaspoon

ground cinnamon

1/2 teaspoon

ground cardamom
Pinch of ground cloves
Freshly ground black pepper, to taste
Curry Ingredients
1

large onion, finely chopped

3

garlic cloves, minced

1

inch piece of fresh ginger, grated

1

can (400g) chopped tomatoes (tinned tomatoes)

1

cup

dried apricots, soaked in warm water and chopped

1/2

cup

heavy cream (optional, for a richer curry)

5 tablespoons

vegetable oil

1

cup

water
Salt, to taste
For Garnish:
Fresh cilantro leaves, chopped
Toasted sliced almonds
---
Instructions
Marinate the Lamb Chops:
Mix the yogurt with the minced garlic, grated ginger, a pinch of salt, and a pinch of ground black pepper in a large bowl.
Add the lamb chops to the marinade, ensuring they are well-coated.
Cover the bowl and let the lamb chops marinate in the refrigerator for at least 2 hours (overnight is even better).
Prepare the Spice Mix:
Combine all the spices listed under "Spice Mix" in a small bowl – ground cumin, ground coriander, turmeric, red chili powder, garam masala, ground cinnamon, ground cardamom, ground cloves, and black pepper.
Mix well and set aside.
Sear the Lamb Chops:
Heat half the vegetable oil in a large skillet or a deep, heavy-bottomed pot over medium-high heat.
Remove the lamb chops from the marinade, shaking off excess marinade, and sear them in batches until browned on both sides.
Transfer the seared lamb chops to a plate and set aside.
Create the Curry Base:
Add the remaining oil in the same skillet or pot and reduce the heat to medium.
Add the finely chopped onion and sauté until it becomes translucent.
Then, add the minced garlic and grated ginger and cook for another minute until fragrant.
Add Tinned Tomatoes and Spice Mix:
Add the canned chopped tomatoes to the skillet and the prepared spice mix.
Stir well to combine the spices with the onion-tomato mixture.
Cook this masala until the tomatoes are heated and the oil separates from the mixture.
Simmer with Lamb Chops:
Return the seared lamb chops to the skillet, including any juices that might have accumulated on the plate.
Mix them with the masala, then pour 1 cup of water.
Season with salt to taste.
Bring the curry to a simmer, cover the skillet with a lid, and cook over low to medium heat for about 45 minutes to an hour or until the lamb chops become tender.
Introduce Apricots and Cream:
Add the chopped apricots to the curry.
Stir well and let the curry simmer for 10 minutes, allowing the flavors to meld together.
If you prefer a richer and creamier curry, this is the time to add the heavy cream. Stir it in and let the curry cook for a couple more minutes.
Final Touch:
Check the seasoning and adjust salt and spices as needed.
Turn off the heat and let the curry rest for a few minutes.
Serving:
Garnish the Lamb Chop Curry with chopped fresh cilantro and toasted sliced almonds.
Serve the curry hot with steamed basmati rice or Indian bread like naan or roti.
Notes
You can use fresh tomatoes using the same weight instead of canned tomatoes.
In this recipe, I preferred to use the dried apricots whole in the recipe.
Prep Time:

2 hours

Marinating Time:

20 minutes

Cook Time:

1 hour 15 minutes

Category:

Dinner

Method:

Stew

Cuisine:

Indian
Keywords: lamb chop curry, easy lamb chop curry recipe, indian lamb chop curry, punjabi lamb chop curry, pakistani lamb chop curry, lamb and apricot curry