A delicious twist on an Italian classic, my chicken carbonara with leek and mushrooms recipe is the perfect quick and easy midweek meal – quick as a flash and knock-out delicious!
You'll have it whipped up in less than 20 minutes, which'll please the whole family! Trust me… this is a pasta dish you're going to go back to again and again!
Why you'll love this chicken carbonara recipe
A quick and easy pasta dish that makes the ideal midweek dinner.
Highly adaptable – you can tweak it to your tastes.
It's healthier and less greasy than a traditional carbonara, with no bacon grease.
The mix of succulent chicken breast, earthy mushrooms, subtly sweet leek and creamy rich sauce is absolutely delicious!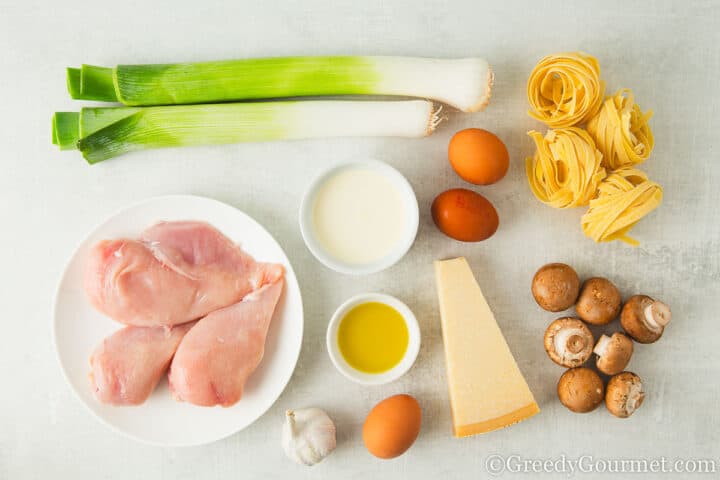 Equipment you'll need for this recipe
There are a few pieces of equipment that you'll need for this chicken carbonara recipe:
How to make chicken carbonara with leek and mushrooms
Top tips
Place the cooked chicken on a paper towel lined plate to remove excess grease.
What to serve with Chicken Carbonara
Bread
Any type of crusty bread would be perfect on the side of this chicken carbonara dish. Add garlic butter for a garlic bread carbonara combo from heaven!
Wine pairing
An Italian red would be perfect! Go for something with acidity, like Pinot Noir, Barbera, or Chianti.
Variations to this recipe
Add an extra egg yolk to the whisked egg mixture for a silky-rich carbonara sauce. When making a traditional carbonara, the Italians often separate the egg yolks from the whites for a richer taste.
This recipe is an alternative to a standard carbonara, but you can add pancetta if you want to. Fry the pancetta (or guanciale, cured pork cheek, as the Romans traditionally use) in the pan. I recommend draining the pancetta on a paper towel-lined plate to remove excess grease.
Some people prefer their cooked pasta to be 'al dente,' which means "to the tooth" in Italian. It's a more traditional way of cooking and eating pasta – the Italians say it's better for savoring the flavors and aids digestion. If you prefer al dente pasta, cook the pasta for about 5-6 minutes. You want it to be tender and chewy but no longer crunchy.
Popular substitutions
You can use turkey breast in place of chicken for this recipe.
For a vegan version, leave out the chicken and replace it with tofu or seitan, for example. You could also opt for a big, flavorful mushroom-like shiitake or oyster mushrooms.
For a less heavy version, replace the heavy cream with single cream.
You can swap white onions for leeks at a 1:1 ratio.
Top tips
When draining your pasta, keep some pasta water aside. You can use reserved pasta water in the sauce – it makes it thicker and helps to bind the pasta with the sauce.
Carbonara is all about simplicity, timing, and quality ingredients. Use free-range eggs, organic chicken breasts, and good cheese (parmesan or Pecorino Romano).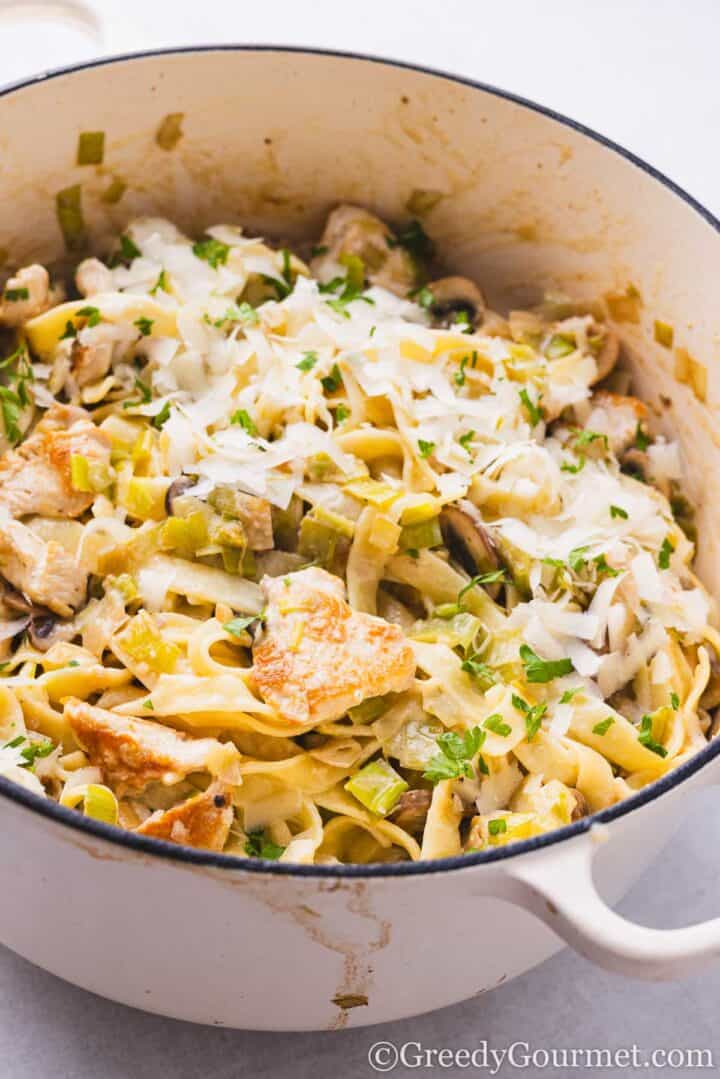 What is carbonara?
It's a simple Italian dish that traditionally consists of chunks of cured pork, spaghetti, or fettuccine, and a sauce made from egg and cheese. Historically, pieces of guanciale – cured pork cheek – are used, although nowadays, many people use pancetta.
It's believed that spaghetti carbonara originated in the Lazio region of Rome, Italy. It was first made by charcoal workers in the city, otherwise known as Carbonari, as a cheap and delicious lunch meal.
Nowadays, the traditional recipe inspires others – as with this delicious chicken carbonara recipe!
What's the golden rule of cooking a carbonara?
Be delicate with the carbonara sauce! Eggs are delicate, and you need to be gentle with them.
The pan should be cool when the carbonara sauce is added. You don't want the eggs to cook when added to the pan. The hot pasta should gently heat the egg mixture, and cooking water with the extra pasta creates a rich, deliciously creamy sauce.
Another golden rule… eat it right away! Carbonara should be enjoyed immediately after cooking when the pasta is warm and the sauce is silky smooth.
What's the best cheese to add to a carbonara?
Two types of cheese are usually added to a traditional carbonara – parmesan and Pecorino (usually Pecorino Romano). Parmesan is one of the most beloved types of cheese in Italy, with a wonderful nutty, rich and slightly fruity flavor. Pecorino is a special variety of Italian sheep's milk cheese with a distinct nutty, slightly salty flavor, with a spicy, smoky undertone.
What pasta should I use for this recipe?
I've gone for spaghetti or fettuccine, the perfect pasta to soak up the carbonara sauce.
How do you know when pasta is cooked?
Spaghetti or fettuccine generally takes around 8-10 minutes to cook.
To ensure it's cooked properly, use a fork to take a piece of spaghetti or fettuccine out of the boiling water, then let it cool for a few seconds. Squeeze it between your fingers – if it's a little stiff and hard to break, it's not ready yet. Give it a few minutes. If it breaks easily enough, it's done.
What meat goes well with carbonara?
Traditionally, carbonara is made using chunks of guanciale – cured pork cheek. However, other types of meat go really well with a carbonara sauce. In this recipe, I've gone for chicken breast, which
What's the difference between alfredo and carbonara sauce?
Alfredo sauce is made from butter, cream, and parmesan cheese. In contrast, carbonara sauce is an effortless yet delicious sauce made by gently heating whisked egg and Pecorino Romano and mixing it with pasta cooking water until a silky smooth sauce is formed.
Can this recipe be scaled?
Yes! If you want to make a big chicken carbonara batch, double all the measurements below.
Can it be made in advance?
This dish is best eaten as soon as it's made, as the texture of the sauce and the flavors won't be the same if stored and reheated.
How do you store chicken carbonara leftovers?
If you do find yourself with leftovers, you can store them in an airtight container. Keep the container in the fridge for up to 3 days.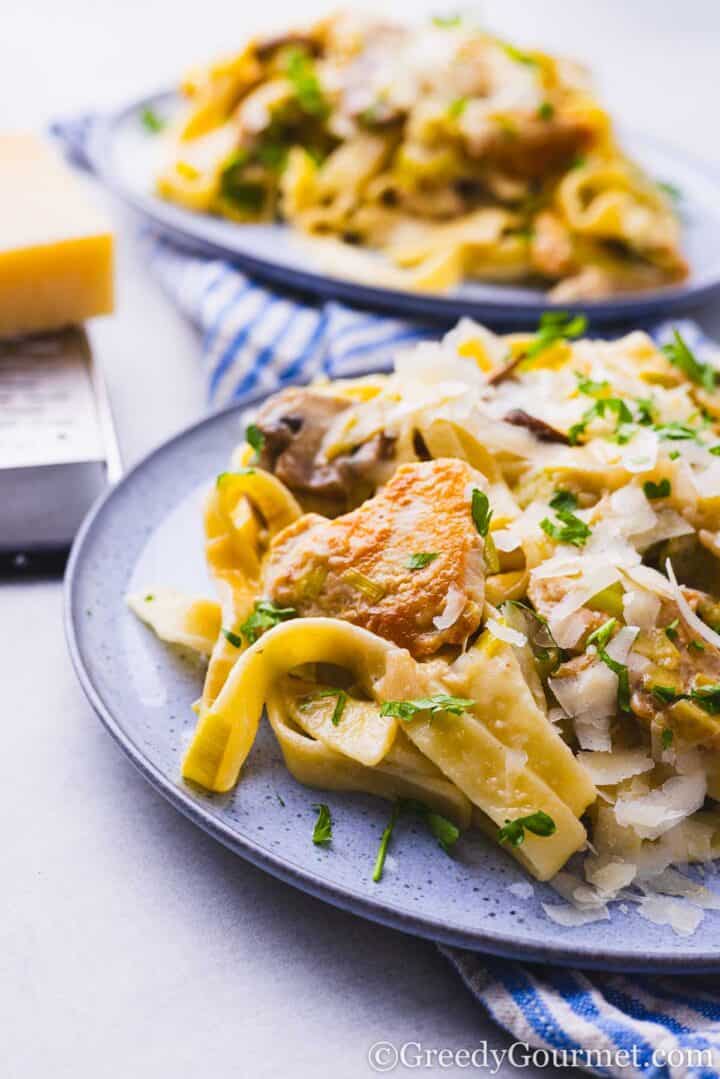 More pasta recipes
Are you a fan of Italian cuisine? Are you looking for more quick, simple pasta dishes to liven up the week? Here are some more delicious recipes for you to try your hand at: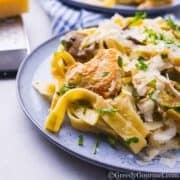 Chicken Carbonara with Leeks and Mushrooms Recipe
---

Author: Michelle Minnaar

Total Time:

40 minutes


Yield:

4

servings

1

x

Diet:

Halal
Description
Purchase some dried fettuccini, or make your own, and make a wonderful leek and mushroom pasta. This leek and mushroom recipe works with any pasta. Garnish with parsley.
---
1

pound

spaghetti or fettuccine
2 chicken breasts, boneless and skinless, weighing about

1

pound

1/2

pound

mushrooms, sliced

2

leeks, washed and sliced

3

cloves garlic, minced

3 tablespoons

olive oil

3

large eggs

1/2

cup

grated Parmesan cheese

1/2

cup

heavy/ double cream
salt and black pepper, to taste
fresh parsley, chopped (for garnish)
---
Instructions
Cook the pasta: Bring a large pot of salted water to a boil. Cook the spaghetti or fettuccine according to the package instructions until al dente. Drain and set aside.
Prepare the chicken: Cut the chicken breasts into thin strips or bite-sized pieces. Season with salt and pepper. Heat 45 milliliters (3 tablespoons) of olive oil over medium-high heat in a large skillet. Add the chicken until browned and cooked, about 6-8 minutes. Remove the chicken from the skillet and set aside.
Saute the mushrooms and leeks: Add the remaining tablespoon of olive oil, if needed, in the same skillet. Add the sliced mushrooms and cook for 4-5 minutes until they release moisture and brown. Then, add the sliced leeks and minced garlic. Cook for 3-4 minutes until the leeks are softened and slightly caramelized. Remove from heat.
Prepare the carbonara sauce: In a medium bowl, whisk together the eggs, grated Parmesan cheese, and heavy cream until well combined—season with salt and pepper to taste.
Assemble the dish: Return the drained pasta to the pot. Pour the carbonara sauce over the pasta and toss to coat the strands evenly. The residual heat from the pasta will cook the eggs in the sauce. Add the cooked chicken, sautéed mushrooms, and leeks to the pasta. Toss gently to combine and evenly distribute the ingredients.
Serve: Divide the leek carbonara into individual bowls or plates. Garnish with freshly chopped parsley. Serve immediately while still warm.
Prep Time:

15 minutes

Cook Time:

25 minutes

Category:

Main Course

Method:

Pan fry

Cuisine:

Italian
Keywords: chicken carbonara, leek carbonara, mushroom carbonara, italian leek pasta, sweet leek carbonara, creamy leek pasta, best chicken carbonara recipe, carbonara recipe