Sweet, salty and seriously tasty, this goat's cheese salad is going to make your taste buds explode!
It's a breeze to put together, which makes it perfect for a quick tasty lunch of a light midweek dinner. So, you want to know how to make the perfect goat's cheese salad. Here's how…
It's a breeze to put together, which makes it perfect for a quick tasty lunch of a light midweek dinner. So, you want to know how to make the perfect goat's cheese salad. Here's how…
Products you need for this recipe
There are a few key products you need to make this goats cheese salad: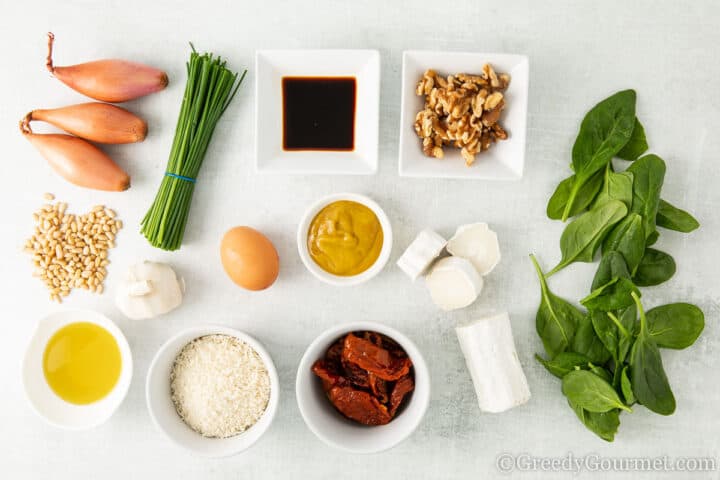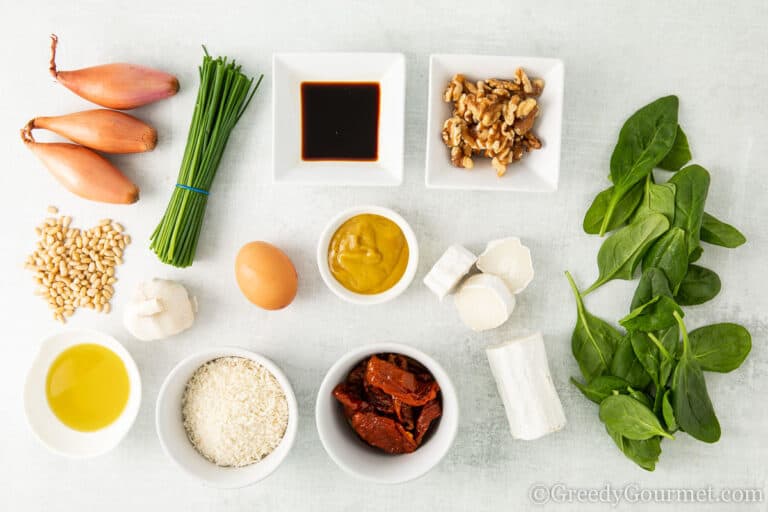 Goats cheese salad recipe
This recipe proves that salads are far more than just a few green leaves and some dressing mixed together in a bowl. They really don't have to be boring – in fact, a proper salad gets those creative juices flowing and mixes some proper flavour… with mouthwatering results.
This goats cheese salad is simply divine and relies on a few big ingredients and several subtle flavours. The goat's cheese is obviously a winner – slightly salty, earthy and so very moreish. 
When breadcrumbed with panko, it takes on a whole new dimension. I'm talking seriously irresistible flavours here. Add salad leaves like spinach, walnuts and sundried tomatoes into the equation, not to mention a tongue tingling dressing, and you've got something very special indeed. 
So, whether it's a light lunch, a side salad, a classic starter or if you're looking for a delicious dinner tonight, this goat's cheese salad is perfect.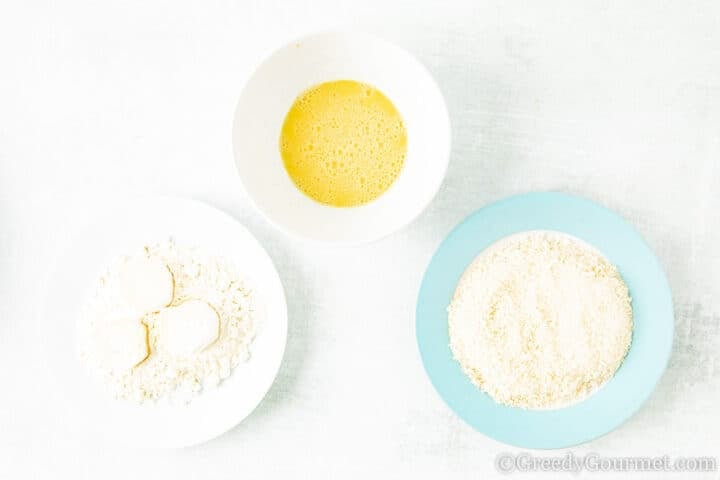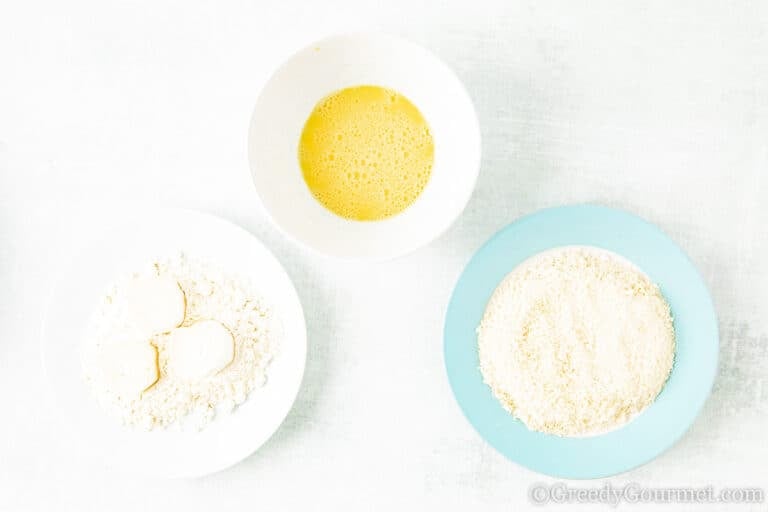 How is goat's cheese made?
Goat's cheese has been made for thousands of years. It dates all the way back to the Ancient Greeks, well over 5,000 years ago. 
It's made by allowing raw milk to curdle naturally. Then, the curds are drained and pressed. Sometimes an acid is added, such as lemon juice. Salt is also added, both for extra flavour and to act as a preservative. 
The cheese is then placed in a mould, usually circular or log shaped. It's left to ripen, often only for a few days, although sometimes for many months.
What are the different types of goat's cheese?
Lots of people think there's only one kind, but there are actually three distinct types of goat's cheese:
Fresh goats cheese
The French call it chèvre, meaning 'goat.' Fresh goats cheese is any type of goat's cheese that is soft and spreadable. It's usually sold in circular pucks or in logs and is the most common type of goats cheese. It's usually only matured for a few days or weeks. 
Aged goats cheese
This is goats cheese that has been matured for months. It tends to lose its 'goaty' flavour and becomes firmer than the soft textured fresh goat cheese.
It can be slightly nutty or sweet. A good example of aged goats cheese is Gouda.
Ash-covered goat's cheese
A lot less common, this is a type of fresh goat cheese with an ash rind. The colouring of the rind is blue/grey and is supposed to protect the cheese, while also making it look the part. Different types of ash-covered goat's cheese include Humboldt Fog, Selles-sur-Cher, Sainte-Maure de Touraine, and Acapella. 
What goat's cheese is best for this salad?
The very best goat's cheeses are French, but there are lots of quality options in the UK too. Here are a few scrumptious suggestions:

Crottin de Chavignol 
Produced from the raw milk of the alpine goats, Crottin de Chavignol originates from the tiny village of Chavignol in the Loire Valley – a cheese lover's paradise. It's a protected cheese made under the French AOC, which is a quality regulation.
This means it has to be made in a certain place under certain conditions. Crottin de Chavignol has a creamy, nutty taste, perfect for bringing big flavour to hearty salads.
Crottin de Champcol
Another cheese from the Loire Valley, this cheese is soft and sweet with a complex taste that lingers long in the memory. It's a pasteurised version of Crottin de Chavignol, with all the amazing taste of that quality cheese.
Crottin des Deux-Sèvres
With its salted charcoal rind, this French cheese certainly looks the business. Still, the best is on the inside – just one taste of this incredible cheese and you'll be well and truly sold. Again, citrus notes are the order of the day, mixed with a mild creamy flavour that just melts in the mouth.
Dorstone
A delicious ash covered goat's cheese from Herefordshire, this incredible cheese is made from raw goat's milk that's then rolled in charcoal powder and left to mature for around 3 weeks.
Savoury and nutty, with notes of citrus, this is fantastic cheese to serve up in a salad.

Ticklemore
An incredible Devon cheese with lots of character, Ticklemore is a semi hard cheese with floral flavours mixed with lemony undertones. Left to mature for 10 weeks, it has less of a strong goat's cheese flavour – perfect for those who want a milder cheesy taste in their salad.
How do you store goat's cheese?
Store your goat's cheese in the fridge. Make sure it's stored in an airtight container – it'll stay fresh for 2 to 3 weeks.
Can you freeze goat's cheese?
Well, I'm so glad you asked. It just happens that I have a whole article dedicated to the question. For advice on how best to freeze your goat's cheese, check out my Can you freeze goat cheese article.
What is panko?
Panko is a type of breadcrumb that's popular in Japanese cooking. It's also used throughout Asian cuisines and, recently, has become more and more used in cooking cultures around the world.
The great thing about panko crumbs is that they can stay crispy when moist. While other types of breadcrumbs lose that all-important crunch when taking on moisture, panko crumbs can maintain that crunch.
Also, unlike other types of breadcrumbs, panko crumbs don't soak up as much oil. They have a very light, flaky texture, which helps it to maintain crispiness as they cook.
Panko is made from yeast-risen white bread. White panko is made without the crusts and tan panko is made with the crusts. When processed, panko is made into flakes rather than crumbs.
The bread for making traditional panko is baked by electrical current, as opposed to heat from an oven. This is done to create a soft, airy bread with no crust.
How do I make this recipe healthier?
For a healthier twist, you can replace the breaded fried goat's cheese with rindless goat's cheese. Don't fry it – just chop it up and toss it into your salad.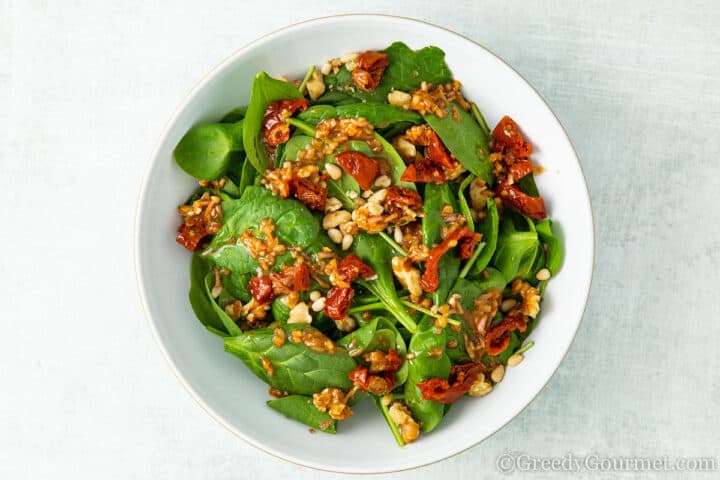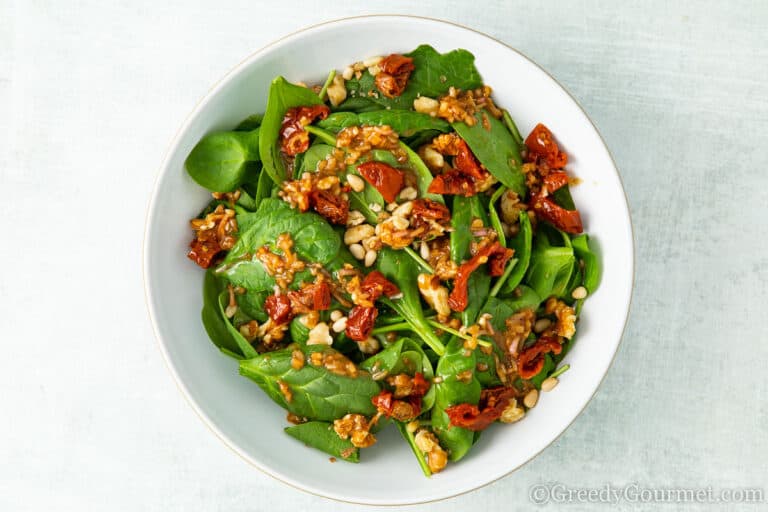 Is this salad keto friendly?
Yes, this salad is perfect for those on a keto diet.
Can I replace the walnuts?
Yes. You can use whatever kind of nuts you want. Try pine nuts, almonds, pistachios or cashews. I do prefer to use walnuts though, as they really complement the taste of the goat's cheese.
You could, of course, use more than one type of nut for a nutty combo.
Do I have to use sun dried tomatoes?
In my opinion, sun dried tomatoes are an absolute winner in this recipe. However, if you're not a massive fan, you can always replace them with cherry tomatoes.
What other flavours can I add?
When it comes to adding a final flourish to your goat's cheese salad, you can't get much better than a drizzle of balsamic glaze. 
Feel free to add a sprinkle of black pepper to bring some earthiness to your goat's cheese salad.
If you want to add proteins, why not add some beans, chickpeas or quinoa? 
Can this goat's cheese salad be made in advance?
Yes you can make this salad in advance, an especially good idea if you're making it as a starter for a dinner party.
Don't make it too far in advance though. Otherwise the salad leaves won't be as fresh and the overall taste won't have as much as an impact.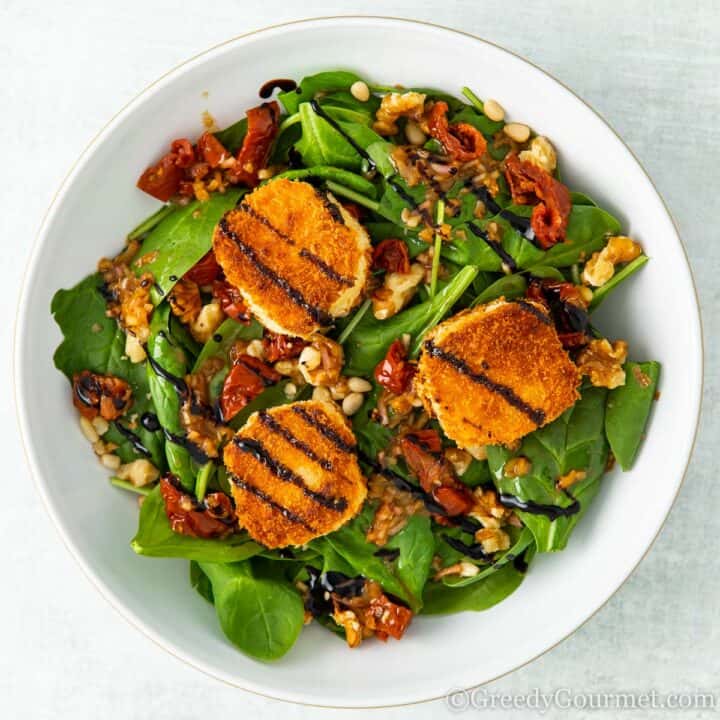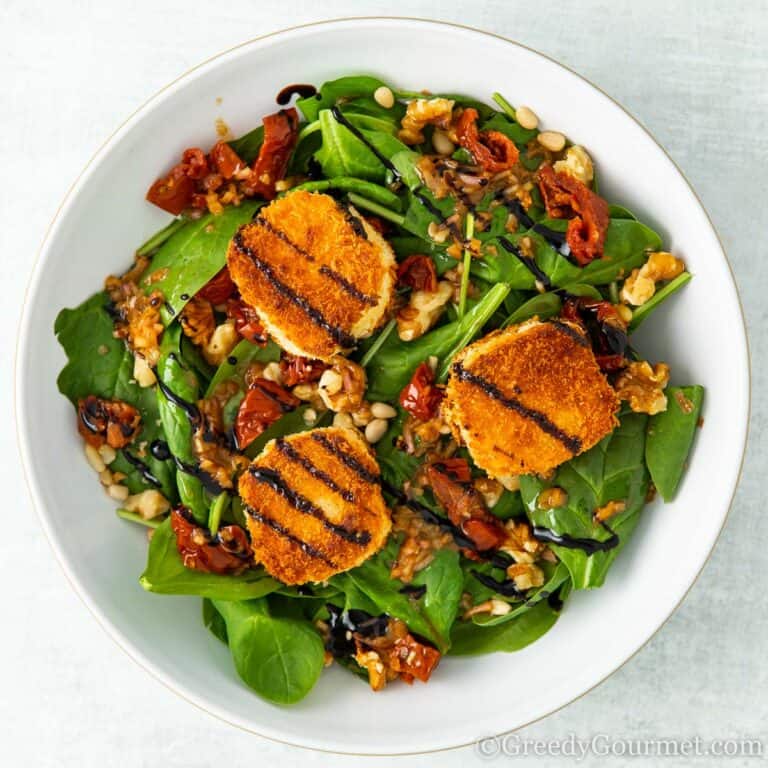 More scrumptious salads
Once you've made this delicious goat's cheese salad, why not try one of the following: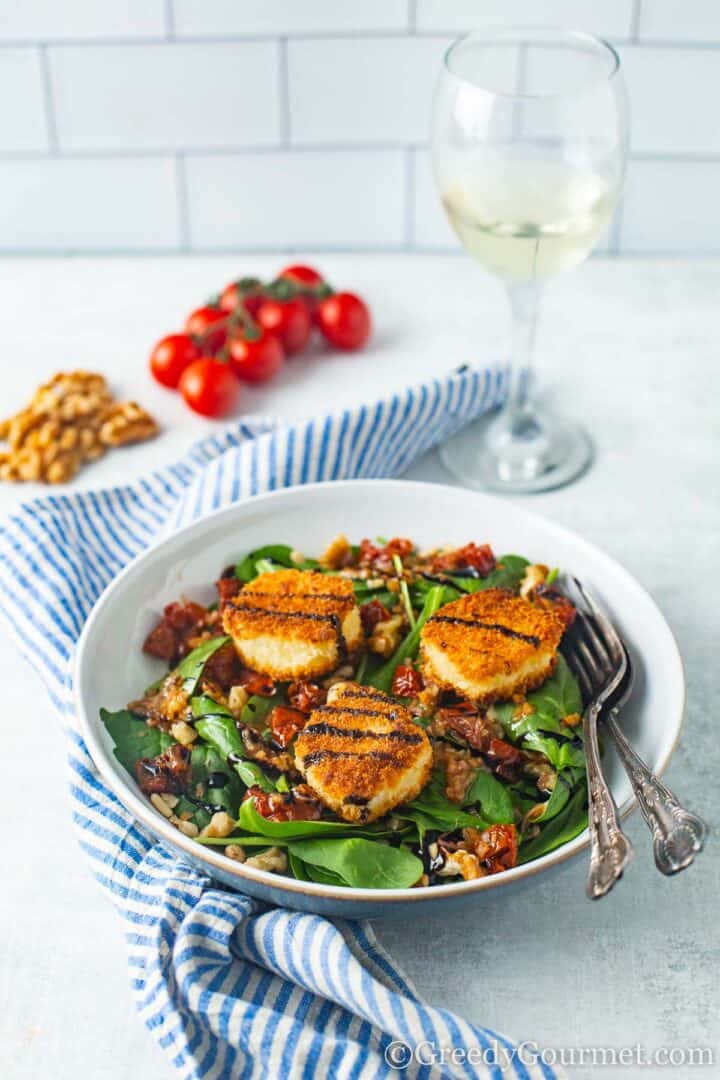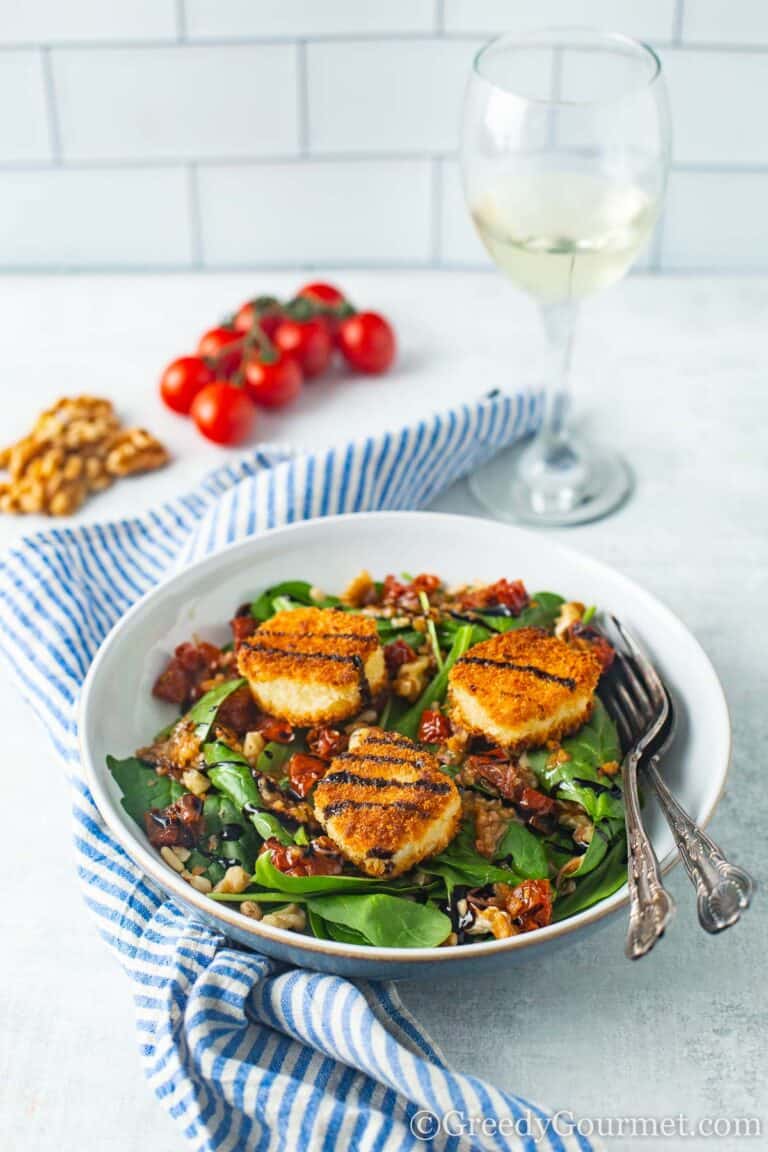 What is your favourite goat's cheese recipe?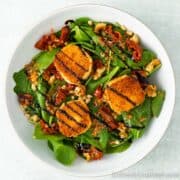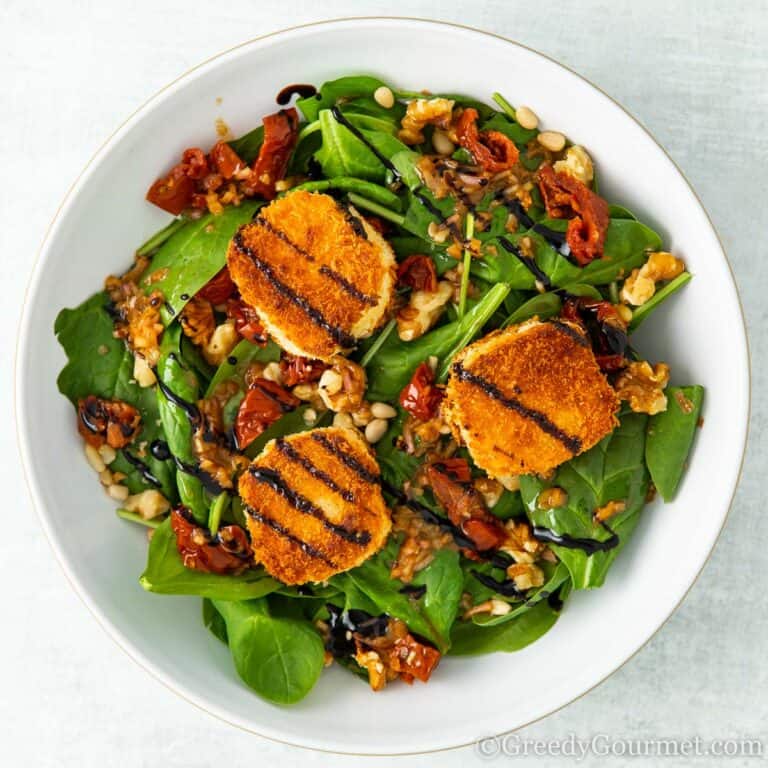 Goat's Cheese Salad
---

Author: Michelle Minnaar

Total Time:

25 minutes


Yield:

4

servings

1

x

Diet:

Vegetarian
Description
A simple recipe to make a light, tasty meal. Learn how to make this Goat's Cheese Salad in just a few steps. 
---
Salad Dressing
125

ml (½ cup) olive oil

45

ml (3 tbsp) balsamic vinegar

3g

(

½ tsp

) dijon mustard

1

shallot, chopped finely

1

clove or garlic, crushed

3g

(

1 tbsp

) fresh chives, chopped
Fried Goat's Cheese
2

rolls of goat's cheese, with rind

60

ml (¼ cup) vegetable oil

150g

(

1 cup

) plain flour

180g

(

1½ cup

) panko crumbs

1

large egg
Salad
200g

(

6⅔ cup

) spinach, washed

12g

(

2 tbsp

) walnuts, crushed

8

sundried tomato halves, roughly chopped
---
Instructions
For the Salad Dressing: In a mixing bowl, whisk together the olive oil, balsamic vinegar and the dijon mustard until thicken and fully combined. Stir through the shallot, garlic and chives. Set aside.
For the Fried Goat's Cheese: Cut the goat's cheese into 3cm (1½ inch) rounds.
Heat the oil in a frying pan over a medium heat.
Place the flour on one plate, the panko crumbs on another and in a bowl whisk the egg.
Coat the goat's cheese rounds in the flour then dip in the egg and finally coat with the panko crumbs.
Place the coated goat's cheese rounds into the frying pan and cook on both sides until golden brown. This should take about 1 or 2 minutes on each side. 
Plate the spinach and toss through the dressing, sprinkle the walnuts and sundried tomatoes over and then top with your fried goat's cheese rounds. I drizzled some balsamic glaze over the top but this is just for aesthetics. 
Serve immediately. Enjoy!
Notes
You can substitute the walnuts for other nuts if you like. I find pine nuts work well too.
If you are looking for a slightly healthier option, swap out the fried goats cheese and get the rindless goats cheese and sprinkle that over. I.e. leave it uncooked.
You can use normal breadcrumbs instead of the panko crumbs. I just prefer panko.
Prep Time:

20 minutes

Cook Time:

5 minutes

Category:

Main

Method:

Pan fry

Cuisine:

French
Keywords: Goat's Cheese Salad, Salad Recipe, Goat's Cheese Recipe, French Salad, French recipes, vegetarian lunch recipe