You don't have to go to Starbucks to get an iced matcha latte. Instead, make this recipe at home! This energizing drink is cool, creamy, and delicious.
Meet my go-to iced matcha latte recipe! I make this energizing drink just about every day from the start of summer to when the temps dip in the fall. It's cool and creamy, with a slightly grassy, earthy flavor that I absolutely love.
Matcha took off in popularity in the US a few years back, and these days, you can find an iced matcha latte on almost any coffee shop menu. I still order one out from time to time, but for the most part, I prefer to make my own iced matcha latte at home. Here's why:
I can choose the matcha powder. Ippodo Ummon is my favorite (and I also love Golde for lattes). Check out my best matcha powder guide to find the right matcha for you!
I get to control the balance of flavors. I've had some crazy-sweet iced matcha lattes at coffee shops before, and I've gotten others that just taste like milk. At home, I can use my preferred matcha to liquid ratio (1 teaspoon to 8 ounces) and add sweetener to taste. When you make your own iced matcha latte, be sure to taste and adjust to find a balance of flavors you love.
What is Matcha?
Before we get to the recipe, I want to give you a little background on matcha. This green tea powder was first produced in Japan in the 1100s, and it is used in traditional Japanese tea ceremonies. Made from shade-grown green tea leaves that are ground to a fine powder, matcha is known for its high levels of antioxidants. Because you consume the whole tea leaf when you drink it, it also contains more caffeine than regular green tea, though still often less than a cup of coffee.
Generally, you'll find matcha designated as one of two grades.
Ceremonial grade matcha tends to have the most vibrant green color and a balanced earthy, nutty flavor. It works nicely in lattes and can also be whisked into hot water to make green tea.
Though a fraction of the price, culinary grade matcha has a stronger, more bitter taste and is best suited to baking recipes.
Want to learn more? Check out my What Is Matcha blog post!
Iced Matcha Latte Recipe Ingredients
Want to try this iced matcha latte? Here's what you'll need:
Matcha green tea powder, of course! Brands of matcha vary widely in color, flavor, and price. If you don't already have a favorite brand, I recommend checking out my guide to the best matcha powder to find one that will work well for you. Note that some matcha comes already sweetened, like the Rishi Sweetened Matcha Powder I mention in the post. If you prefer to sweeten your latte to taste, make sure to get a powder with just one ingredient: green tea.
Cold water – You'll whisk the matcha into a small amount of water before adding milk.
Milk – Any kind you like! I love to use homemade almond milk or oat milk in this recipe. For a richer, creamier latte, experiment with regular whole milk or even coconut milk.
Sweetener of choice – Honey, maple syrup, and simple syrup all work great. Feel free to skip the sweetener if you prefer.
Find the complete recipe with measurements below.
How to Make An Iced Matcha Latte
This iced matcha latte recipe is super simple to make! Here's how it goes:
First, sift the matcha. Something to know about matcha: it likes to clump. It's tough to break up these little lumps with a whisk, so if you notice that your matcha has clumps, make sure to sift it through a fine mesh strainer before adding liquid.
Next, whisk the matcha with the water. I recommend using a bamboo whisk called a chasen to do this. Specifically designed for whisking matcha, it does a great job of dispersing the powder in the water and making the mixture lightly frothy. If you don't have a chasen, an electric milk frother works well too.
Finally, make the latte. Fill a glass with ice and pour in the matcha mixture. Top with milk and stir to combine, then add honey or maple syrup to reach your desired level of sweetness. Enjoy!
Iced Matcha Latte Tips
New to matcha? I call for 1 teaspoon of matcha powder in this recipe, but if you've never tried this type of green tea before, you might want to start with less. Use 1/2 teaspoon in your first iced latte. If you like, add more the next time once you're familiar with the taste.
Break out the blender. If you don't have a bamboo whisk or a milk frother, you can easily make an iced matcha latte in the blender. Add the matcha powder, water, and milk and blend until frothy. Add sweetener to taste, and serve over ice.
More Favorite Cold Drinks
If you love this iced matcha green tea latte recipe, try one of these cold drinks next:
Looking for something warm and cozy? This hot matcha latte recipe is for you.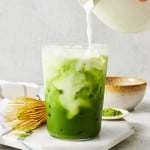 Iced Matcha Latte
Serves 1
Learn how to make an iced matcha tea latte at home! This recipe is easy and refreshing—just as good (if not better!) than your favorite coffee shop. If you're new to using matcha, check out my guide to the best matcha powders to find one that will work well for you.
1

teaspoon

matcha powder,

½ teaspoon for a milder latte

2

ounces

cold water

,

¼ cup

Ice

6

ounces

milk of choice

, such as almond milk or oat milk (¾ cup)
Honey,

maple syrup, or sweetener of choice, optional, to taste
Prevent your screen from going dark
Sift the matcha powder into a small bowl and add the water. Whisk vigorously to combine.

Fill a glass with ice and pour in the matcha mixture. Top with the milk, stir, and add sweetener to taste, if desired.

Alternatively, combine the matcha powder, water, and milk in a blender and blend until frothy. Serve over ice, adding sweetener to taste.