Hunan Chicken vs Szechuan Chicken – what are the differences, which one tastes better and which of these wonderful Chinese dishes should you make first?
In this hunan and szechuan chicken guide, we delve into the delicious details of two of the most popular Chinese main courses, going deep into the tastes, ingredients, cooking methods and origins of each, before answering some key FAQs.
Hunan Chicken Vs Szechuan Chicken: key differences
Let's break down and summarize the key difference between hunan chicken and szechuan chicken.
Taste
Hunan chicken
Hunan chicken has a dry, tangy, smoky, spicy flavor.
Szechuan chicken
Szechuan chicken is sweet and mildly spicy.
Ingredients
Hunan
Hunan contains thinly diced chicken breasts and vegetables including broccoli, carrots, peppers, mushrooms, corn and celery, as well as hoisin sauce, dark soy sauce, chicken broth, rice wine, garlic and ginger. Of course, not forgetting the dried red chili peppers.
It can also contain bamboo shoots and other vegetables.
Szechuan
Cubed chicken thighs are normally used in Szechuan chicken recipes, as well as light soy sauce, wine vinegar, corn starch, Szechuan peppercorn, chili bean paste, dried chili peppers, chopped green onions, salt, garlic and ginger. Some Szechuan chicken recipes also contain groundnuts and fermented black soy bean (Douchi).
Cooking methods
Hunan Dishes
Diced chicken breast is marinated in soy and oyster sauce (or hoisin sauce), corn starch, salt and white pepper. Then the chicken is fried until crispy, before being removed.
The vegetables are cooked, along with the other ingredients. The crispy chicken is returned to the pan and everything is stir fried for a few minutes until done.
Szechuan Dishes
The cubed chicken thighs are dried before being deep fried. Drying the chicken on a paper towel absorbs as much water as possible. This helps to achieve that wonderful crispy texture.
The chicken is deep fried in sesame oil or vegetable oil. Then, in a separate wok, you stir fry the chili peppers, garlic, ginger and other ingredients, before the chicken and soy sauce is added.
Origins
Hunan
Hunan chicken is from the Hunan Province, in the southeast of China.
Szechuan
Szechuan chicken originates from Szechuan, further northwest than Hunan, in the southwest region of China.
Sauce
Hunan
A much more saucy dish, Hunan and is characterized by a dry heat that comes from dry chili peppers, garlic and ginger. The sauce is made up of dark soy and oyster or hoisin sauce, thickened, if necessary, with corn starch.
Szechuan
This dish contains minimal sauce. The Szechuan chicken is marinated and the sauce consists of soy sauce, rice wine, szechuan peppercorns, garlic, ginger and water.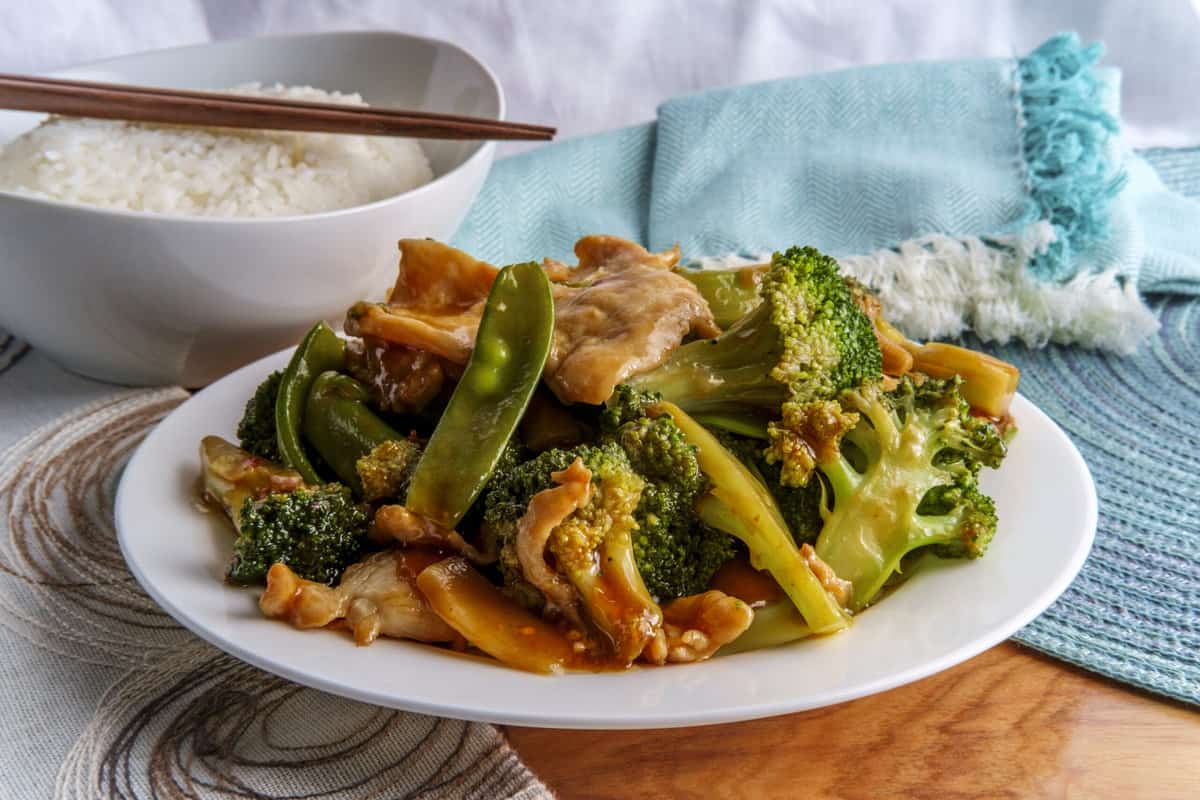 Hunan Chicken
What Is Hunan Chicken?
Hunan cuisine is famous for its hot and spicy food.
Sometimes kinds of pepper can be used in Hunan chicken, such as powdered anise pepper and cayenne pepper.
Where does Hunan chicken originate from?
Hunan chicken, and more broadly speaking Hunan cuisine, comes from the Xiang River region, Dongting Lake and Western Hunan Province. This region is famous for its hot and tongue-numbing seasoning, through generous amounts of chilli pepper.
Hunan cuisine is renowned for being dry, spicy and hot – or gān là as the Chinese say.
What does Hunan chicken taste like?
In a word, hot!
If you're one of those people that gets a kick out of hot and spicy food, this is the dish for you! Hunan chicken also has a deep rich flavor, which comes from the spicy chili bean paste and the dark soy sauce.
Finally, unlike Szechuan dishes, Hunan chicken typically contains a lot of vegetables. This gives it a wider range of fresh flavors.
How do you make Hunan chicken?
First, the chicken is marinated in salt, white pepper, egg white, cornstarch and oil. This helps to tenderize the meat, but will also mean that when the chicken is fried it will take on a crispier texture.
Oil is heated in a wok – either vegetable oil or sesame oil. The chicken is then fried on a high heat until browned, and then removed from the pan.
Next, the vegetables are stir fried, together with the dark soy sauce, oyster or hoisin sauce, fresh chili peppers and other ingredients. The chicken is returned to the pan and everything is stir fried together until completely cooked.
What do you serve with Hunan chicken?
Rice should be top of your list when it comes to Hunan chicken side dishes. Simple plain steamed rice is perfect. You could also serve with any kind of noodles.
For a drinks pairing, a full bodied or medium red wine like Shiraz or Merlot.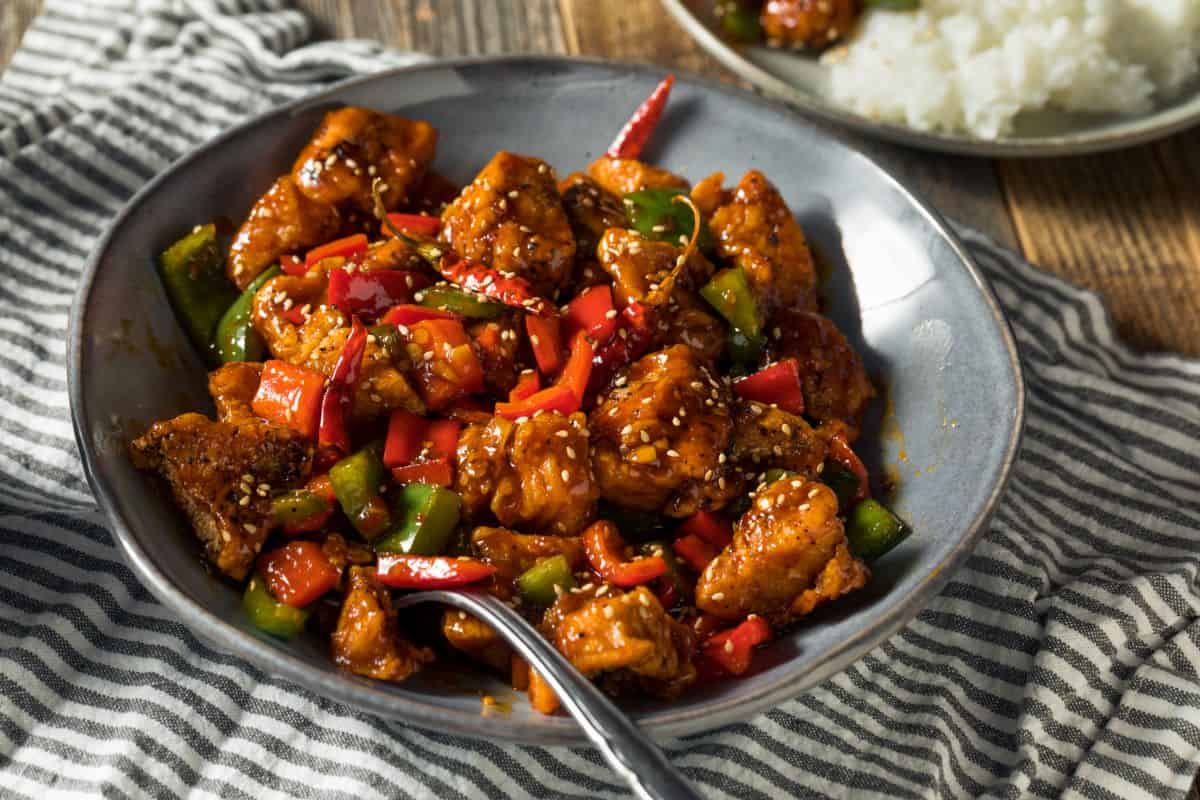 Szechuan Chicken
What is Szechuan Chicken?
Szechuan chicken is a spicy, sweet and tangy dish with big bold flavors that are characterized by chilies, garlic and ginger. It consists of marinated chicken that's deep fried first, then stir fried with dried chilies, Szechuan peppercorns and rich bean paste.
Where does Szechuan Chicken originate from?
Szechuan chicken originates from the Szechuan province in the southwest of China. This region has exceptional resources due to its climate. This means you'll typically find lots of interesting fresh ingredients in Szechuan cooking – most notably chili peppers and Szechuan peppercorns.
Sichuan cuisine is made up of seven basic flavor types – sweet, sour, pungent, hot, bitter, aromatic and salty. Authentic Szechuan dishes generally contain most of these flavors.
What does Szechuan chicken taste like?
Szechuan chicken is sweet, tangy and spicy, with flavors that explode in your mouth and dance on your tongue. The combination of the rich soy sauce, deep earthy sweetness of the dried chili peppers, Szechuan peppercporns and chili bean paste, and the crispy tender chicken is just incredible.
The heat of Szechuan dish is adjustable and all depends on how much dried red chili peppers you add to the dish. Generally speaking, it has enough spicy flavor to tingle your tongue, but it's not as spicy as Hunan chicken.
How do you make Szechuan chicken?
The normal method of preparing Szechuan chicken is to cube chicken breasts. This helps to achieve a crispy texture, as does drying the meat on a kitchen towel. The chicken is then marinated in light soy sauce, rice wine, egg wash and white pepper.
After marinating the chicken, it is then coated in corn starch. This helps to get an extremely tender texture and crispy outer layer to the meat. The cubed chicken is then deep fried until light brown.
Next, garlic, ginger and green onions (or scallion) are fried in a wok. Chili bean paste (or 'Doubanjiang') is added, together with Szechuan peppercorns and dried chilies. The deep fried chicken is returned to the wok and everything is stir fried for a while to infuse the flavors.
Finally, deep fried ground nuts are added and the Szechuan chicken is served with a garnish of green onions. Delicious!
What do you serve with Szechuan chicken?
As with Hunan chicken, the best pairing with Szechuan chicken is simple steamed rice. The simplicity of the rice makes a delicious contrast with the richness and spicy flavor of the Szechuan chicken dish.
In terms of a drinks pairing, beer or wine is perfect.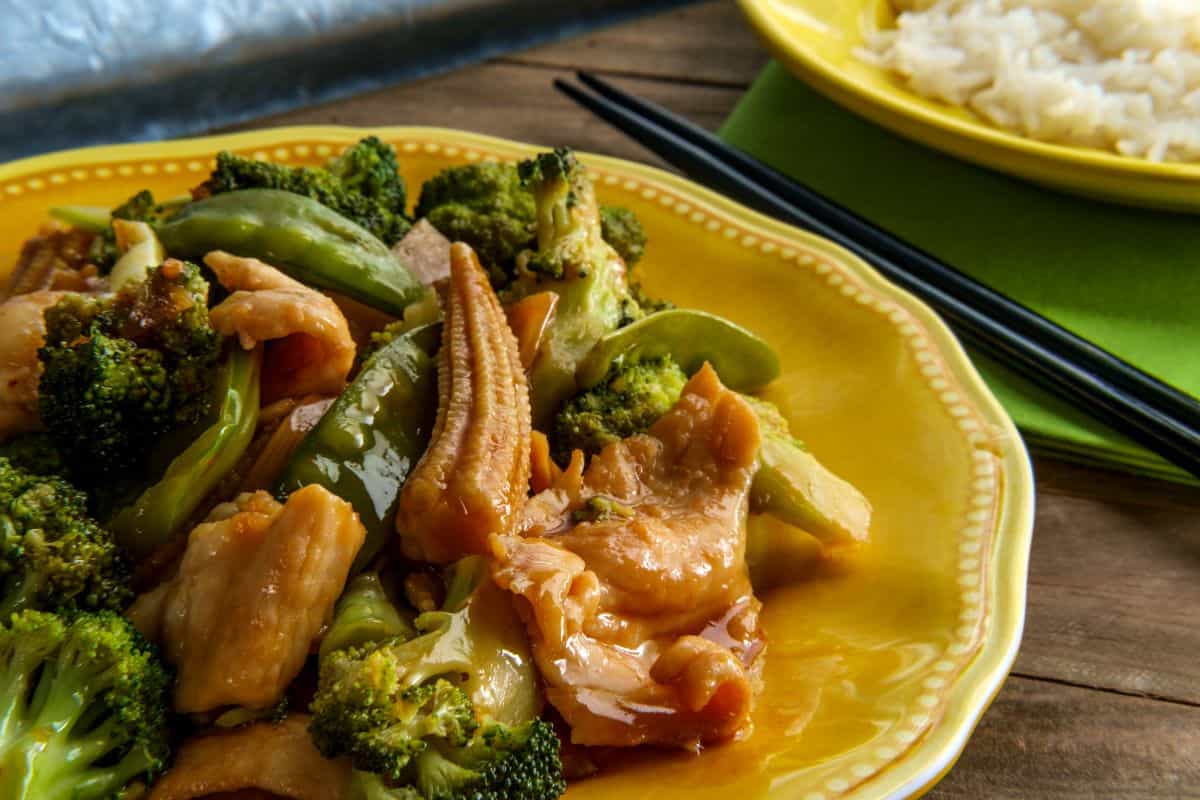 Hunan Chicken Vs Szechuan Chicken: FAQs
Is Szechuan or Hunan chicken better?
It's all about personal preference. Both are spicy, rich and delicious, but which dish takes your fancy comes down to a few key details.
If you prefer saucier Chinese dishes with less of a kick, you'll most likely prefer Szechuan. However, if you're a fan of bigger, bolder flavors with a substantial chili kick, Hunan Chicken is the dish for you.
Which one is spicier?
While Szechuan chicken is quite hot and spicy, Hunan chicken is on another level. If you're a fan of dry, chili heat, you'll find the tongue-tingling quality of Hunan chicken hard to beat.
Which dish is healthier?
It depends on how each dish is cooked, although Hunan chicken is generally served with fresh vegetables, such as broccoli and carrots, which means it often has more nutrients.
Cooking methods vary quite considerably for each. However, Szechuan chicken is generally deep fried, whereas Hunan chicken can sometimes be stir fried without being deep fried.
More amazing Chinese recipes
If this guide on Hunan and Szechuan chicken has got your mouth watering, try some of these other delicious Chinese recipes!
Reader Interactions