A delightfully zesty homemade preserve, this lime chutney recipe delivers truly sensational flavours and be used to elevate so many different dishes – from spicy curries and simple sandwiches to cheese and crackers and any other type of savoury dish.
Best of all, it's so easy to get this recipe right. Just follow the tips, advice and full recipe instructions below and you'll have smoother texture, deeper flavour, and all-round more delicious dish than any you've ever tasted.
Why you'll love this lime chutney recipe
Homemade chutney lasts such a long time – you can store this for over a year!
It's healthy – packed with fresh limes, vegetables and spices
Versatility is key – it can be used as a side dish, dip, spread and as a flavour enhancer in soups and stews
It's vegan and vegetarian friendly
Such a simple dish to make. Plus, it's a one-pot recipe, making clean up easy
Makes for the perfect homemade gift to give to friends and family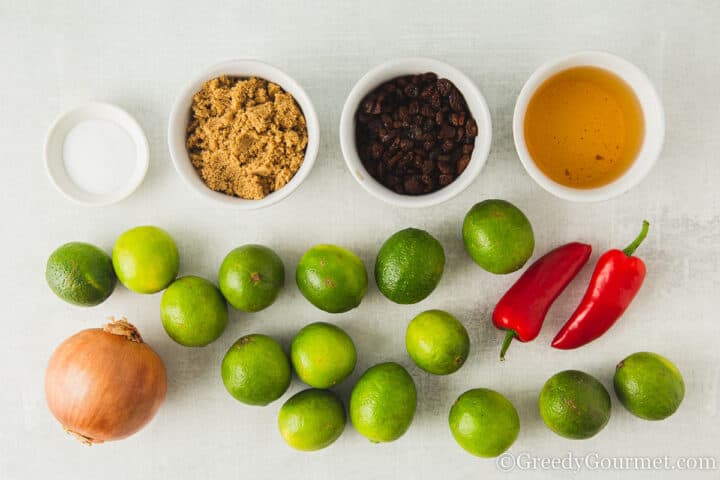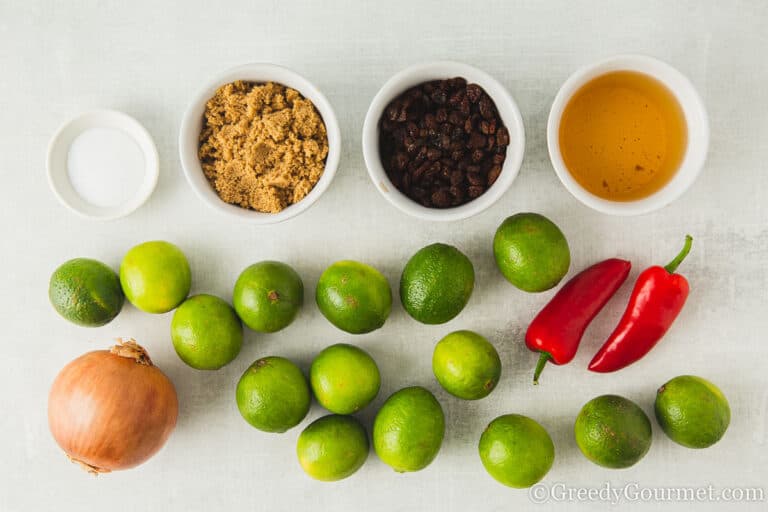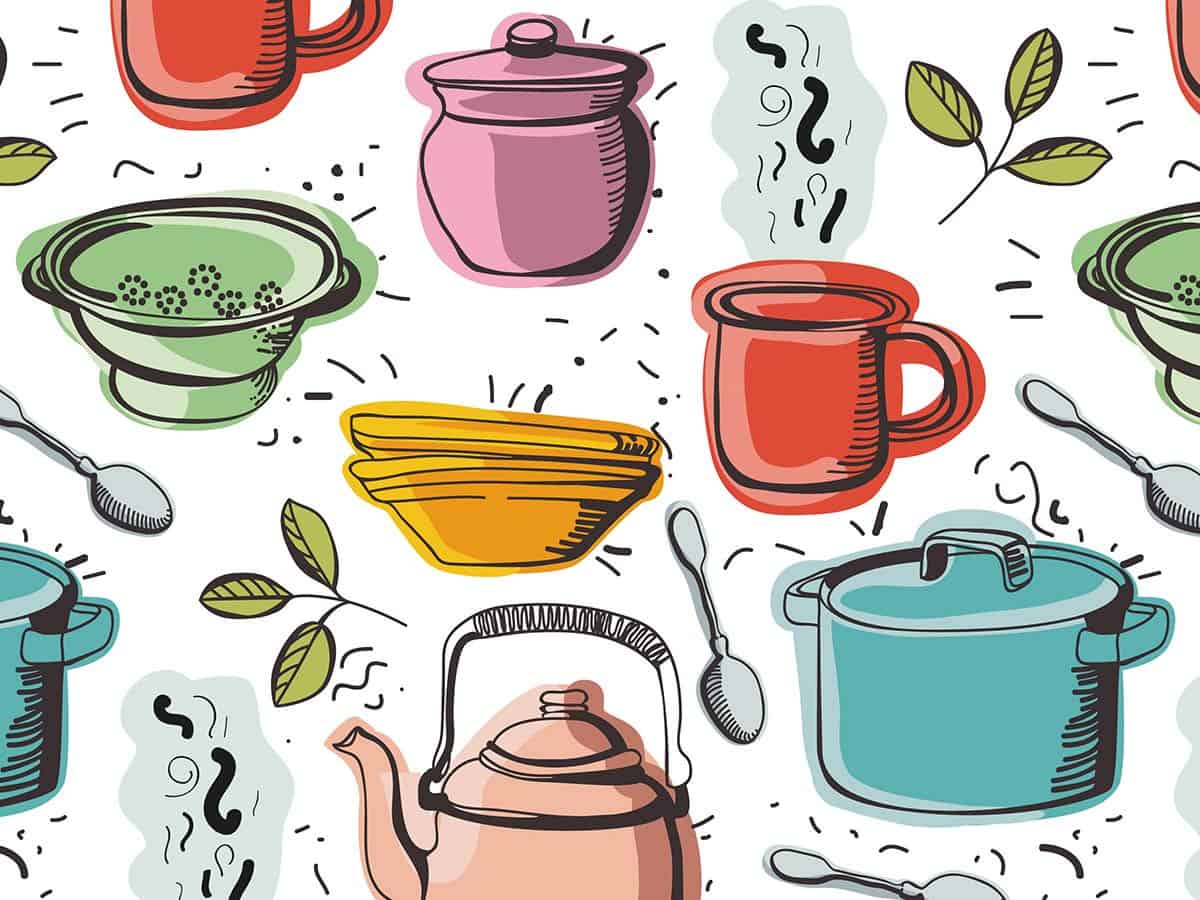 CHUTNEY EQUIPMENT YOU NEED
Check out the ultimate list to chutney making equipment. You actually don't need that much and most of the items are quite affordable!
Making your own preserves is a great and satisfying hobby. Giving the gift the lovely food to your friends and family are especially rewarding!
Top Tip
Stir your chutney frequently throughout the simmering process.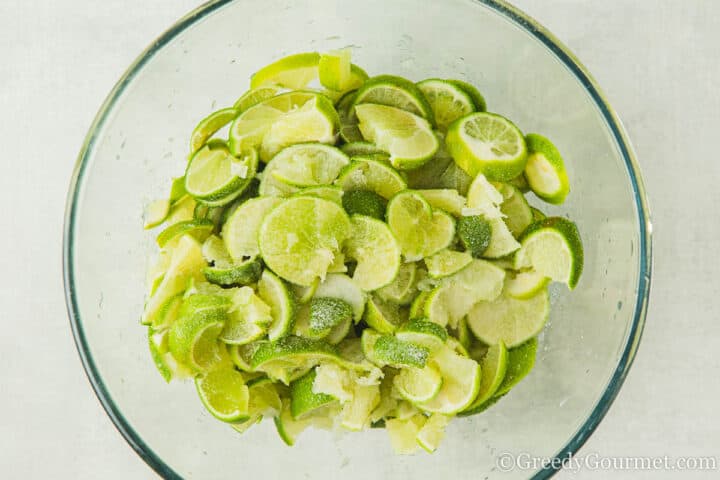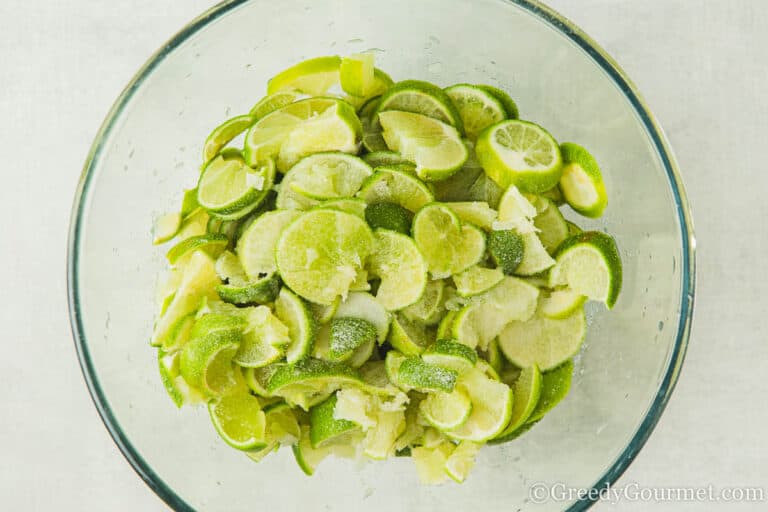 What to pair with this recipe
Meat, vegetables or fish
Limes pair wonderfully well with avocado, beef, butternut squash, chicken and oily fish.
Cheeseboard
Cheese, mustard and chutney is a match made in heaven! Serve spoonfuls of lime pickle with your favourite cheese – cheddar, goat's cheese, brie and camembert would all be delicious – along with some crackers for good measure.
Curry
Lamb massaman is a rich and wonderfully fragrant lamb curry recipe that really suits the zesty flavours of lime chutney. My easy chicken curry with rice is another great option, particularly if simplicity is what you're looking for.
For those who like it hot, look no further than a beef madras.
Rum pairing
Wine aside, the flavours of lime and rum are a really good match. Go for a spiced dark rum, or even a mojito.
Variations to this recipe
Extra fruit
Make up your own sweet divine combinations! Swap 50% of the lime in the recipe below with one of the following fruits:
Fresh coconut
Lemon
Watermelon
Bananas
Raspberries
Mango
Mustard seeds, chilli powder and other flavours 
Add an extra dimension of garlic flavour to season your lime chutney with any of the following:
1 cinnamon stick
½ tsp ground cinnamon
1 clove of garlic (or ½ tsp garlic powder)
5cm (2in) fresh ginger root, grated
1 chilli, finely chopped
1½ tsp chilli powder
½ tsp ground cumin seeds
½ tsp ground fenugreek seeds
½ tsp ground mustard seeds
1 tbsp fresh mint, finely chopped
50g (½ cup) peanuts, chopped
1 orange, juice and rind
If you are a fan of garlic and ginger, just mix the ginger and garlic into a paste.
Make it boozy
Give this lime pickle chutney an edge with the addition of your favourite tipple. Simply pour in 125ml (½ cup) of your preferred alcohol – dark rum would go down a storm – at the end of cooking time and bottle up your lime chutney as soon as possible.
Popular substitutions
I recommend using brown sugar with this recipe. However, you can use demerara sugar or golden caster sugar for hints of caramel and a darker colouring.
You can replace the apple cider vinegar with white wine vinegar.
Swap the fresh chillies with chilli powder.
Top Tips
Preparation is key – do all the food prep before you start cooking. That way you can cook all the ingredients with precision and care.
Use quality ingredients. Avoid limes that are under or over ripe, and make sure they are free from blemishes.
Freshly ground spices such as chilli powder are more flavourful and fragrant.
Always use a stainless steel pan when making chutney. Other materials don't react well to the vinegar in the recipe.
Cut the fruit and vegetables into even-sized pieces. That way you'll achieve a wonderful texture to your chutney.
Don't be tempted to improvise with this recipe. Stick to the measurements and timings below and you'll end up with the perfect taste and texture. I recommend using a quality set of kitchen weighing scales.
Regularly stir your chutney, particularly towards the end of the cooking process. This helps with the flavour and texture, but also prevents the mixture from sticking to the bottom of the pan.
Always be sure to sterilise your chutney storage jars. This stage is very important and shouldn't be overlooked.
Patience is key! This chutney needs time for the flavours to fully mature. Give this chutney at least six weeks – six months would be even better!
If the chutney is too thick, you can add 1/4 cup of water
Why do I need to marinate the limes?
Leaving the lime pieces overnight in a bowl with a sprinkle of salt allows them to soften. It also removes some of the bitterness from the lime, giving you a more flavourful chutney.
What's the difference between lime chutney and lime pickle?
Both are preserves and combine ingredients such as vegetables, fruits, chilli powder and vinegar toasted together. However, there are a few key differences, such as the size of the pieces, the overall texture, the cooking process and the overall taste.
For a full guide on the differences between lime chutney and lime pickles, take a look at our guide Chutney Vs Pickle.
How do you know when chutney is ready?
The classic chutney texture is thick and silky. The best way to test it is to use a wooden spoon to draw a channel in the chutney. If it takes a few seconds for the vinegar to run back into the channel, then it's ready.
If the vinegar runs into the channel straight away, it needs a few minutes more. Put it back on a medium heat and let it simmer for a few minutes. Then, try the test again.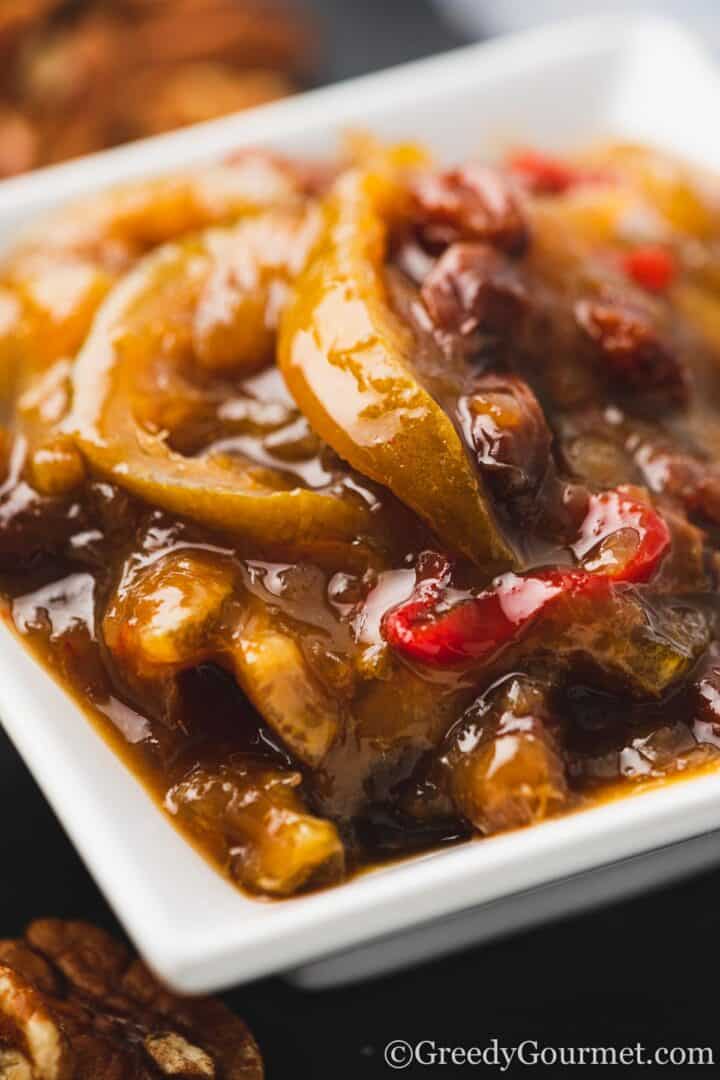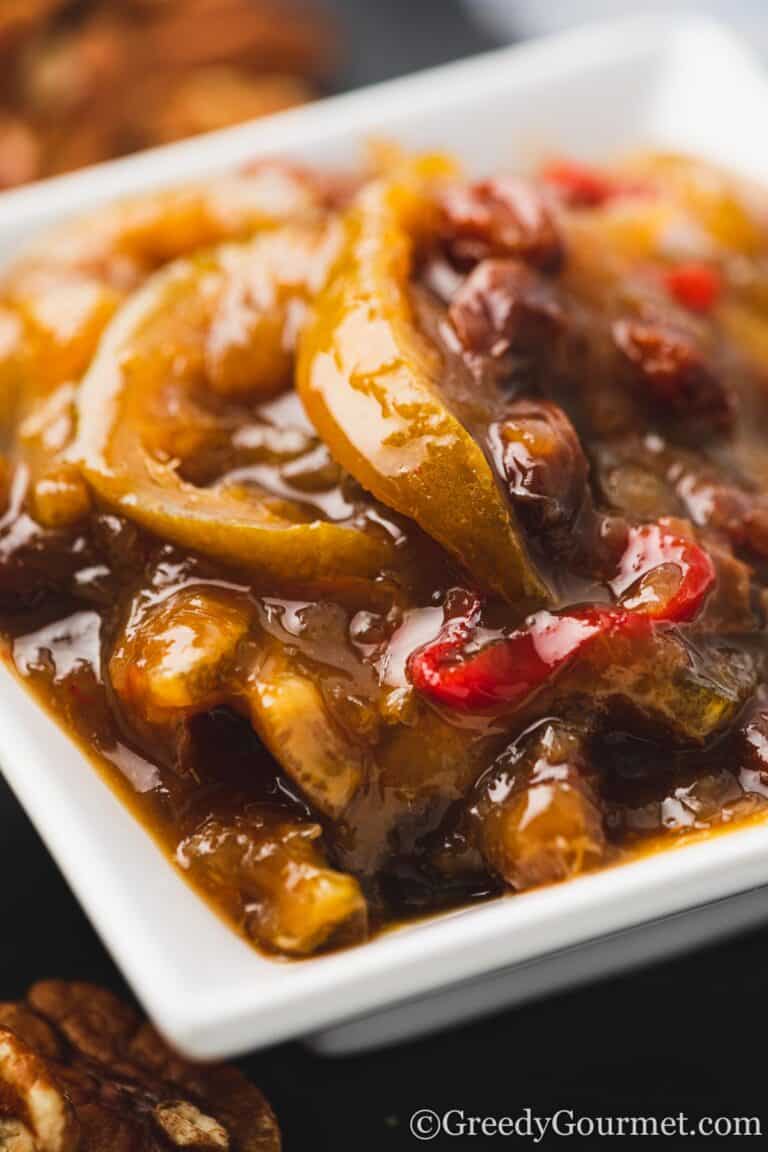 More amazing chutney recipes
When it comes to home cooking, chutney making is as good as it gets. So, with all ingredients of that in mind, here's some ideas for more wonderful chutney recipes for you to get hooked on: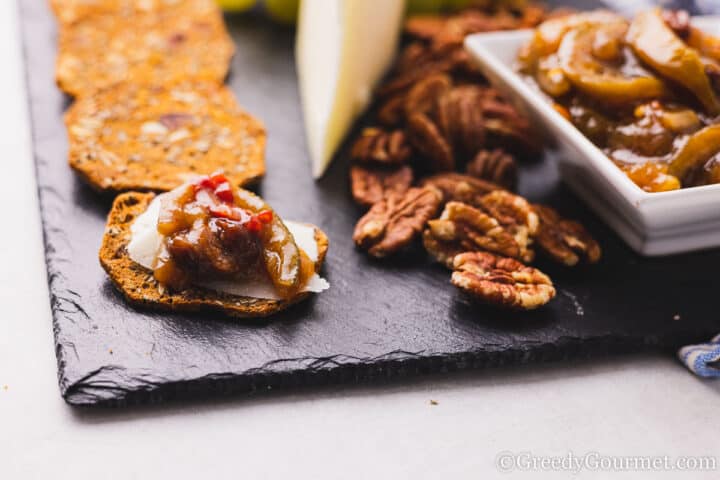 Lime chutney
---

Author: Michelle Minnaar

Total Time:

1 hour 15 minutes


Yield:

6

x 200g jars, 30g per portion, 40 portions

1

x

Diet:

Vegan
Description
Tangy and refreshing, this lime chutney recipe is bursting with citrus flavor. It's the perfect condiment to add zing to your favorite dishes!
---
900g

(2lbs) limes

11g

(

1 tbsp

) salt

450g

(1lb) onions, chopped

2

chillies, finely chopped

500

ml (2 cups) apple cider vinegar

85g

(

½ cup

) raisins

330g

(

1½ cups

) sugar
---
Instructions
Wash the limes then quarter them. Remove the pips and slice thinly.
Put the cut limes into a bowl and evenly sprinkle them with salt. Proceed to cover the bowl with a cloth and let it sit for a minimum of 6 hours, allowing the marination process to take place. You can leave it overnight if desired, but do not exceed that time.
Tip the lime mixture along with the rest of the ingredients in a preserving pan.
Stir the contents over a medium heat until the sugar has dissolved.
Crank up the heat and let the mixture reach a boil, then reduce to a steady simmer.
Continue to cook uncovered for 45 minutes or until the chutney has thickened. Do give it a stir every now and then to prevent the food from sticking to the bottom of the pan.
Spoon into hot, sterilised jars. Seal and then let it cool down.
Label the jars, then let the chutney mature for at least a month before opening. Enjoy!
Notes
To go easier on the heat for the chutney, deseed the chillies first before adding to the mix.
Prep Time:

15 minutes

Cook Time:

1 hour

Category:

Condiment

Method:

Boil

Cuisine:

Indian
Keywords: lime chutney, best lime chutney recipe, what to eat with lime chutney, lime and chilli chutney, lime and ginger chutney