Find the best prime day deals of 2023 on kitchen items…like our cookbooks! If you want to add one to your collection, now's a great time to shop.
It's Amazon Prime Day! Today and tomorrow, July 11 and 12, 2023, you'll be able to find great sales on kitchen appliances, cookware, and more. In case you're in the market for some new kitchen items, I'm highlighting some of the best Amazon Prime Day deals below.
I also wanted to let you know that you can snag our cookbooks at AMAZING prices right now. If you've been thinking about adding Simple Feel Good Food, Love & Lemons Every Day, or The Love & Lemons Cookbook to your collection, now is the perfect time to do it.
Before shopping, make sure you have a Prime membership to access these low prices (and you can get a 30-trial if you don't already have one!). Keep reading to learn more about our books and other Amazon Prime Day deals!
My 5 Favorite Amazon Prime Day Deals
My latest cookbook Simple Feel Good Food is currently available for $10 off. If you've had your eye on the book but have yet to buy it, now's a great time to add it to your collection! It's filled with recipes that are simple to make with on-hand ingredients (like one-pot soups and sheet pan dinners) and others that are great for making ahead (like sturdy, packable salads and veggie lasagnas). It also has fun features that show off peak-season summer produce, like meal plans that will help you use up all that zucchini and a market haul of sweet corn. I really hope you love it — especially at its lowest price!
A Vitamix blender is another Prime Day find that you don't want to miss out on, especially if you do a lot of plant-based cooking. I use mine every single day to make the creamiest smoothies, sauces, and soups! I specially use the Vitamix A3500 Ascent Series, and you can get it for $150 off right now! It offers 120 volts of power, five program settings, and 10 different speed controls that you can control by the touchscreen or an app on your phone. It's one of the more high-end Vitamixes, so to get it at this price is truly a steal!
If you were hoping the coveted KitchenAid stand mixer would be on sale for Prime Day — you're in luck! The popular KitchenAid Artisan Series 5-Quart Stand Mixer that I own and love is $100 off in the metallic chrome color. If you'd rather snag a colorful one (like my yellow one!), they're $70 off, which is still a great deal. You can use this mixer to make everything from cookies to bread, and if you like, you can even pair it with the nifty KitchenAid attachments to make pasta, ice cream, and more. This is one of the best times to get one for yourself!
I love that my KitchenAid stand mixer is even more useful when you purchase attachments. I've been using the Ice Cream Maker Attachment a lot this summer to make my favorite coconut vegan ice cream and vanilla ice cream. This attachment fits right onto your stand mixer and makes it so easy to whip up sweet treats — just be sure to freeze the bowl ahead of time! Right now, you can get it for $30 off, making it a great time to try making ice cream at home.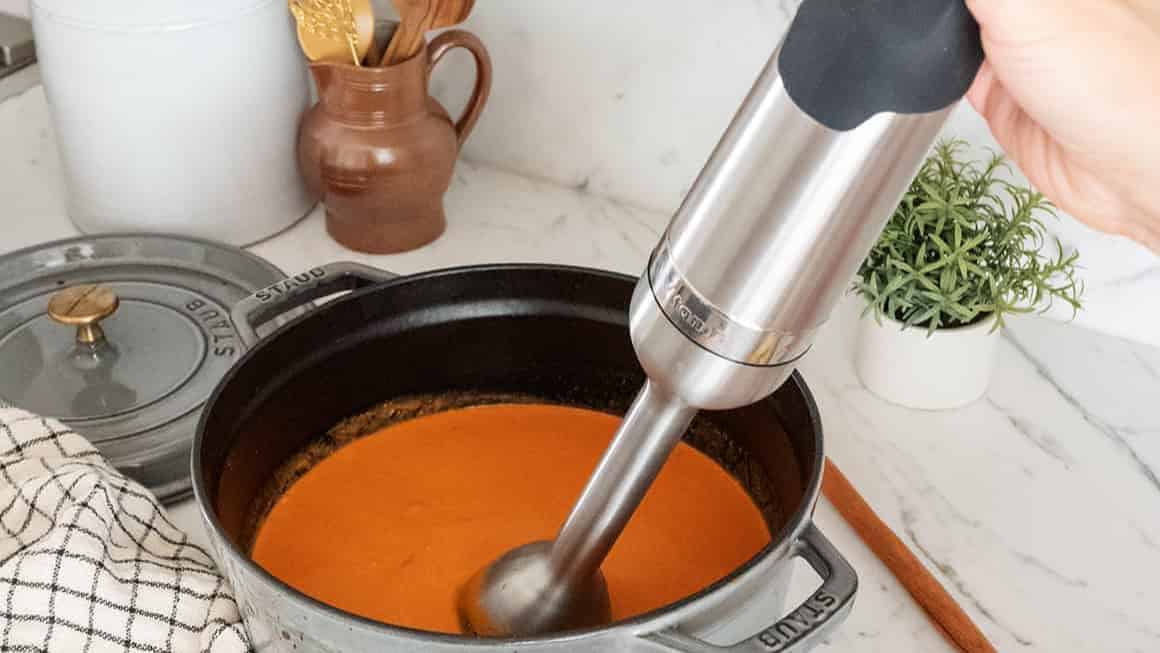 Featuring blender and whisk attachments, this handheld device functions as blender and a whisk and is at a great price right now. I find that the blender attachment is perfect for blending soups right in the pot! I've struggled with other immersion blenders in the past that haven't been powerful enough to get soups really smooth and creamy. This one is super powerful and the whisk attachment would be perfect for whipping cream by hand — without having your hand cramp up!
Other Amazon Prime Day Deals We Love
Prices were accurate at time of publishing.