What's even more refreshing than watermelon? Watermelon popsicles! These healthy, 2-ingredient treats are perfect for hot summer days.
These watermelon popsicles are the perfect treat for a hot summer day. Ice cold, fruity, and refreshing, they'll cool you off and quench your thirst in one go. They're also healthy(!) and super easy to make(!), because this watermelon popsicles recipe calls for two simple ingredients: watermelon and lime juice. That's right! There's no added sugar, no added coloring, no added anything here. Just fresh fruit!
How to Make Watermelon Popsicles
This watermelon popsicle recipe couldn't be easier to make! You'll need two simple ingredients:
Fresh watermelon – I call for 6 cups cubed, from about 1 medium melon. Not sure how to chop it? Check out my guide to how to cut a watermelon!
Lime juice – Its bright flavor adds such a nice kick to these popsicles! Use freshly squeezed lime juice for the best taste. Fresh lemon juice works too.
FAQ: How do I choose a good watermelon?
Look for a melon that's heavy for its size.
Check out the "field spot." This white or yellow spot is where the watermelon made contact with the ground while it was growing. A darker spot indicates a riper melon. Chose a melon whose spot is yellow or cream-colored, not pale white.
Knock on it! A ripe melon will make a hollow sound.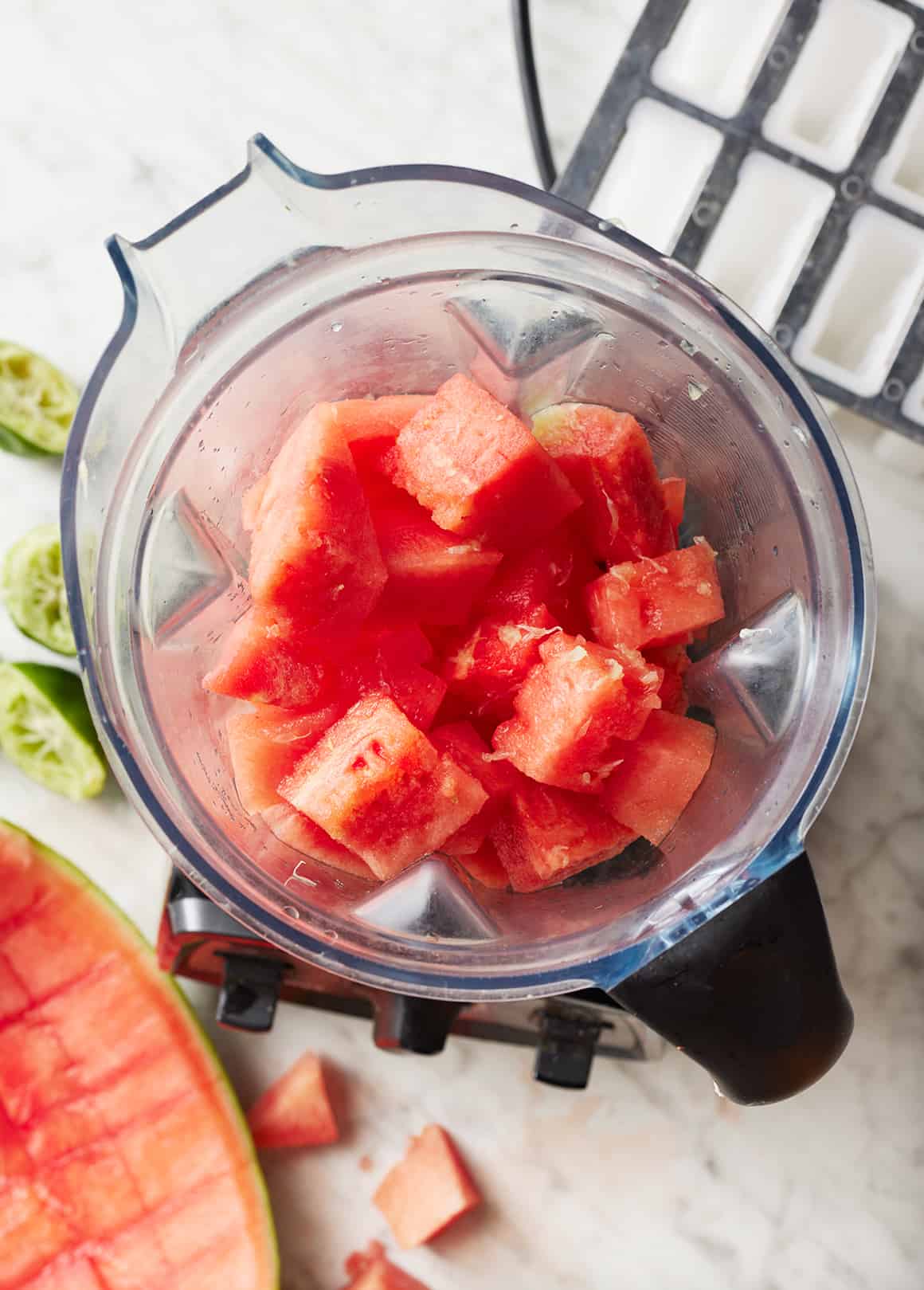 Place the watermelon and lime juice in a blender and blend until completely smooth.
Pour the watermelon mixture into popsicle molds, leaving 1/2 inch of space for expansion at the top. Cover, and add popsicle sticks if they're not built into your molds.
Finally, freeze the popsicles until they're set, 4 hours or overnight.
Yes, it's that easy to make these homemade watermelon popsicles!
Variations
Our family loves this recipe as written, but by all means, feel free to change it up!
Use a combination of fruits. Part watermelon and part strawberries would be great.
Or use a different fruit. I'm trying mango popsicles next!
Add an herb. Fresh basil or mint leaves would make these ice pops even more refreshing.
Make them creamy. Blend some whole milk Greek yogurt or coconut milk into the watermelon puree.
Sweeten them. To make these homemade popsicles extra-sweet, add your desired sweetener, such as honey, maple syrup, or cane sugar, to taste.
Let me know what variations you try!
Best Watermelon Popsicles Tips
Recruit the kids. These easy watermelon popsicles aren't just fun for kids to eat—kids can help make them too! Have them stop and start the blender, or let them add the popsicle sticks to the molds. My son and I love making this recipe together!
Use a seedless watermelon. That way, you can add the watermelon straight to the blender after you chop it. If your watermelon has seeds, do your best to remove them from the melon before pureeing it—they add bitterness to the watermelon mixture.
Leave room for the popsicles to expand. Liquid expands in the freezer, so make sure not to fill your popsicle molds all the way to the top. I leave 1/2 inch at the top of mine to give the watermelon popsicles room to grow.
Eat them within 3 months. If your family is anything like ours, these watermelon popsicles will disappear like lightening. But if you happen to have some hang around, they keep for weeks in the freezer. Aim to polish them off within 3 months for the best flavor.
More Favorite Summer Treats
If you love these watermelon popsicles, try one of these fun summer treats next:
And if you have leftover watermelon, use it to make my watermelon salad, watermelon juice, or watermelon gazpacho!
Watermelon Popsicles
Serves 8
We love to make these 2-ingredient watermelon popsicles all summer long! The perfect treat for a hot day, they're icy, fruity, and refreshing. Vegan and gluten-free.
6

cups

cubed watermelon

2

tablespoons

fresh lime juice
Prevent your screen from going dark
In a blender, place the watermelon and lime juice. Blend until completely smooth, then pour into popsicle molds, leaving ½ inch at the top for expansion.

Cover and add popsicle sticks if necessary. Freeze until set, 4 hours or overnight.
Makes about 8 popsicles, depending on the size of your molds