A pure Turkish delight, this grilled lamb beyti recipe will have you swooning with joy! From the buttery tomato sauce and the rich garlic herb sauce to the sublime smoky lamb skewers, so many flavours come together to create something truly sensational.
So, if you're unfamiliar with Turkish cuisine and you're feeling adventurous, this is the perfect dish for you.
Why you'll love this lamb beyti recipe
The meat is melt-in-your-mouth fantastic
The sauces perfectly complement the flavours of the lamb kofta
Serving it on a large serving plate makes it perfect for sharing with family and friends
Equipment needed to make this recipe
There are a key kitchen item you'll need before you start cooking:
How to make lamb beyti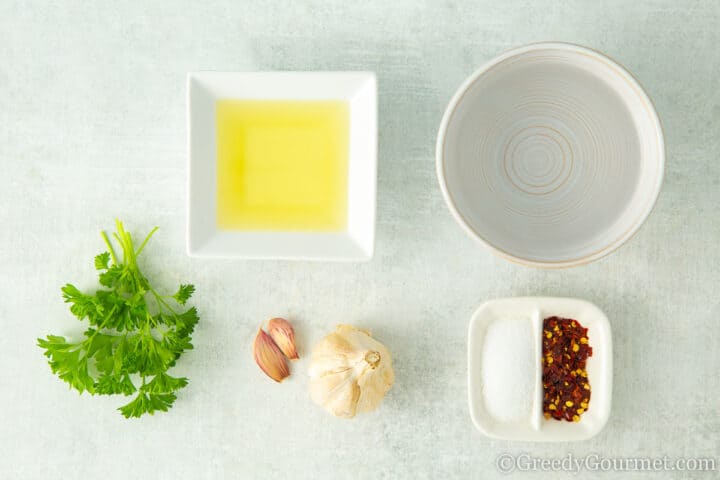 Get the Herby Sauce ingredients ready – oil, water, parsley, garlic, dried chilli flakes and salt.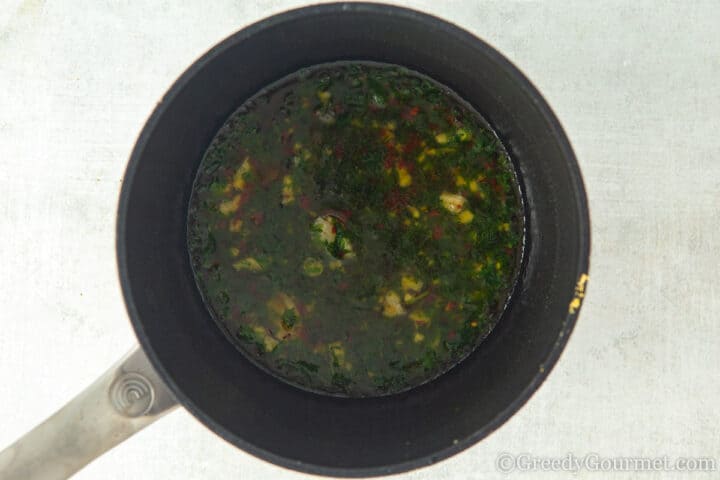 Place everything in a small saucepan and let it bubble away for 2 minutes. Set aside to cool down.
Get the tomato sauce ingredients ready – butter, passata and balsamic vinegar.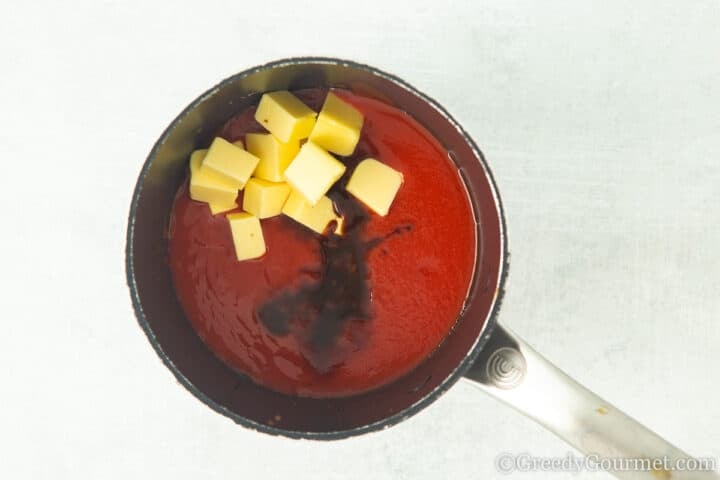 Place everything in a small saucepan and let it bubble away for 10 minutes. Set aside while you prepare the rest of the recipe.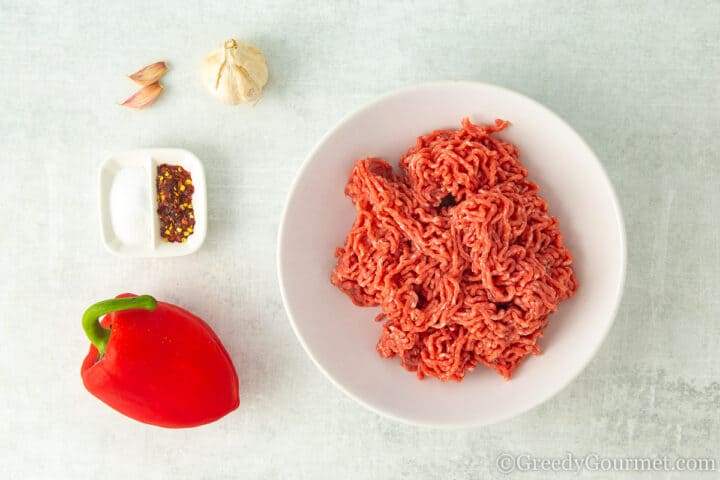 For the lamb kofta you need minced lamb, a red pepper, garlic, salt and dried chilli flakes.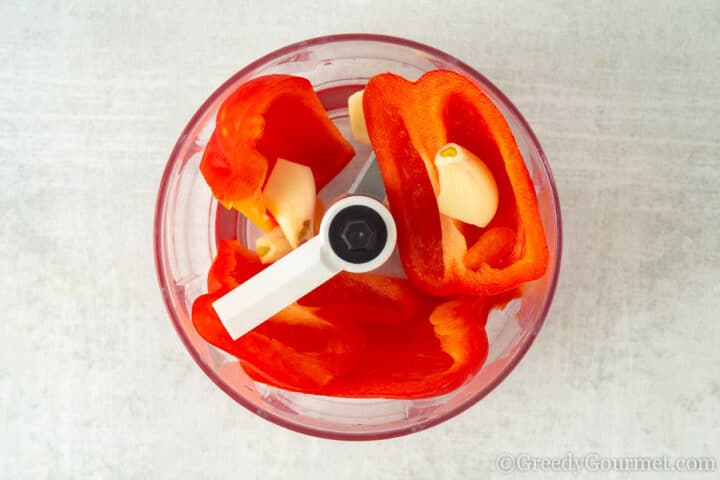 Place the red pepper and garlic in a mini-chopped.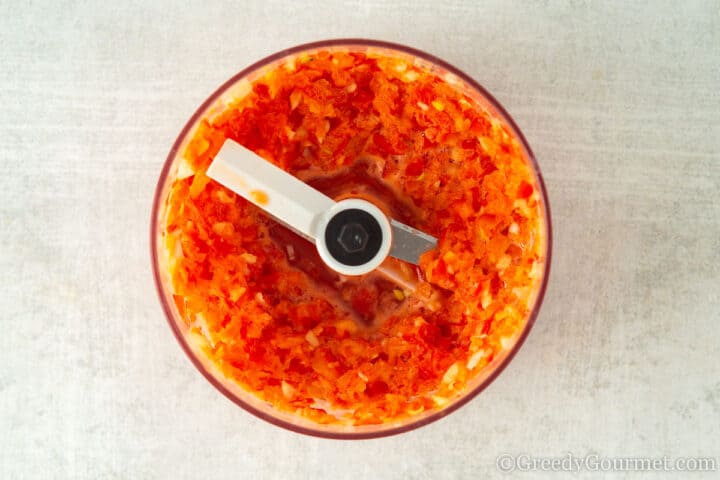 Blitz until finely chopped.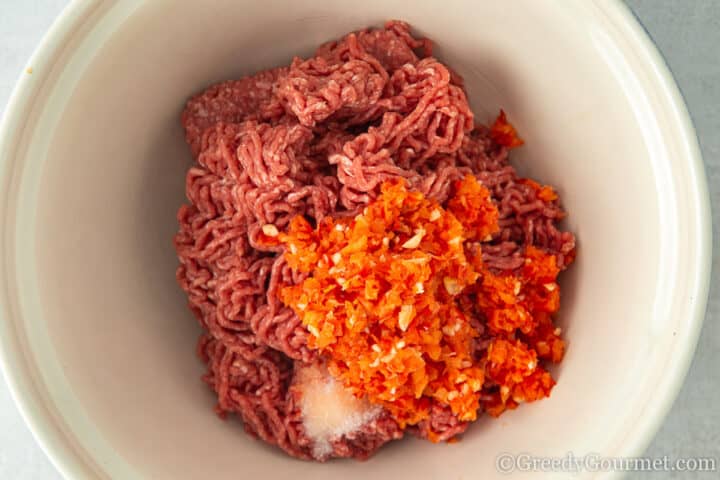 Place the red pepper mixture, along with ground lamb, salt and dried chilli flakes. Mix until everything is well incorporated.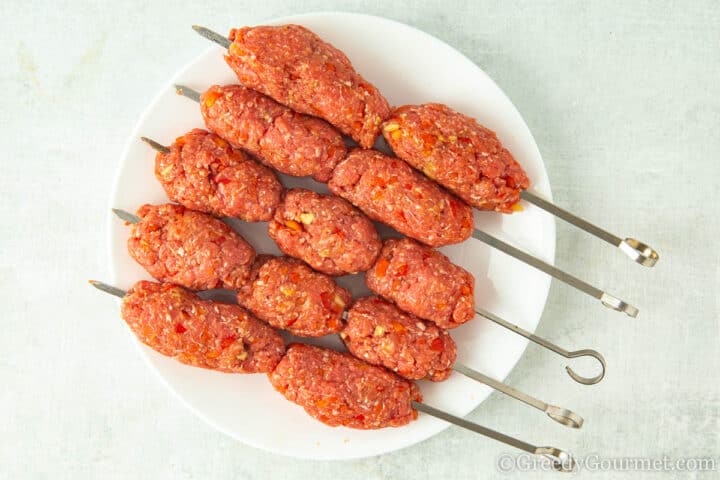 Divide the mixture evenly between four long metal skewers, forming long sausages.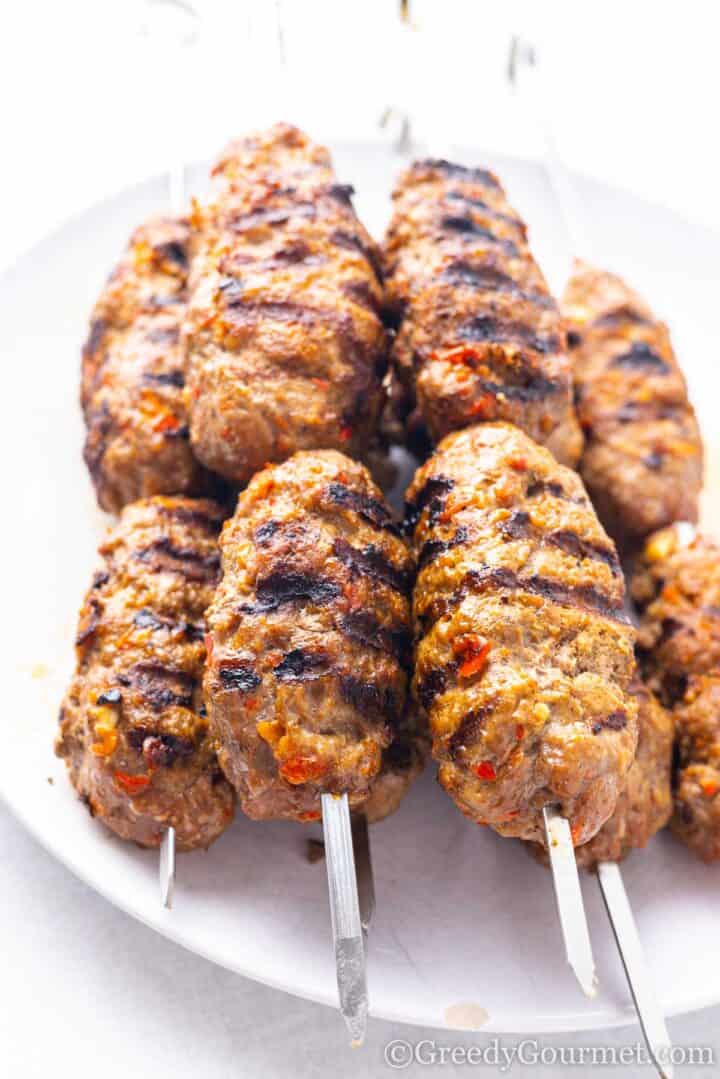 Grill the lamb kofta until fully cooked.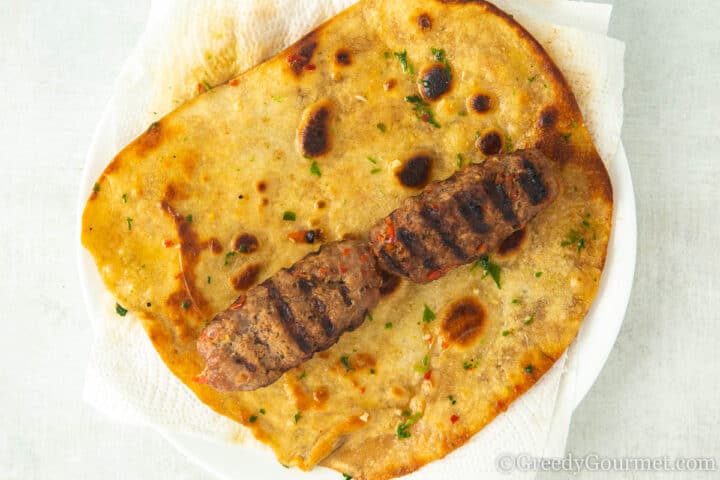 Wrap one lamb kofta in a tortilla wrap, lavash or Turkish flatbread and roll it so that it resembles a sausage roll.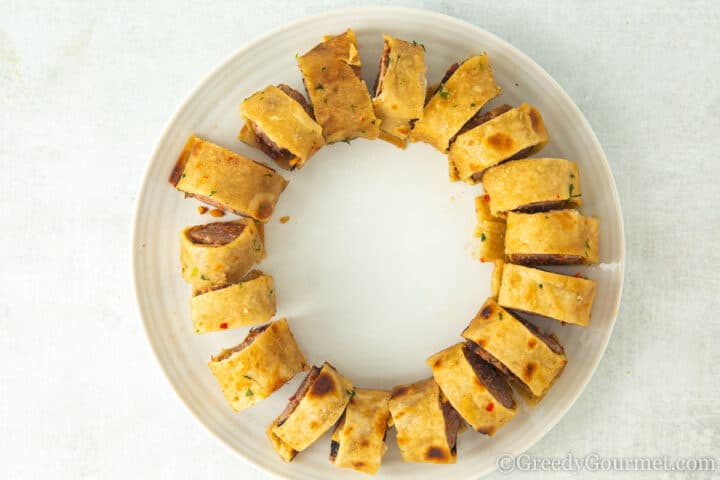 Slice it into even bite-sized pieces and arrange in a circle on a large serving plate.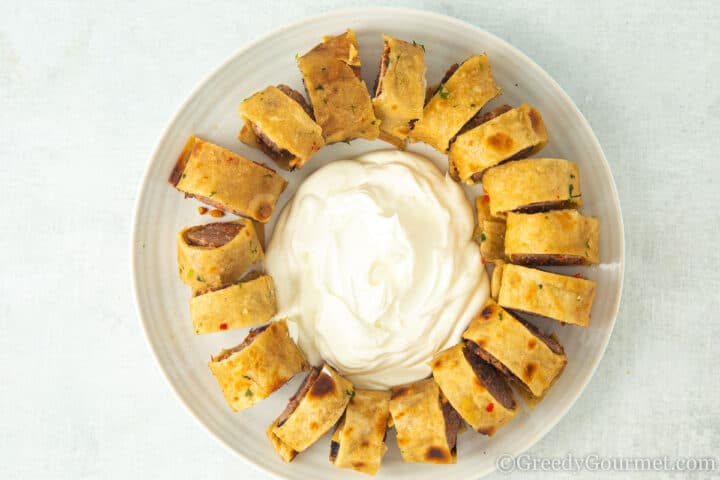 Place yogurt in the center and tomato sauce around the edges. Sprinkle with parsley and serve immediately. Enjoy!
Top Tip
Ingredients count. Buy good quality ground lamb from your local butcher.
What to serve with lamb beyti
Sides
There are lots of different sides you can serve with beyti kebab. Here are some suggestions:
Salad – try my Mediterranean salad for a healthy, light and tasty side dish
Fresh or grilled tomatoes
Crudités
Fried eggplant
Cacik – this classic Turkish yoghurt sauce can be served alongside or in place of the yoghurt sauce in this recipe
Drinks pairing
When it comes to wine pairings for spiced lamb, bright earthy reds are ideal. Go for a Pinot Noir or a Merlot to bring balance to the spicy richness of the dish.
You could also try a delicious iced tea to cool down – my iced Rooibos is perfect!
Popular substitutions for this recipe
Herbs
Turkish food uses a variety of herbs to bring fragrance and flavour to dishes. You can substitute the parsley for thyme or rosemary and even add some mint into the yogurt sauce if you want.
Traditional Turkish bread
This recipe calls for tortilla wraps, although the traditional recipe calls for a type of flatbread known as lavash, which is popular in Middle Eastern countries such as Turkey, Iran and Armenia.
Alternatively, you can use filo pastry, as we did for our Chicken Beyti recipe.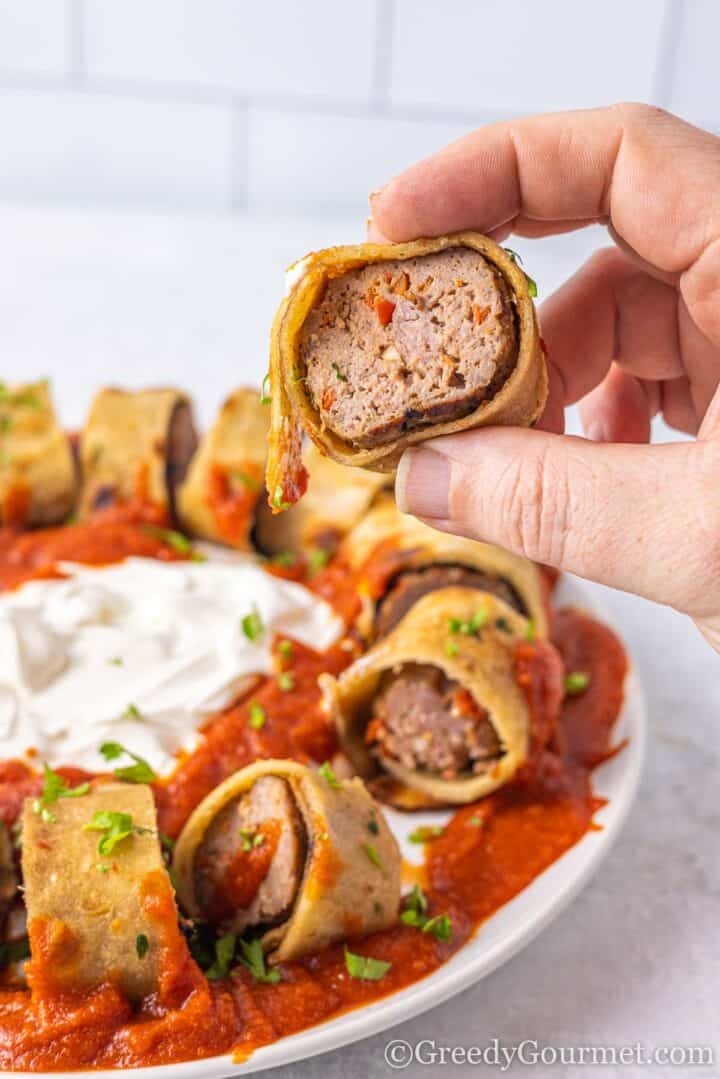 Variations to this recipe
You can use other minced meat. If you're not a fan of lamb, try using minced beef instead. You could even use a mixture of the two.
In Turkey, people often grate a local cheese known as kaşar into the tomato sauce to give it even more flavour.
Sprinkle over some crushed pistachio for a flavourful garnish.
Add more spice to the lamb kofta mix. Traditional spices used in Turkish cuisine include cumin, cinnamon, paprika, cardamom, ginger, turmeric and nutmeg, all of which would be delicious in this recipe. Use subtly… no more than two teaspoons of extra spice in total.
Top Tip
If you're using a cast iron griddle pan, make sure you cook on a very high heat to get that beautiful smoky flavour.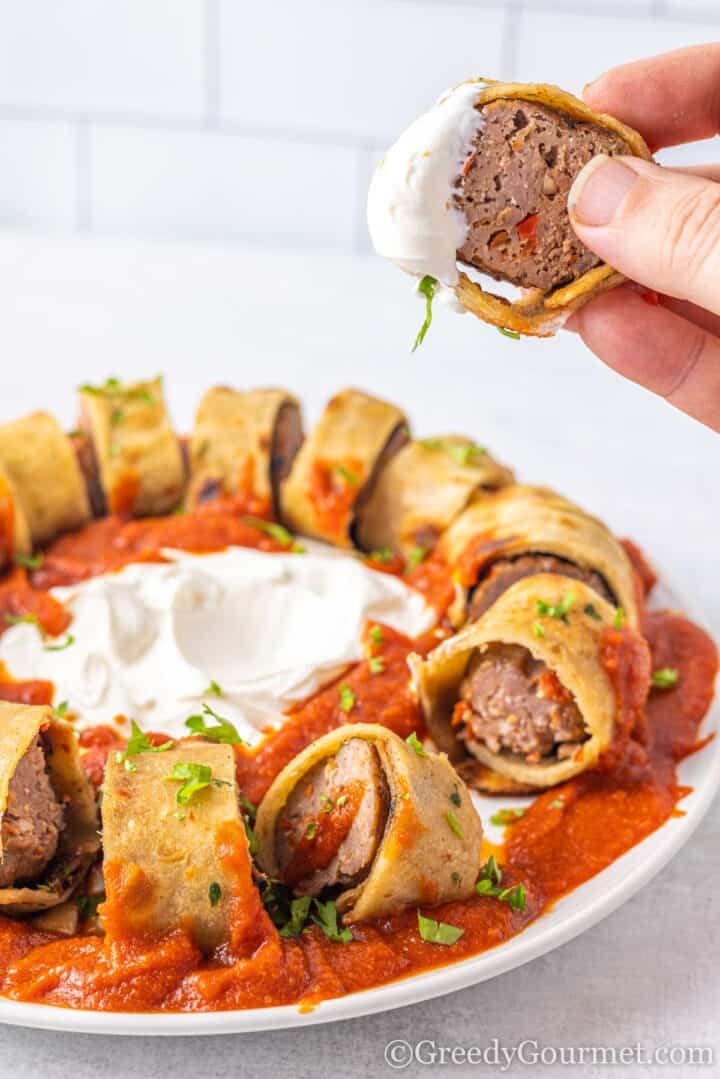 What is a lamb beyti kebab?
A Turkish inspired dish consisting of skewered lamb wrapped in tortilla bread (traditionally lavash bread).
Think of it like a platter of little Turkish sausage rolls, with two types of delicious sauces and a scattering of herbs, all laid out on a platter.
It's messy, it's fun to eat and it tastes absolutely wonderful!
Beyti is pronounced "bey-tee" and translates as thinly sliced.
Where does lamb beyti come from?
This Turkish dish originated in Istanbul. It's named after Turkish chef Beyti Güler, owner of the legendary Beyti restaurant in Istanbul. He was inspired to create his own dish in 1961 after witnessing Swiss butcher Möller's method of preparing meat, when he was visiting Switzerland.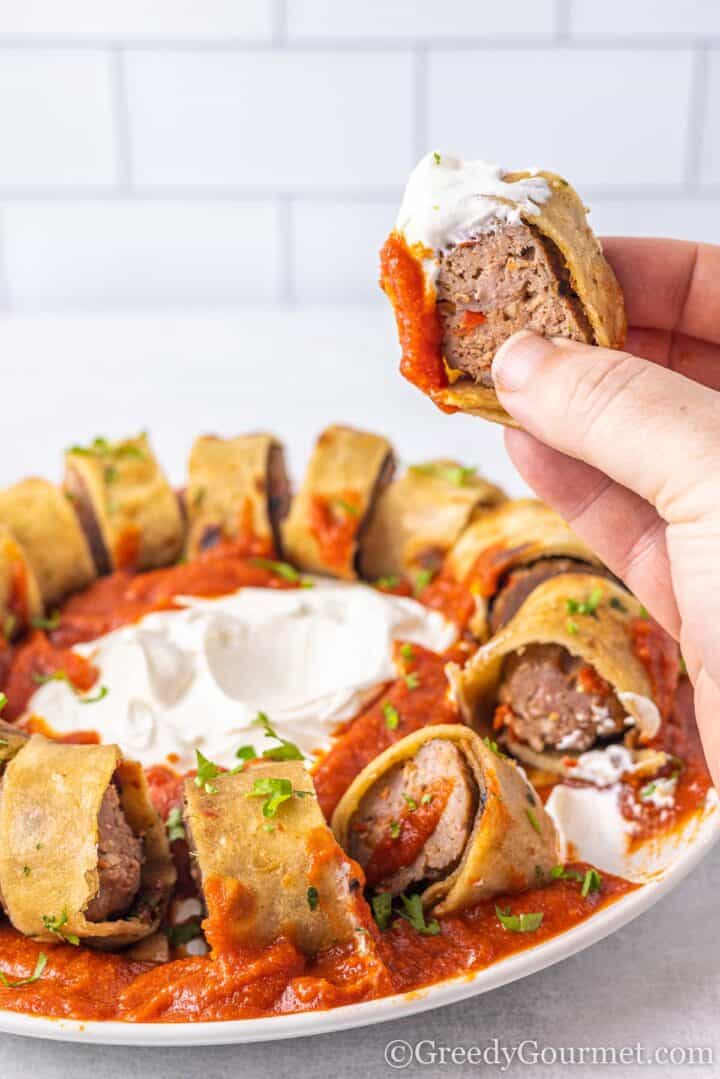 What is Turkish tomato paste?
It's a rich tomato sauce made using fresh tomatoes that are blended, then left to dry in the sun. After a few days, olive oil and red pepper flakes are added for extra flavour.
For this recipe, regular passata is completely fine.
How do you store lamb beyti leftovers?
Store them in an airtight container and keep in the fridge. They will stay fresh for about three days.
What's the best way to cook lamb beyti kebab?
Over a charcoal fire! Of course, using a cast iron frying pan on the hob is just fine.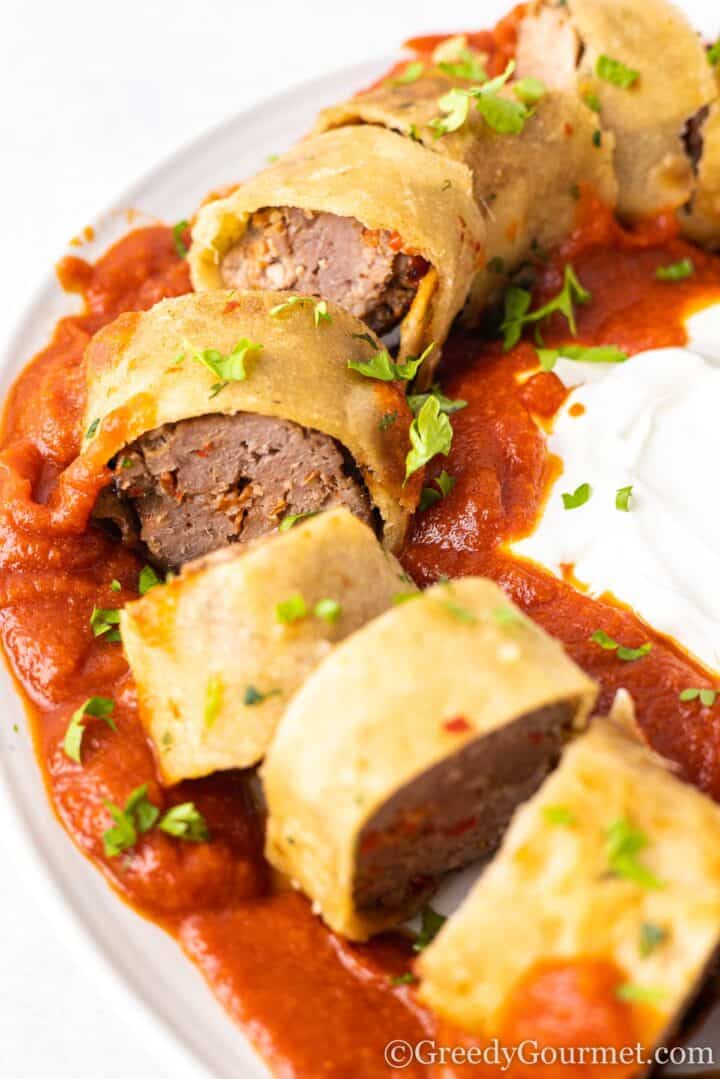 More luscious lamb recipes
Can't get enough delicious lamb recipes? Here's some more inspiration for you: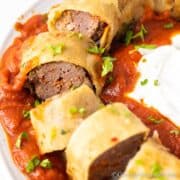 Lamb Beyti
---
Description
It's easy to see why this Lamb Beyti kebab is one of Turkey's most popular dishes. Why not be a little healthier and make it yourself.
---
Tomato Sauce
500g

(

2¼ cups

) passata

98g

(

7 tbsp

) butter

30

ml (2 tbsp) balsamic vinegar
salt and pepper, to taste
Herby Sauce
60

ml (4 tbsp) vegetable oil

4

garlic cloves, crushed

10

parsley sprigs, finely chopped

125

ml (½ cup) water

2g

(

½ tsp

) salt

1g

(

½ tsp

) dried chilli flakes
Lamb Kofta
1

kg (2.2lbs) ground lamb

2

garlic cloves, crushed

1

red pepper, finely chopped

11g

(

2 tsp

) salt

2g

(

1 tsp

) dried chilli flakes
Lamb Beyti
4

tortilla wraps, warmed up

500g

(

1¾ cups

) Greek yogurt
parsley, for garnishing
---
Instructions
For the Tomato Sauce: Place all the ingredients in a saucepan over a medium heat. Once the butter has melted, stir well until everything is well incorporated, then let it slowly simmer and bubble away for 10 minutes or until thickened. Set aside.
For the Herby Sauce: Place everything in a saucepan. Let everything simmer for 2 minutes, give it a stir and set aside to cool down.
For the Lamb Kofta: Mix all the ingredients for the Lamb Kofte in a bowl and knead for 2 minutes. 
Divide the mixture between 8 equal portions.
Prepare the barbecue. Alternatively, heat a cast iron griddle pan on high heat. 
Place a portion of the mixture onto a skewer, slowly pushing and squeezing from the top to the bottom, until an even sausage is formed on the skewer. Repeat the process for the remaining meat and skewers.
Cook the skewers for 8 minutes, flipping frequently. 
Remove from the heat and let the meat cool down enough to handle. 
While the meat is cooling down, brush the lavash or tortilla wraps with the Herby Sauce.
Remove the meat from the skewer and place it in the center of the bread. Roll it, so that it resembles a sausage roll. Cut it into bite-sized pieces. Repeat until all the meat is used up.
Arrange the pieces on a plate in a circle on a large serving platter. 
Fill the center with yogurt and drop dollops of tomato sauce on the outside of the meat circle. Sprinkle with parsley and serve immediately. Enjoy!   
Notes
Unless you make your own, lavash bread isn't readily available in the UK. Preferably, 2 large lavash breads are needed but tortilla wraps will do. Alternatively, you can use filo pastry, as we did in this Chicken Beyti recipe.
Prep Time:

20 minutes

Cook Time:

40 minutes

Category:

Main

Method:

Bake

Cuisine:

Turkish
Keywords: lamb beyti, beyti recipe, beyti kebab, lamb beyti kebab, kebab beyti, lamb beyti wrap