Join the Love & Lemons Cooking Club Challenge this month! It's easy to enter, and one lucky winner will receive a prize. Find all the details below.
Our Cooking Club is a fun way to celebrate the Love & Lemons community of readers. The concept is super simple—each month, I choose a recipe. You make it, and you email me a photo. At the end of the month, I randomly select one winner to receive a prize.
I love the sense of community that comes from so many people cooking one recipe each month. We're kicking off our June challenge today with our new chickpea salad recipe, and I hope you'll join in the fun. Here's how it works:
Join the Love & Lemons Cooking Club
Each month, I choose one seasonal recipe. Sign up for our email list so you'll know as soon as I share each month's recipe.
Make that recipe during the month.
Send a picture of it to LoveAndLemonsCookingClub@gmail.com by the end of the month. This time, the deadline is June 30! 
For a bonus entry, leave a comment (include your first and last name) on the challenge recipe's blog post after you submit your photo.
For another bonus entry, post your photo on Instagram, tagging @loveandlemons and #loveandlemonscookingclub.
The Prize: A $200 Whole Foods Gift Card!
At the end of the month, I'll randomly select a winner and post all of the photos. This time, we're giving away a $200 Whole Foods Gift Card.
This NEW chickpea salad recipe is zingy, bright, and refreshing, packed with colorful veggies and leafy green herbs. Here are a few (of the many!!) things I love about it:
You can make it ahead. Store it in the fridge for up to 4 days.
It can pass as a side dish or a veggie main. Bring it to a summer cookout, or pack it up for lunch.
It's vegan and gluten-free. No adjustments needed for the Cooking Club!
It has pickled onions in it. Who else is obsessed?!
Comment on the chickpea salad blog post to let me know what you think (and get a bonus giveaway entry!).
Enter the June Challenge
Want to enter? Here's what you need to do:
I'll randomly select a winner and share all your photos in early July.
Last Month's Recipe
Last month's recipe was my pasta primavera, which was a HUGE hit!
Brenda called it her "favorite of all the cooking club recipes so far."
And Susan said it "made our taste buds dance!"
Many of you also shared that you enjoyed this pasta at room temp instead of hot from the stove. It was so fun to hear that you liked it both ways!
Here are all your photos: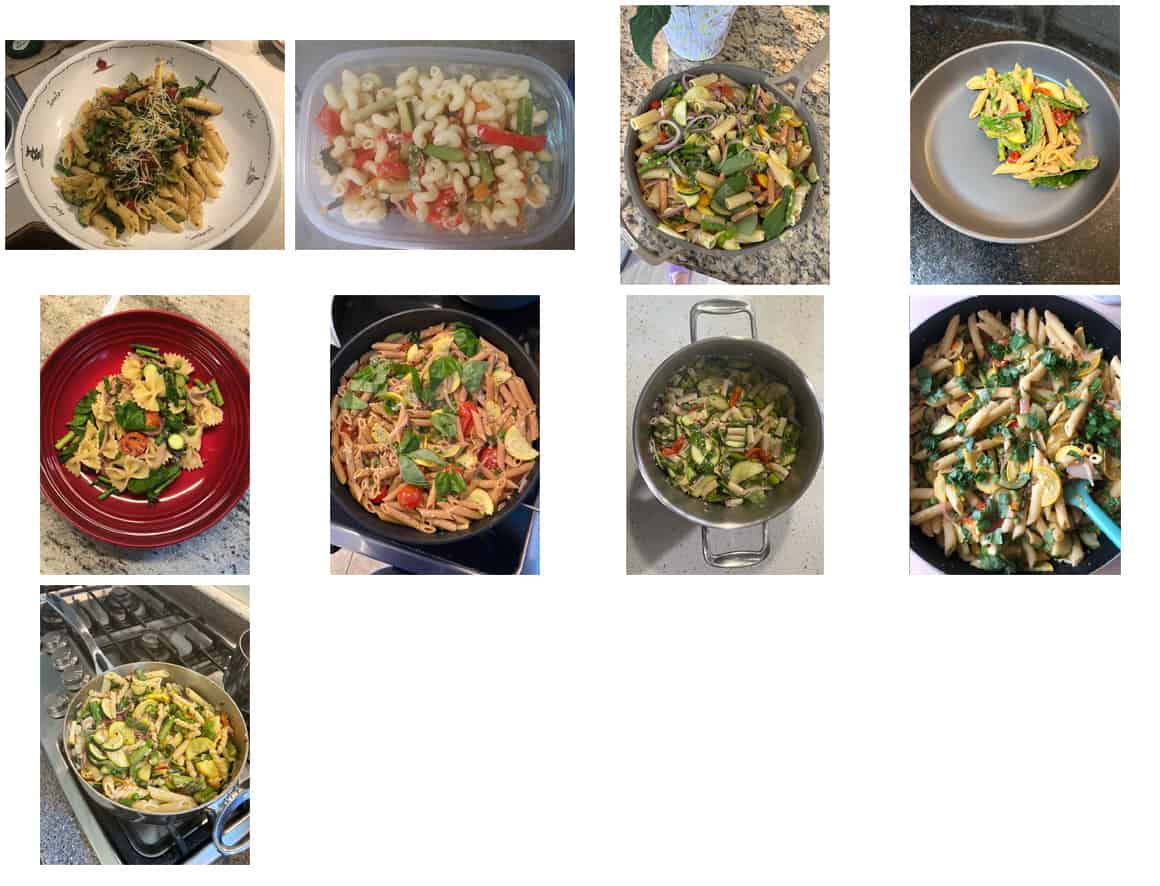 And congrats to our winner, Jessica!
To Recap
Enter the June Cooking Club Challenge by…
Happy cooking!