A big hearty pasta dish with incredible flavours, my blue cheese pasta with spinach, mushrooms and walnuts is the perfect dish for those who are bored of plain old pasta.
The flavours in this recipe are out of this world! Rich and creamy blue cheese meets crunch toasted walnut, fresh peppery spinach and earthy mushrooms… a match made in heaven!
Why you'll love this recipe
If you love blue cheese, this is the perfect pasta recipe for you
The toasted walnuts bring a wonderful crunchy texture
It's extremely easy to make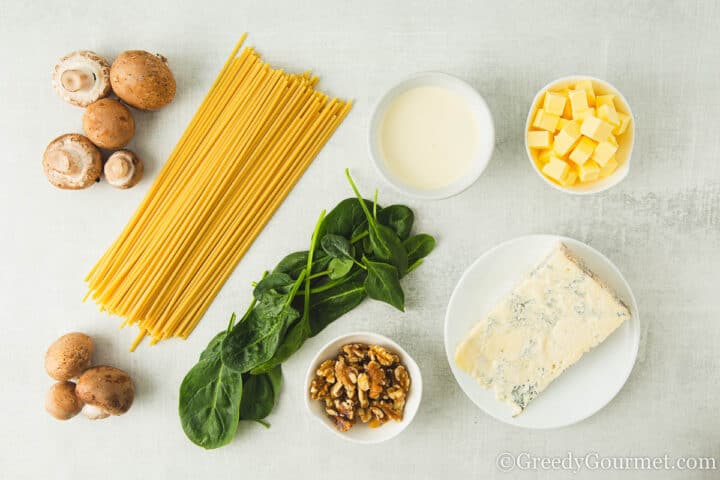 Equipment you'll need to make this recipe
There are some important items you'll need when making this blue cheese pasta recipe:
Large pan – a quality saucepan is needed for this recipe
Pasta tongs – the best way to serve up your creamy blue cheese pasta
How to make blue cheese pasta
What to serve with blue cheese pasta
Sides
Green salad
An ideal pairing with pasta is a light and fresh green salad. There's something about the healthy tasty character of a revitalising salad that works well on the side of a rich and creamy pasta dish.
Try a French bean tomato and pistachio salad, pumpkin and beetroot salad or a rocket salad, all of which would be perfect when served with blue cheese pasta.
Bread
Creamy pasta with a side of crusty bread makes for a big hearty match made in heaven. It's an Italian tradition!
Regular garlic bread, cheesy garlic bread or pesto stuffed bread are all good pairing options. You could also go with my homemade chia bread for a lighter alternative.
Mains
If you want to make this dish part of a filling feast, you can serve it as a side to a main. I recommend going for something meaty, like grilled chicken breast or steak.
Wine pairing
This is a heavy, creamy blue cheese pasta dish and as such needs a wine that can stand up to the fragrant aromas and rich creaminess. I recommend an Italian or German Riesling, or even an Italian Pinot Grigio, all of which would pair perfectly with this blue cheese pasta.
Variations to this recipe
This recipe is perfectly adaptable – you can use many different types of pasta, so feel free to go for your favourite. The likes of penne, tortellini, tagliatelle and fettuccine are ideal.
You can use dried pasta or fresh pasta. To cook pasta that's fresh is a lot quicker – it takes about 5 minutes, whereas dried pasta takes 10-15 minutes.
There are many different types of blue cheese that can be melted to create an incredible blue cheese sauce that goes fantastically well with pasta. I've gone for gorgonzola in this recipe as it is absolutely delicious. However, there are many other types of crumbled blue cheese or creamy blue cheese that can be used to make the sauce, including stilton, roquefort, Danish blue and cambozola. 
Feel free to add any other variety of vegetables to this pasta dish, including sun dried or cherry tomatoes, asparagus, broccoli, broad beans or peas.
You can also add black olives – they complement the flavour of blue cheese pasta sauce perfectly.
You can add a touch of richness to the sauce with a splash of white wine, which you can add to the pan before the cream. Make sure you burn off the alcohol, which should take 30 seconds or so.
Popular substitutions
It might be the case that you don't like walnut pasta or can't get hold of walnuts. In this instance, there are plenty of good alternatives that you can use. Toasted pine nuts are a great alternative to toasted walnuts and go really well with the blue cheese flavour. Other alternatives are cashews, almonds and pistachios.
If you prefer your pasta sauces a little less creamy, you can substitute the butter for olive oil.
Replace double cream with creme fraiche for a less heavy pasta sauce.
This recipe calls for fresh spinach, but you can also use frozen spinach – just make sure you thaw it before you use it or you'll end up with a watery blue cheese pasta sauce.
Mushrooms can be replaced with beans, courgettes, aubergines, onions, shallots or any vegetables of your choice.
Feel free to add fresh herbs to this blue cheese pasta dish, such as fresh parsley, thyme, oregano, basil, sage or something similar.
Add chicken to the pasta if you fancy a meatier dish.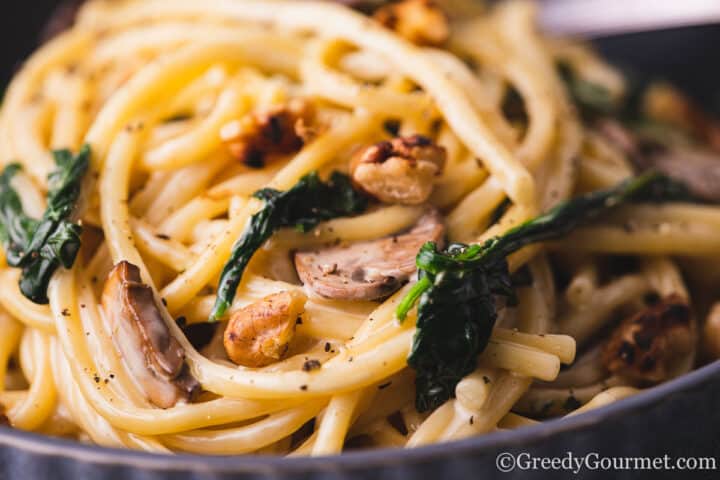 Top Tip
Reserve some pasta water when you drain the pasta. This can be used to thicken the creamy sauce and also help the sauce to stick to the pasta.
What is the best blue cheese for melting?
There are many different types of blue cheeses that you can use for this pasta dish. Here are some suggestions:
Gorgonzola
A strong cheese from northern Italy, gorgonzola is made from unskimmed cow's milk and is one of the oldest types of blue cheese in the world. When it's young, gorgonzola is soft and creamy with a hint of acidity. It becomes more of a crumbled blue cheese with a firm texture as it matures.
Cashel blue
Ireland's best-loved blue cheese, Cashel Blue is a creamy and relatively mild kind of blue cheese that is perfect for melting into a sauce. It's far less pungent and salty than most blue cheeses, which makes it perfect for those who are put off by the overpowering nature of blue cheese.
Danish blue
A semi-soft crumbly cheese, Danish blue has a pungent, mildly bitter, sharp taste. It's most similar to gorgonzola, which makes it a suitable alternative if you can't find the Italian cheese.
Stilton
Another strong pungent blue cheese, stilton is the U.K.'s most popular blue cheese. Stilton has a rich and mellow flavour that is milder than gorgonzola, Danish blue and roquefort.
Roquefort
A French goat's cheese with an extremely pungent, strong taste, roquefort is not for the faint hearted! Of all the popular blue cheeses, it's the one with the strongest taste and smell. If appeals to you, roquefort would be great as the star attraction to this blue cheese pasta recipe.
How do you store blue cheese pasta leftovers?
Keep your blue cheese pasta in an airtight container in the fridge. It will stay fresh for up to three days. I wouldn't recommend freezing blue cheese pasta, as the sauce will lose taste and texture quality.
Can you reheat blue cheese pasta?
Yes. Reheat your blue cheese pasta leftovers in a saucepan on a medium heat until piping hot. Add a little water to the pan to prevent it from sticking.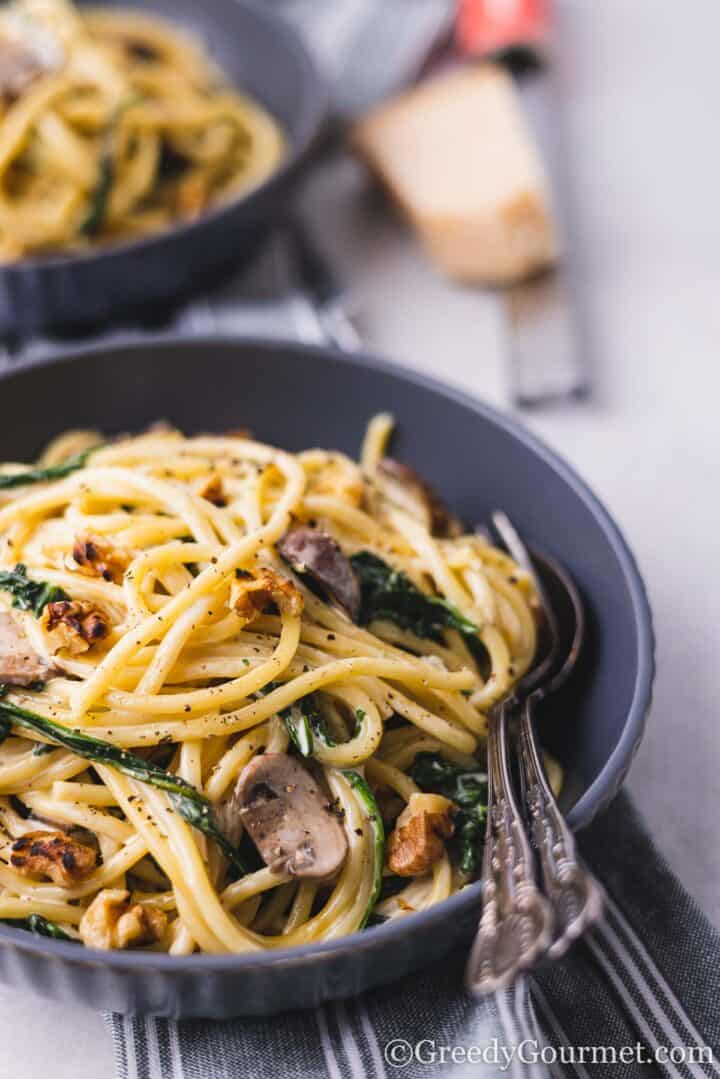 More pasta recipes
If you enjoy making this blue cheese pasta, try another one of these delicious pasta dishes!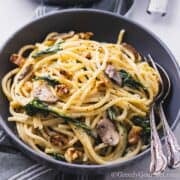 Blue Cheese Pasta with Spinach, Mushrooms and Walnuts
---

Author: Michelle Minnaar

Total Time:

25 minutes


Yield:

6

servings

1

x

Diet:

Vegetarian
Description
Indulge in this flavorful Blue Cheese Pasta with Spinach, Mushrooms, and Walnuts. It's a harmonious blend of rich, earthy, and nutty flavors in every bite!
---
45g

(

6 tbsp

) walnuts

600g

(

21oz

) spaghetti

28g

(

2 tbsp

) butter

250g

(

2½ cups

) mushrooms, sliced

250g

(

8 cups

) spinach, washed

375

ml (1½ cups) double / heavy cream

150g

(

5oz

) Gorgonzola cheese
salt and freshly ground black pepper, to taste
---
Instructions
Toast the pine nuts by adding them to a hot, dry frying pan and stir continuously until golden brown. Set aside.
Cook the pasta according to package instructions. Drain. Set aside.
Meanwhile, melt the butter in a large pan over a medium heat.
Fry the mushrooms until browned, which should take about 3 minutes.
Tip in the spinach and stir around for about 2 minutes or until wilted.
Pour in the cream and let it heat through for 2 minutes.
Break the cheese up in pieces and stir it into the sauce, making sure it melts completely. 
Tip the cooked pasta into the pan and mix until the pasta is completely covered in sauce. 
Season to taste. Sprinkle the walnuts on top and serve immediately with your favourite crusty bread. Enjoy!
Notes
You can use any type of pasta you prefer – penne, tortellini, tagliatelle, fettuccini – you name it!
Feel free to experiment with other types of blue cheese to make the sauce, be it stilton, roquefort, or cambozola. 
If you don't like walnuts or can't get hold of them, pine nuts make an excellent alternative. Don't forget to toast them before cooking starts!
Want to make the meal even more substantial? Serve it with a grilled chicken breast or steak!
Prep Time:

5 minutes

Cook Time:

20 minutes

Category:

Main Course

Method:

Pan Fry

Cuisine:

Italian
Keywords: blue cheese pasta, blue cheese sauce, blue cheese sauce for pasta, pasta with blue cheese and walnuts, blue cheese pasta recipe, stilton pasta, gorgonzola pasta sauce, roquefort pasta, blue cheese spaghetti, chicken gorgonzola pasta, steak gorgonzola pasta
Reader Interactions