When it comes to quick and delicious healthy midweek recipes, this chicken mince stir fry is up there with the best of them!
With fantastic flavours and fresh ingredients that work wonders together, it's a simple recipe that you'll go back to again and again. This is fast food at its finest!
Why you'll love this recipe
A lightning quick recipe, this ground chicken stir fry has a total cook time of around 15 minutes.
Ground chicken makes for an interesting alternative to beef mince.
There are so many interesting flavours in this dish, from soy sauce and honey to fresh ginger and fresh chilli.
It's a very adaptable stir fry – you can easily substitute the fresh vegetables to suit your personal tastes.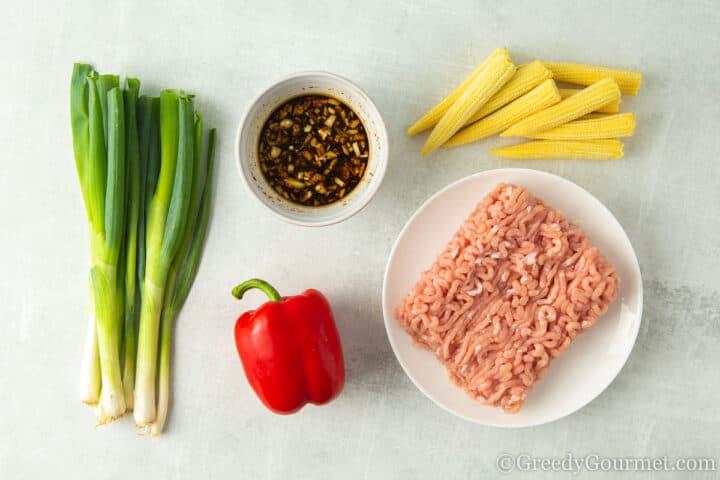 Equipment needed to make this recipe
There are a few key kitchen items you'll need to make this delicious ground chicken stir fry:
Large wok – a wok is the way to go when making a stir fry. The height of the sides of the wok make it ideal for retaining heat within the pan, while the rounded shape of the pan helps to conduct heat. This is ideal for flash flying and getting those wonderful flavours. The bigger the better! Go for a wok that's at least 28cm, although 30cm would be ideal.
Curved spatula – a curved wooden spatula is superb tool for stir fry making. The curved shape helps to get into the corners to keep those fabulous ingredients moving as they quickly cook.
How to make chicken mince stir fry
Top Tips
Make sure you prepare all your ingredients before you start cooking.
What to serve with chicken mince stir fry
Sides
Rice
A bed of plain white rice or brown rice are the perfect accompaniment to your delicious ground chicken stir fry. Go for long grain rice as it holds its shape better and is also less sticky than short grain types of rice. I recommend jasmine rice or basmati rice.
You could also make your own flavoured rice. Check out my healthy egg fried rice recipe, which would go perfectly with this stir fry.
Noodles
There are lots of different types of noodles that are great for stir fries. Here are some of the best:
Egg noodles
Japanese udon noodles
Soba noodles
Rice noodles
Desserts
I love to follow up a stir fry with something zesty and refreshing. Homemade lemon curd or lime curd are both absolutely delicious and can be added to anything.
For summer desserts, things don't get much more refreshing than mango bingsu. Eton mess is another fruity summertime classic.
For a more decadent lemon dessert, try these lemon drizzle cupcakes.
Wine pairing
This ground chicken stir fry dish is a great meal to pair with wine. There are so many rich interesting flavours to play with and, when it comes to picking a good wine to accompany it, there are quite a few that really stand out and bring out the delicious flavours in this dish.
For reds, go for something fruity and juicy. A low-tannin wine is best, as they are more delicate and have a softer mouth feel. This is what you want when pairing wine with big rich flavours like soy sauce and chilli – the kind of ingredients you'll find in Asian stir fries.
I recommend wines like Beaujolais or Pinot Noir.
As for white wines, go for those with a herbal flavour to bring out the freshness of the vegetables in the dish. Riesling white wine is ideal, or a good Sauvignon Blanc – especially one from New Zealand.
Variations to this recipe
This stir fry recipe is very adaptable and there are plenty of variations you can take when making it. Here are a few ideas:
Make this recipe vegan – Leave out the chicken mince and replace it with mushrooms, seitan or tofu for a rich vegan stir fry.
Go gluten free – Use a gluten free soy sauce and make this recipe gluten free.
Popular substitutions for ground chicken stir fry
Feel free to adapt the recipe and substitute the vegetables with your favourite ones. For example, swap in carrots, sugar snap peas, mange tout, mushrooms, broccoli, asparagus, green onions, bell peppers or other vegetables.
You can substitute the chicken mince with meat or fish of your choice. For instance, you can use ground turkey, ground beef, minced lamb, minced pork or white fish, all of which would be delicious and would go with the ingredients in this ground chicken stir fry recipe. You can also use a different cut of meat, such as diced chicken breast.
Soy sauce is key for this recipe. However, if you can't get hold of some you can use oyster sauce instead. Thai fish sauce is also an option, particularly if you're substituting the ground chicken for white fish, for example. Also, I've gone for a dark soy sauce – if you prefer a less intense soy sauce flavour, substitute it for light soy sauce.
I've used vegetable oil for the actual stir frying, but for a more authentic Asian stir fry flavour you can substitute it for sesame oil.
If you're not a fan of coriander, you can instead top your chicken mince stir fry with toasted sesame seeds.
If you can't find rice wine (Chinese cooking wine) you can instead use dry sherry, Japanese mirin or a sweet marsala wine. Mirin and marsala wine are a lot sweeter than rice wine, so if you swap them in leave out the honey.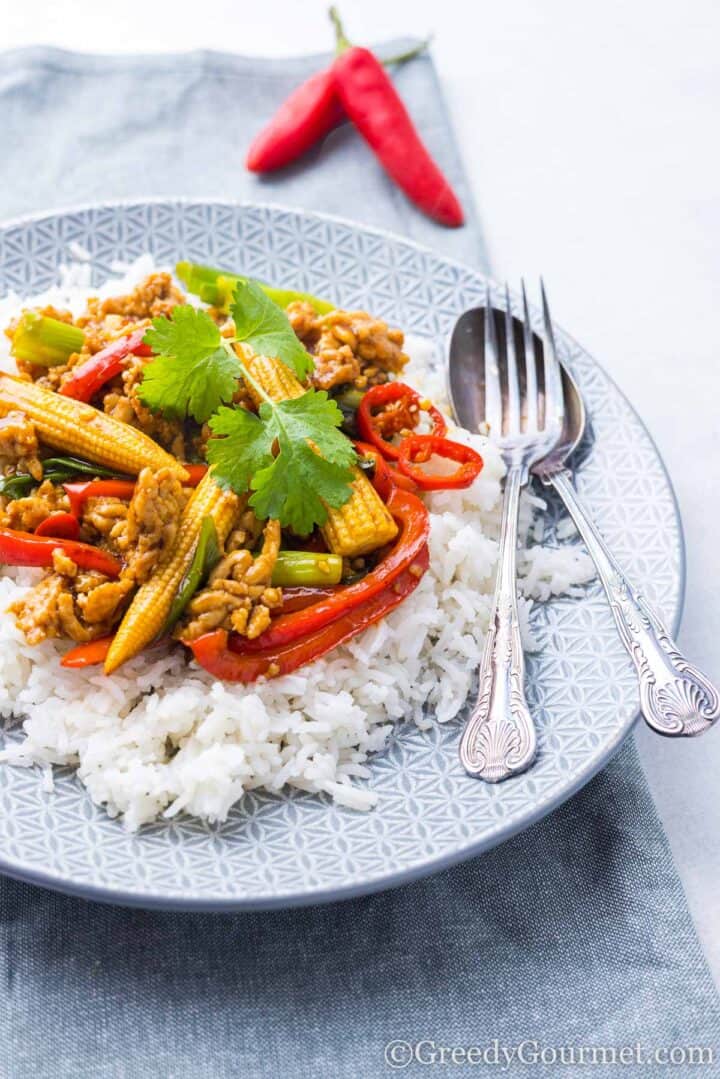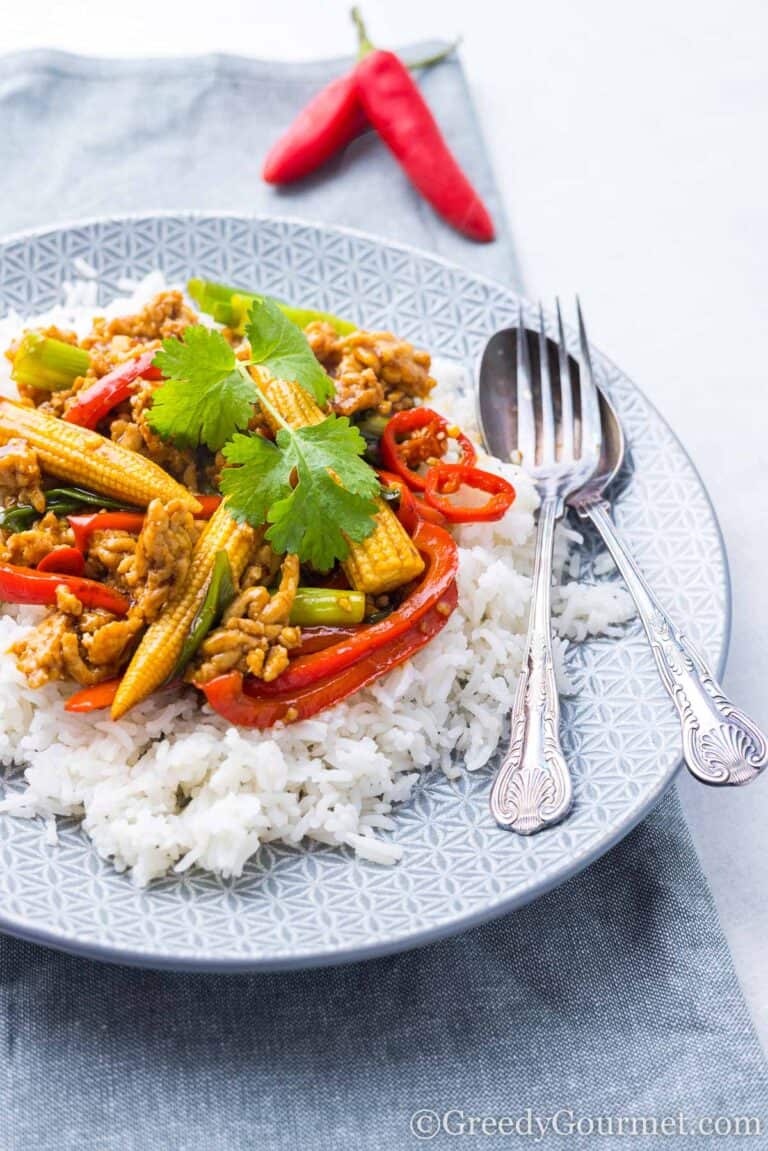 Top Tips
Use a good quality wok – you'll notice the difference.
Get the heat nice and high. High heat stir fry cooking is what produces all those wonderful flavours.
Preparation is key! Assemble all your ingredients before you start cooking. Chop your vegetables and have your sauces ready on the countertop. This way, you can fully focus on what's going on inside the wok, making sure you get your stir fry cooked to perfection.
Also cook proteins and vegetables separately when stir frying. So, with this recipe, you need to cook the chicken mince first and remove it from the pan. Then, cook the vegetables, before returning the chicken to the pan.
Keep moving the food around while it's cooking. Either toss the ingredients in the pan, or use your curved spatula to keep things moving.
Do I need a wok to make a stir fry?
I highly recommend using a quality wok when making this stir fry. Woks have high sides, which keeps the heat in the pan – perfect for cooking high and fast meals and getting some fantastic flavour.
They also conduct heat better than standard frying pans, which means you can reach those high temperatures needed to cook the perfect stir fry.
Should the wok be covered or uncovered when cooking a stir fry?
A wok doesn't need to be covered when cooking a stir fry. This is because you won't the moisture to disperse and evaporate.
What's the best oil for chicken stir fry?
As stir frying involves cooking on a high heat, an oil with a high smoke point is required. Vegetable oil – canola oil or grapeseed oil for example – is ideal.
Do you cook chicken before stir frying?
The minced chicken needs to be stir fried first then removed from the pan, before stir frying vegetables and returning the chicken to the pan.
How do you stir fry chicken without drying it out?
You need to fry the chicken on a high heat, before removing it from the pan and returning it after you've cooked the vegetables. If you leave it in the pan for the entirety of the cooking process, you'll overcook it and it will dry out.
Can I use butter in place of oil in a stir fry?
No. Butter is not suitable to be used in a stir fry. That's because it has a low smoking point and will burn when cooked on a high heat in a stir fry.
What makes a stir fry taste better?
It's all about the sauce! The flavours you'll find in a stir fry sauce will have a big impact on the overall taste of the ground chicken stir fry.
The flavours in sauce of this recipe – chicken stock, dark soy sauce, honey, sesame oil.
How do I store leftovers?
Store your stir fry leftovers in an airtight container and keep the container in the fridge. Your leftovers will be good for a good few days – around three days. If you want to keep them longer than this, you can transfer the container to the freezer.
Frozen stir fry will keep for around four months.
More sensational stir fry recipes
Stir fry recipes are some of my favourite dishes to cook, particularly when pushed for time during a busy week. One of the best things about them is that once you've mastered the basics of stir fry cooking, you can transfer your skills to another recipe.
So, once you've whipped up this ground chicken stir fry recipe, get cracking on the following recipes!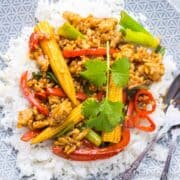 Chicken Mince Stir Fry
---

Author: Michelle Minnaar

Total Time:

30 minutes


Yield:

4

portions

1

x

Diet:

Low Lactose
Description
Chicken Mince Stir Fry is the perfect recipe for a quick and healthy dinner. Fry the ingredients together make a tasty meal. 
---
Stir Fry Sauce
125

ml (½ cup) chicken stock

125

ml (½ cup) dark soy sauce

2.5

cm (1in) fresh ginger, finely chopped

2

garlic cloves, minced

9g

(

1 tbsp

) cornflour

15

ml (1 tbsp) honey

5

ml (1 tsp) sesame seed oil

5

ml (1 tsp) rice wine vinegar
Chicken Stir Fry
30

ml (2 tbsp) vegetable oil

450g

(1lb) chicken mince

1

red pepper, julienned

6

spring onions, chopped

140g

(

5oz

) baby sweetcorn

1

red chilli, deseeded and finely sliced
---
Instructions
Place all the Stir Fry Sauce ingredients and mix well. Set aside.
Heat half of the oil in a large wok and fry the chicken mince until browned all over, which should take about 5 minutes. Place in a bowl and set aside. 
Heat the remaining oil in the wok then stir fry the pepper, onions and sweetcorn over a high heat for about 5 minutes, or until the vegetables are crisp-tender.
Tip the chicken mince back into the wok and pour over the Stir Fry Sauce. 
Give everything a good stir and let the liquid reach a bubbling point while gently stirring. 
Once the sauce has thickened, the stir fry is ready. Serve on a bed of rice and top with coriander. Enjoy!
Notes
Feel free to substitute the vegetables with your favourite ones, e.g. carrot, sugar snap peas, mangetout, mushrooms, broccoli, asparagus, etc.
You can substitute the chicken mince with meat of your choice, whether it be lamb, beef or pork. 
Prep Time:

15 minutes

Cook Time:

15 minutes

Category:

Main Course

Method:

Stir Fry

Cuisine:

Chinese
Keywords: chicken mince stir fry, chicken mince recipe, heck chicken mince recipe, asian chicken mince recipe, healthy thai chicken mince stir fry recipe, ground chicken stir fry