Have you ever wondered what to serve with chicken marsala? Well, wonder no more, because it turns out there are so many incredible accompaniments to this hearty Italian dish. What's more, we've got a whole list of them to get you salivating.
Before we delve into the details of the kind of flavors you should be looking for when trying to make chicken marsala sing, let's find out a little more about this popular chicken dish.
What is chicken marsala?
Chicken Marsala is a traditional Italian-American dish that consists of pan fried chicken cooked in a rich creamy Marsala sauce, with mushrooms and herbs. The chicken is thinly sliced, before being browned in olive oil on a high heat.
It is then removed from the pan and the mushrooms are added, along with the Marsala wine, which reduces, and chicken broth, cream and parsley.
Chicken Marsala is a succulent, rich kind of comfort food that is so satisfying, particularly in the colder months of the year. What's more, as everything is cooked in one pan, it is very easy to make and cleaning up afterwards is a breeze.
Where does chicken marsala come from?
The name 'Marsala' is taken from the wine used in the dish, which comes from 'Marsala', the town in the province of Trapani, in Sicily.
The dish itself is based on typical Italian scaloppina dishes – thinly sliced meat, floured and fried, then cooked in a sauce. It is thought that this kind of cooking may have French origins, inspired by the large French community that settled in Sicily in the 1800s.
Chicken marsala really came to popularity in the United States in the 20th century through Sicilian immigrants.
What is Marsala?
Marsala is a fortified wine from Sicily. It has a nutty, caramel flavor that makes it perfect for flavoring savory dishes. It is also used in baking.
Marsala has notes of dried fruit (think apricot or sultana) as well as walnut, vanilla, honey or even tobacco. It comes either secco, semi secco or dolce (dry, lightly sweet or sweet sweet).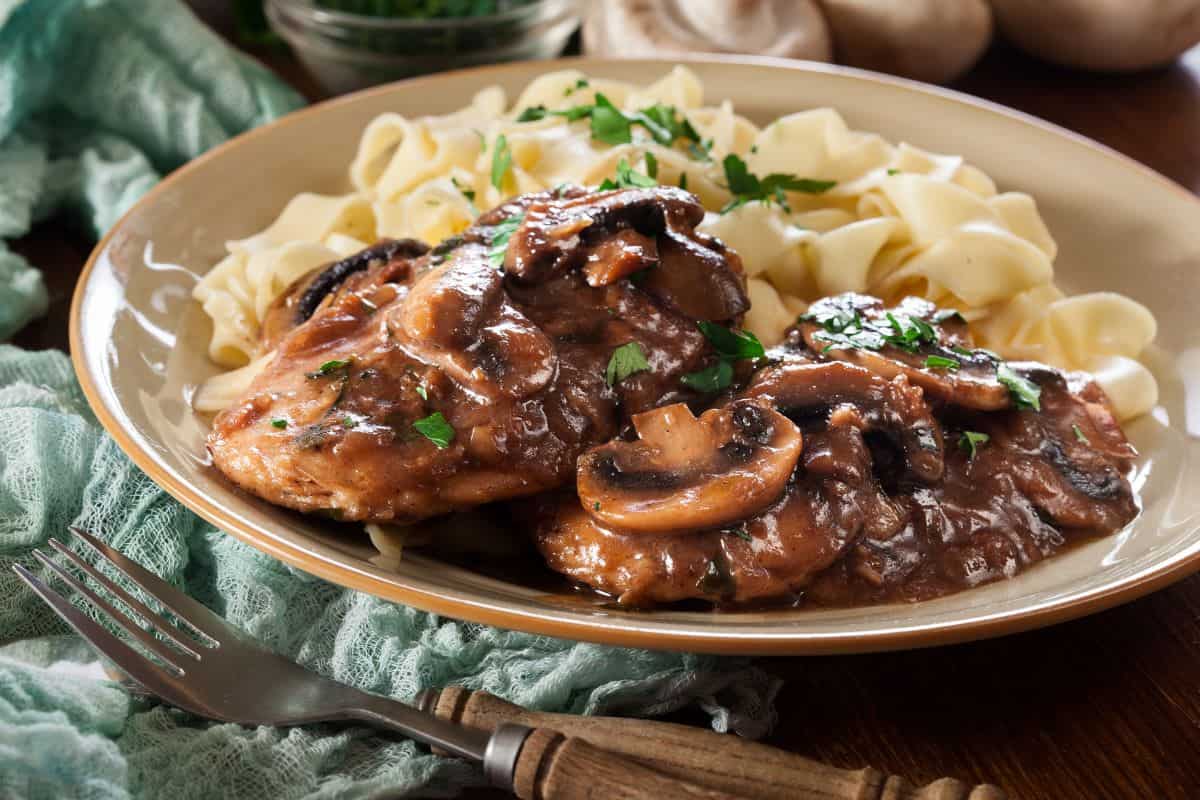 What to serve with Chicken Marsala
Not sure what to serve with Chicken Marsala? Don't worry we've collected 21 incredible accompaniments for you to choose from.
The classic dish to pair with chicken marsala. It doesn't get much better than roasted garlic mash potatoes, which is just perfect for mopping up all the chicken marsala sauce. If you're not nuts about garlic, leave it out and just make a straight up potato mash.
No need to go crazy with the butter, as the richness and creaminess of the marsala sauce will do the trick.
Roasted sweet potatoes have a flavor that works really well with chicken marsala sauce. This dish is a great alternative to standard mash potatoes, as it is healthier and not quite as carb heavy.
Baked sweet potatoes also bring an intense smoky sweet flavor that works wonderfully well with the rich, creamy chicken marsala and tender caramelized chicken.
Bring a bit of French decadence to the plate and pair your chicken marsala with this creamy delicious side. These next-level mashed potatoes are beautifully creamy and have a delicious, deep flavor that would grace just about any plate as the perfect side dish.
Grate over some parmesan cheese for added decadence.
Another absolute knock-off potato recipe, these slow cooked spuds are to die for. With a tenderness and taste that takes the breath away, they would normally be the star of the show.
Pair them with a creamy caramelized chicken marsala and you've got two incredible dishes that work really well in harmony.
A wonderful alternative to mashed potatoes, celery root puree is light and full of flavor. It also makes a terrific counter-balance to the tender chicken and creamy sauce of the chicken marsala.
You can even add your choice of creamy cheese to celery root puree – think mascarpone or mozzarella cheese, which would add to the Italian element of the pairing.
A fresh invigorating salad full of premium fresh ingredients, this dish is an excellent choice to pair with richer main courses. Onions, tomatoes, cucumber, feta, black olives and premium quality olive oil are all excellent to serve with chicken.
It's an easy salad to whip up too and, along with this Mediterranean salad dressing, has a great flavor that you won't forget in a hurry.
A big hearty salad with a lot of flavor, this mung bean salad also works to enhance other dishes, which is why it works great as a side dish as well as a meal in its own right.
It's very adaptable – turn it into a mung bean and broccoli salad, for example – and works really well when paired with rich dishes like this chicken marsala.
A traditional Italian side dish, caprese salad is the stand out 'simple Italian salad' as there are only a few ingredients and each of them works really well together. Tomatoes, mozzarella cheese, basil and olive oil – that's it!
Yet, it's a fantastic combination that works even better on the side of a delicious smoky caramelized chicken dish like this chicken marsala.
The same dish in a different form – caprese skewers take the idea of a caprese salad and turn it on its head – or, rather, put it on a stick.
If you're opting for a more rustic kind of chicken marsala, cooking it on the backyard grill for example, caprese skewers would make for an excellent accompaniment.
Simple green beans work wonders as a side dish for chicken marsala. Add garlic and roast them and you've got something that works even better!
This side dish also works great as part of a triple, with another side dish alongside the chicken marsala. Think roasted green beans with mashed potatoes, serve with chicken marsala, finish with a glass of crips Italian white, and call the rest of the day off!
While it might look as though I just leaned on my keyboard, boereboontjies is in fact one of the most popular side dishes in South Africa. What's more, it's absolutely freaking delicious!
It's a translation of the Afrikaans for 'farmer's beans' and consists of mashed potatoes laced with delicious green beans. It's an incredibly versatile side dish – you'll even find it served up at barbecues in South Africa – and, of course, it's a great option to serve with chicken marsala too.
This big flavored noodle dish is great as a side as well as a main. Noodles are a good fit for chicken marsala, as are mushroom and leek, so it's a good mix all round.
Alternatively, just plain egg noodles would be a great complementary dish. Recipes like almond noodles with fresh vegetables would also make an excellent side dish and are great for those looking for a gluten free option.
A less typical side that actually works really well, bok choi stir fry would be a great choice for those fans of fusion cooking. The freshness and peppery flavor of the bok choi stands up really well to the creamy rich taste of the chicken dish, while the Japanese soy sauce brings extra 'umami' flavor.
A simple healthy side that works with pretty much any kind of rich, saucy meat dish you can think of. It's easy to make, healthy and tastes great!
A classic choice for pairing with hearty Italian meals! You simply can't go wrong with cheesy garlic bread.
Of course, you could just serve chicken marsala with normal garlic bread, omitting the cheese. Or even plain and simple crusty French bread to soak up the incredibly flavorful sauce.
If you want to take your bread to the next level, this could be the option for you. The pesto brings a whole new dimension of flavor and would work really well when paired with chicken marsala.
Sometimes, simplicity is the best way to go. Eating chicken marsala is an experience that is so full of rich flavors, that to pair it with something plain and simple actually make a lot of sense.
Of course, you could also go for the richer option and pair chicken marsala with a risotto, but a low key plain rice dish would probably work even better!
If you're wondering what to serve with chicken marsala in terms of wine, a dry, light-bodied red wine, pinot noir is an excellent wine pairing with rich dishes, particularly dishes with nutty caramel undertones like chicken marsala. It works especially well with earthy flavors, in this case mushrooms, to bring out their qualities.
Malbec is the kind of red wine you want for big rich saucy dishes like chicken marsala. It's full-bodied, rich and fruity – just make sure you've got a subtle side dish to balance things out a little.
If white wine is more your thing, opt for a crisp refreshing Sicilian. Inzolia is a great option, as is Catarrato and Grillo, all of which are used in the production of Marsala wines.
Each of these wines are light, refreshing, fruity and crisp, with nutty undertones. Perfect for pairing with chicken marsala.
Another excellent white wine that pairs with chicken marsala, oak-aged Chardonnay brings out the richness of the sauce, while also offsetting the creaminess of the dish.
More recipes you may enjoy
Reader Interactions