Creamy with a mild flavor and a hard shell, black beans are a favorite choice for many vegetarian dishes. Finding a black bean substitute is relatively easy, considering all the different available beans.
Black turtle beans, commonly referred to simply as black beans, are versatile beans common in Latin American dishes. Whether you're cooking a Hispanic-inspired dish or just looking for an alternative protein to replace black beans, you've come to the right place to find a substitute for black beans. Let's take a look at the best substitutes for black beans.
What is a Black Bean?
Black beans are a popular plant-based protein with a high nutritional value. Black beans are versatile and delicious and are often found in vegetarian burgers, dips, refried beans, rice and peas, chili, burritos, salsa, and other Latin American and Mexican-style cooking.
With hard shells on the outside and a creamy texture on the inside, black beans are sometimes referred to as black turtle beans. Black beans have a high protein and fiber content, making eating black beans a healthy alternative to animal proteins.
You can purchase dried black beans and canned black beans in the grocery store, making them accessible and easy to find. Black beans are also inexpensive, especially when they are purchased dried and in bulk.
Remember that dried beans must be soaked for several hours or, ideally, overnight for the best results during the cooking process.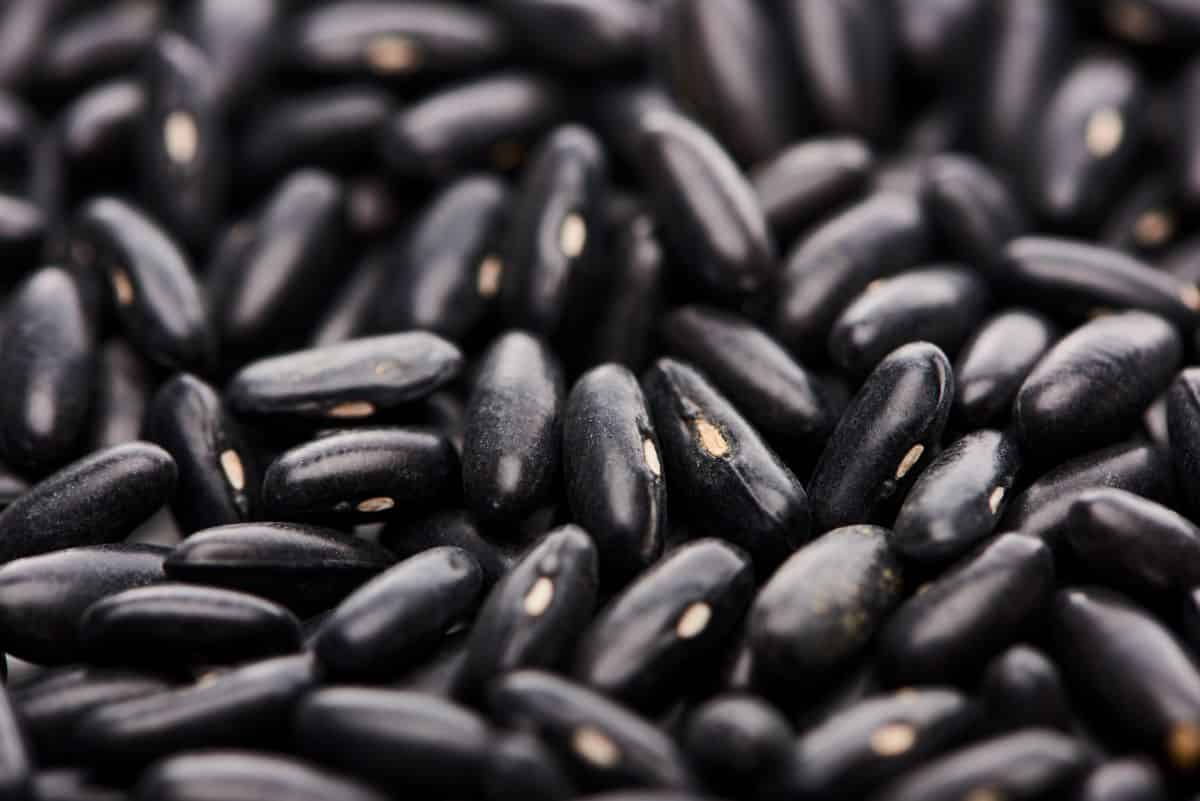 How to Choose the Best Black Bean Substitute
Finding a good substitute for black beans isn't hard, but there are a few things to remember. A similar nutritional value, as well as the smooth texture of the bean, will ensure that it is an ideal substitute for black beans. Depending on the dish, choosing a bean with a dark color will produce the same appearance as black beans.
Most importantly, finding a bean substitute for black beans that has a mild flavor will give your dish the best similar flavor to black beans. Whether making refried beans or chili, choosing a bean to substitute black beans with matching characteristics will give you the best substitute.
What Bean is Closest to Black Beans?
The best bean for replacing black beans are kidney beans due to their similar texture, flavor, and size. Kidney beans got their name from their color and shape, which resembles the kidney.
While kidney beans aren't as dark as black beans, they work interchangeably in most recipes, but remember that your end results will not be exactly the same. Both beans are a great source of low-fat protein and dietary fiber, making kidney beans a fantastic substitute in black bean recipes.
10 Black bean substitutes
Below is a list of the best substitutes for black beans that I've gathered so that you don't have to. While all these options are not identical to black beans, they are the best to replace black beans in a recipe.
So, if you're out of black beans or just want to try an alternative, here is the list of the best black bean substitutes.
Kidney beans are a great choice to replace black beans in many recipes. Rich in calcium, iron, magnesium, and potassium, just like black beans, they are also similar in flavor and texture. While kidney beans are slightly milder and softer than black beans, they are still the best substitute for black beans.
Kidney beans are excellent in salads, stews, and dips, and using them is an ideal ingredient for replacing black beans when making Mexican food, which is a common way to use black beans. In fact, they may be even better in some recipes, such as dips or enchiladas, because of their softer texture that breaks down easier than black beans.
Pinto beans are another good substitute for black beans. Pinto beans are a typical ingredient in Mexican-style cooking, just like black beans. While pinto beans are lighter-colored speckled beans, they have a creamier texture and nuttier flavor. Pinto beans have a richer flavor profile than black beans, but they still make a good replacement.
Pinto beans are nutritious and high in protein and fiber, just like black beans. They have a higher fat content than black beans, so those on a low-fat diet should consider this when finding a substitute for black beans.
Unlike black beans, pinto beans will take a little longer to cook, so keep this in mind when replacing them in a recipe. Enjoy these black beans substitute in salads and casseroles.
Although great northern beans are very different in appearance from black beans, they are still a good option as a substitute. The texture of great northern beans is very similar to black beans, making them ideal in certain dishes where appearance is unimportant.
Like black beans, great northern beans have a mild flavor that works in many recipes with black beans. Great northern beans are an excellent source of protein and fiber and are iron, magnesium, and folate, just like black beans.
The mildness of the great northern bean makes them great for adding to dishes to bulk them up or make them hardier without adding a lot of extra flavors. Try great northern beans in stews or casseroles for a creamy texture with lots of nutritional value.
Navy beans are another option for replacing black beans due to their similar texture and taste. Navy beans are small white beans that are slightly flat and oval and versatile in several dishes that call for black beans, such as soups and stews.
A popular choice for baked beans, navy beans are known as Boston beans or white pea beans and contain lots of fiber. The navy bean is also ideal for people with high cholesterol, as they work to lower cholesterol and have anti-inflammatory properties.
While navy beans are very different in appearance from black beans, they work great in dishes that call for a mix of beans, like bean soup or salads.
Chickpeas are mild flavored and have a similar nutritional profile as black beans, making them one of the best black bean substitutes. While they differ in appearance, chickpeas are round and tan; chickpeas taste fairly mild and are often used in vegetarian and vegan dishes as a protein.
Chickpeas are high in potassium, dietary fiber, and B vitamins, just like black beans. Chickpeas are higher in calories than black beans, so if you're watching your calorie intake, they may not be the best substitution. Because of the versatility of chickpeas, they can be used in dishes ranging from chili to cold salads and even veggie burgers.
Black eyed peas work as a black bean substitute for dishes where a little earthy and nuttiness fits. Not quite as mild as the black bean, black eyes peas get their name from the black spot that is easily spotted on the bean.
Black eyed peas are popular in southern cuisine and considered a lucky food to eat when welcoming in the new year. Also known as Hoppin' John, the dish is usually cooked with pork and collard greens. Black eyed peas are rich in nutrients and common in stews and soups from Africa to the Pacific.
Often mistaken for kidney beans, red beans are smaller and more flavorful. However, they can still be used as a replacement for black beans.
While red beans are used in many instances that kidney beans are used, the most common usage is chili beans, which are red beans cooked in a spicy red chili sauce. They can be used in dishes such as chili con carne and are known for their meaty texture.
Lentils are versatile and healthy in many recipes, making them a great substitute for the black bean. There are several varieties, including black, green/brown, and red lentils, all with different ideal uses.
Lentils are considered a superfood because they are highly nutritious and have been shown to reduce your risk of diabetes, cancer, and heart disease. Black lentils, also known as Beluga lentils, have the highest amount of protein, calcium, and iron.
Lentils are used in many recipes worldwide, from veggie burgers, salads, curries, and stews. Lentils are an ideal substitute for someone who is not a huge lover of beans but wants the nutritional benefits or is a vegetarian.
While soya beans, also known as soybeans, may not be your first thought when replacing black beans, they are a great choice for added nutrition and flavor. Soya beans are meatier in their flavor, but they cook quicker than black beans.
A common ingredient in Chinese cooking is fermented black beans, made from the black soybean. Also known as douchi, fermented black soybeans are used in black bean sauces and tofu dishes in the cuisine. While the name may be misleading, these beans are not made from the black turtle bean.
Lastly, mung beans are a unique option for replacing black beans in a recipe. While the mung bean is slightly sweeter and nuttier than the black bean, it can be a great stand-in if you want to clean your pantry and make a stew or soup.
Mung beans have lots of nutritional value, with a high amount of dietary fiber and protein. While mung beans may not be an ideal substitution in all recipes calling for black beans, they can be used in many of the same recipes lentils are used in.