Looking for a celeriac substitute? Celeriac, or celery root, is an ingredient common in soups, stews, mashes, and baked casseroles but isn't always readily available in your grocery store.
If you are in need of a replacement, there are plenty of options in your produce section that can be bought and used as an alternative.
So, if you find yourself looking for a celeriac substitute, look no further. Read on to see my top replacements for this exciting and versatile starchy vegetable.
What is celeriac?
Celery root is a variety of celery that grows a sizeable knob-like root on the bottom and tender stalks on the top. Celery root is strange-looking, with lots of bumps and grooves on its surface that are peeled away before being cooked or eaten raw.
Although similar in appearance, the celery stalks that grow from celery roots are not the same as the celery you buy in the store, but more like cousins. Celeriac stalks are edible but with a more mild flavor than celery. Despite its strange appearance, celery root is rich in vitamins and minerals and is a choice for a healthy diet.
When eaten raw, celery root is crisp in texture and great diced up in salads or on a crudite platter along with other raw vegetables. Don't forget French remoulade!
What does celeriac taste like?
The celery knob has a mild flavor with a crunchy texture and light earthy flavor with undertones of celery and parsley. When cooked, the celery root has a sweet flavor and delicious taste similar to turnips and goes great with potatoes.
Since celery root has such a mild flavor, it can be used in many dishes where other root vegetables such as potatoes, carrots, turnips, or parsnips are used. Try celery root in your favorite dishes like shepherd's pie or a gratin.
Can you replace celery root with celery?
Yes, but not in the same cooking applications. Since the flavor of both celery root and celery is very similar, using celery instead of celery root would be a good idea only when eaten raw.
Celery's texture is crunchier and contains more water than celery root, so using cooked celery would yield a very different texture and outcome than celery root.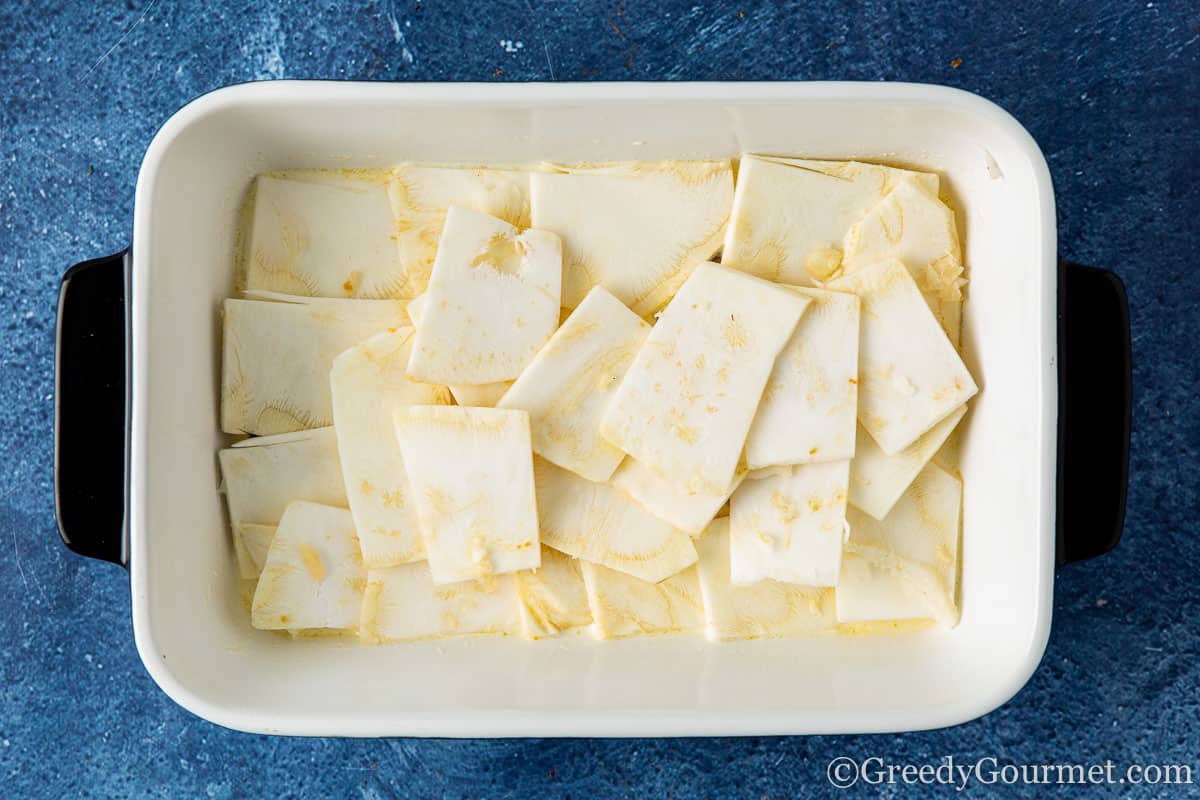 How to choose a celeriac substitute
When choosing a substitute for celeriac, keep in mind that it is a root vegetable. Since there is a wide variety of root vegetables available, it is safe to assume that most will work as a stand-in for celery root.
If color is vital in the dish you are making, avoid a celery root substitute like butternut squash or orange carrots, and stick with another option. You can always go for white carrots, which are usually in your grocer's produce section.
The Best 11 Celeriac Substitutes
Celery root is a versatile root vegetable that may just become your next favorite thing. If you're looking for a substitute, consider the dish you are making and which substitutes for celeriac will work best based on their flavor profile.
Here are some common ingredients that I have compiled that will work as the best celeriac substitutes and how they can be used in recipes.
Parsley root is at the top of my list as the best celery root substitute because it is closest in color and texture to the vegetable. While the flavors are similar, parsley root has a stronger taste than celeriac and, therefore, should be used in moderation when replacing celery root in a recipe.
Parsley root very closely resembles a parsnip visually but is not as creamy when cooked. If you love the flavor of the parsley herb, parsley roots are an excellent option for replacing celery root. Try parsley roots roasted alongside a meat dish like lamb or beef. Parsley root also makes a healthy French fry along with your favorite burger.
Butternut squash is an excellent celery root substitute as long as the color of your dish is not essential. Butternut squash's nutty and sweet taste is an ideal substitute for celery root.
Butternut squash is sweeter than celeriac, so adding some celery seeds or celery salt will help balance the sweetness and make it more versatile in recipes that call for celery root. Reach for this squash to substitute celeriac when making casseroles and baked dishes.
Parsnips are often confused for a carrot and resemble a parsley root, but they are different vegetables. Parsnips have a distinct earthy flavor than the slightly more robust celeriac flavor, with a bit of spice and sweetness.
Like celery root, parsnips have rough outer skin and need to be peeled, as you would also do with a carrot. Prepare parsnips the same way you would your celery root and add some celery seed for a slightly stronger celeriac flavor.
Parsnips are delicious roasted with some olive oil and salt and pepper on them. Add parsnips into a pureed soup along with other vegetables to make a filling and healthy dinner.
Fennel bulb is a great substitute for a dish where you would add raw celery root for some crunch. With its refreshing and sweeter flavor, the white portion of the fennel bulb has a pleasing texture when raw that softens as it is roasted.
Fennel bulb has a slight licorice or anise flavor, so if you are not a fan of that taste, steer clear of using fennel bulb to replace celeriac. If the subtle licorice flavor is your thing, use fennel to replace celery root in salads by pickling it or slicing it thinly.
Although carrots are sweeter than celery root, they still make a good substitute for celery roots, especially in cooked dishes. If a recipe calls for celery root and the color of the final plate isn't crucial, use carrots to accomplish a similar flavor as celery root, especially with some celery seed or celery salt added.
If you can find white carrots, they will be similar in flavor but have the same appearance as celery root, making your dish more aesthetically pleasing. Use carrots to puree into soups or mashes or roasted with other vegetables as a side dish.
Turnips are another great celery root substitute because of their slightly sweet and nutty flavor. Turnips have a subtle flavor and are a little earthy, just like celeriac, with a similar texture that holds up when cooked.
Turnip leaves grow out of the turnip top, not unlike celery stalks. They can be braised like mustard greens for a highly nutritious meal high in vitamin C and vitamin K. They have a peppery taste similar to the turnip itself.
Try steaming turnips for a healthy alternative to potatoes or slicing them thinly and layering them into an au gratin dish.
Rutabaga is the celeriac substitute that most closely resembles the vegetable in appearance. The large bulb of the rutabaga is yellow and similar to the size of a celery root. Although it is identical in looks, the flavor is sweeter and milder than that of celeriac.
Rutabaga can be eaten the same way as celeriac; raw, steamed, roasted, or pureed into a soup. To get closer to the flavor of celery root, try adding some celery seeds or celery salt to the slightly sweet vegetable. It will be nearly indistinguishable from celery root.
Daikon radish makes the list of celery root substitutes for its similar appearance and texture. Daikon radish has a mild peppery taste that some describe as less spicy than a red radish, mainly when eaten raw.
Like celeriac, daikon radish can be eaten raw and cooked, and the flavor profile will differ slightly depending on the method used to prepare it. When cooked, daikon is closer to the flavor of a turnip, another excellent substitute for celeriac.
Daikon radish is delicious, used as noodles in a raw dish or shaved and added to a salad. Roast daikon radish for a mellow flavored vegetable side dish accompanied with herbs and spices.
Celery may seem like an obvious substitute for celery root. Aside from the flavor similarity, the stalks are very different in texture from celeriac. Celery also has a slightly more robust flavor than celery root, meaning that depending on the recipe you are making, celery may not be the best substitute.
Chopped celery is a great addition to salads to replace the crunch of celeriac. If you are using celery to replace celeriac in a recipe, remember that the higher water content will mean you may need a thickener like cornstarch or arrowroot powder to achieve a similar consistency as in a soup.
Potatoes are a good substitute for celery root due to their mild flavor and versatility in recipes. Like celeriac's appearance and texture when raw and cooked, potatoes do not have the same fresh taste as celeriac but can mimic with a sprinkle of celery seeds or parsley leaves to get that celery-like taste.
Potatoes are easy to find in the grocery store and often cheaper than celery root. It is also not uncommon to find potatoes accompanying celeriac in a mashed dish or soups.
Kohlrabi is last but not least on the list of celery root substitutes. Kohlrabi is high in calcium and magnesium, making it a healthy substitute for celeriac. It is similar in texture and appearance to celery root, whether cooked or raw.
Kohlrabi has a flavor similar to cabbage and can be slightly peppery. To closely mimic celery root, add celery seed to roasted kohlrabi or kohlrabi slaw with carrots and apple.