Many people think that the only way to sterilize jars is by using boiling water – but have you heard about using a dishwasher?
Let's take a look at whether it's even possible and, if so, how you go about sanitizing your glass jars in the dishwasher.
Why sterilize jars?
If you're planning on storing preserves in your glass jars, it's important to sterilize them first. This is because sealing glass jars with bacteria in them could spoil your food and be very harmful – storing them for a long period of time could allow the bacteria to grow.
When you sterilize the jars, you kill the germs and prevent harmful bacteria from growing inside your storage jars.
Can you sterilize jars in the dishwasher?
That all depends. Some dishwashers are suitable for sterilizing jars for storing, while others aren't. So, before you start sterilizing your jars, it's important to make sure you have the right kind of dishwasher.
According to the NSF International, temperatures must reach 150 degrees Fahrenheit (66 Celsius) for an extended period of time, plus 160 degrees Fahrenheit (71 Celsius) for 10 seconds.
Most dishwashers run at temperatures of between 130-170 degrees Fahrenheit (54-77 degrees Celsius). So, there are two factors to consider: the temperature of and the length of time of the sterilization process.
To sterilize jars in your dishwasher, make sure its top temperature is 160 degrees Fahrenheit (71 Celsius) or above and that it has a sanitize cycle.
Are there other ways to sterilize jars?
Yes, there are several ways you can sterilize your glass jars for storing preserves. Some are more effective than others, while some are quicker and easier than others.
As well as sterilizing jars in the dishwasher, you can also use boiling water, an Instant Pot, a microwave or an oven.
Top Tips
A few useful bits of information before you begin sterilizing your jars:
Make sure your glasses are clean before you begin sterilizing them.
A dishwasher is a good way to sterilize mason jars, as the rubber ring seals aren't suitable for many other methods.
Don't put anything else in the dishwasher, aside from your jars, lids and rubber rings you want to sterilize.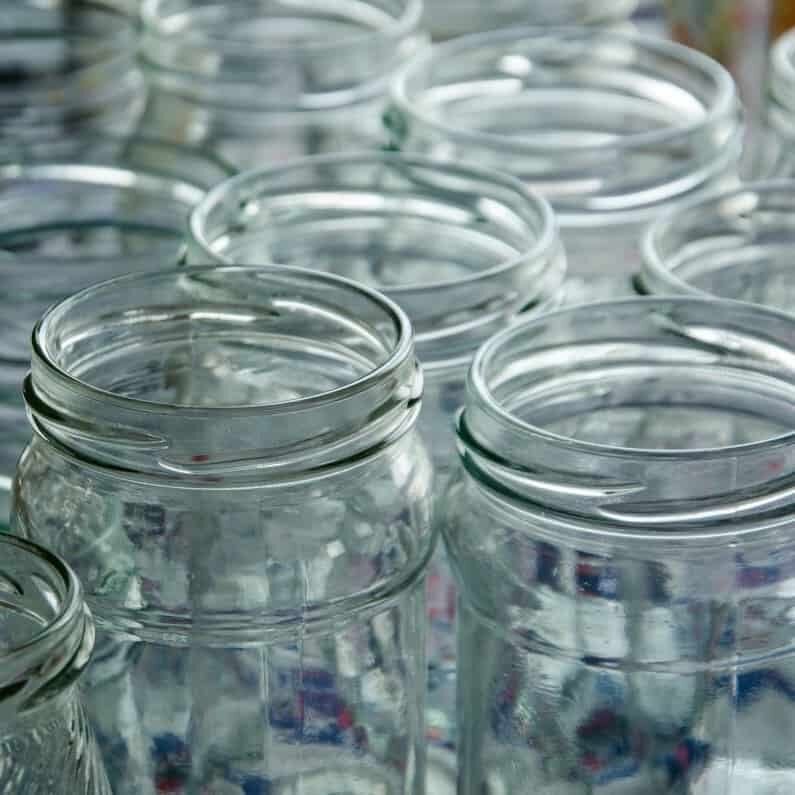 How to sterilize jars in the dishwasher
Yield:
sterilized jars
Prep Time:
5 minutes
Additional Time:
1 hour
Total Time:
1 hour 5 minutes
Difficulty:
Easy
Here's our step-by-step guide on how to sterilize jars in the dishwasher:
Instructions
Make sure your dishwasher has a high temperature setting (at least 160° F / 71°C) and has a sanitize cycle.
Wash your empty jars with soap and hot water. Remove all lids and rubber rings, both of which can also be sterilized separately in the dishwasher. Rinse everything properly, making sure to remove all soapy suds.
Place your jars upside down in the top rack of the dishwasher, along with the lids and rubber rings.
Start the dishwasher and start the dishwasher on its hottest cycle. Add a steam dry cycle. 
Leave your dishwasher door closed until you're ready to fill your jars. Then remove a jar at a time as needed and fill with your warm preservative.
More
Reader Interactions