Once you've made a delicious chutney or similar preserve, you'll want to know how to sterilize jars in boiling water, to properly store your delicious homemade preservative. 
While there are a variety of ways to get the sterilization job done, sterilizing jars in boiling water is a great way to go. It's quick and effective… here's how it's done.
Products you need to sterilize jars
Before you get started with sterilising your jars, there are a few products you'll need: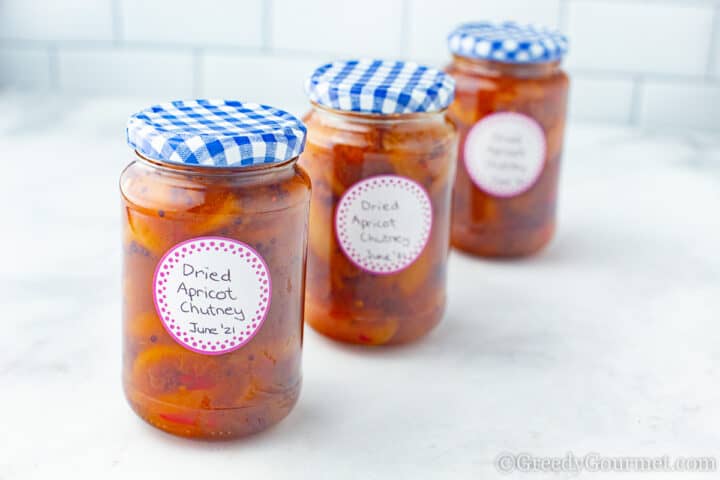 Why do you need to sterilise jars?
When you make any kind of preservative and store it in a jar, it's really important to make sure that there are no microorganisms or any kind of bacteria or nasty bugs inside the jars when you seal them.
If you don't sterilise your jars properly, your preserves won't be preserved, which defeats the whole point! Even worse, you might end up ill due to bacteria in the preserve.
So, it might seem like a bit of a hassle, but it's well worth the extra effort.
What kind of recipes need sterilised jars?
Preservative recipes such as jam and chutney need to be stored in jars that have been sterilised.
How long do jars need to be boiled to be sterilised?
Sterilising jars in a preserving pan is quite a quick process. You'll only need to boil them for around 15 minutes to make sure they're free from any harmful bacteria.
Do I need to sterilise the lids?
Yes. As well as sterilising the glass jars, you'll also need to sterilise the lids. This is an easy process and can be done by boiling them in a separate small saucepan. See below for precise instructions.
How many jars should I sterilise at one time?
As many as you can! Make plenty of your chosen preservative and make sure you have enough jars to fill. The more the better – a good chutney lasts for at least a year and you can always give some away. Homemade chutney, for example, is a fantastic gift for friends and family!
Can I just pour boiling water onto the jars?
No you can't. Pouring boiling water onto the jars doesn't do enough to kill potential germs. The jars need to be immersed in boiling water for a certain period of time in order to effectively sterilise them, ready to be filled with your delicious preserves.
What other ways are there to sterilise jars?
When it comes to sterilising jars, there are a few options:
In the microwave
Using a microwave to sterilise jars is an extremely fast and effective way of sterilising jars. Here's my How to sterilise jars in the microwave guide. 
In the oven
Sterilising jars in the oven is another option. Find out more with my How to sterilise jars in the oven guide.
In the dishwasher
Yes, you can even sterilise jars in the dishwasher! Read all about it in my How to sterilise jars in the dishwasher guide.
Do I need to fill them immediately after sterilizing?
The sooner the better. Fill your sterilised jars within 20 minutes, ideally while they are still warm. The longer you keep them hanging around, the more chance harmful bacteria has to get inside.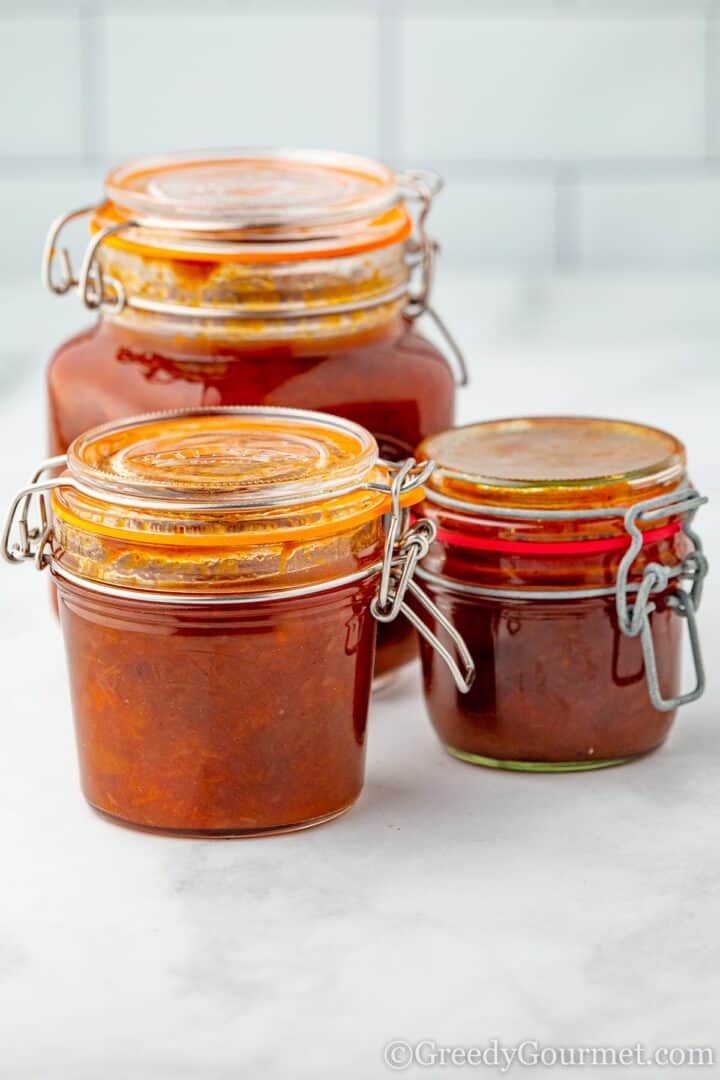 Amazing chutney recipes
Want some inspiration for delicious recipes to fill your jars with? Here are some absolutely divine chutney recipes: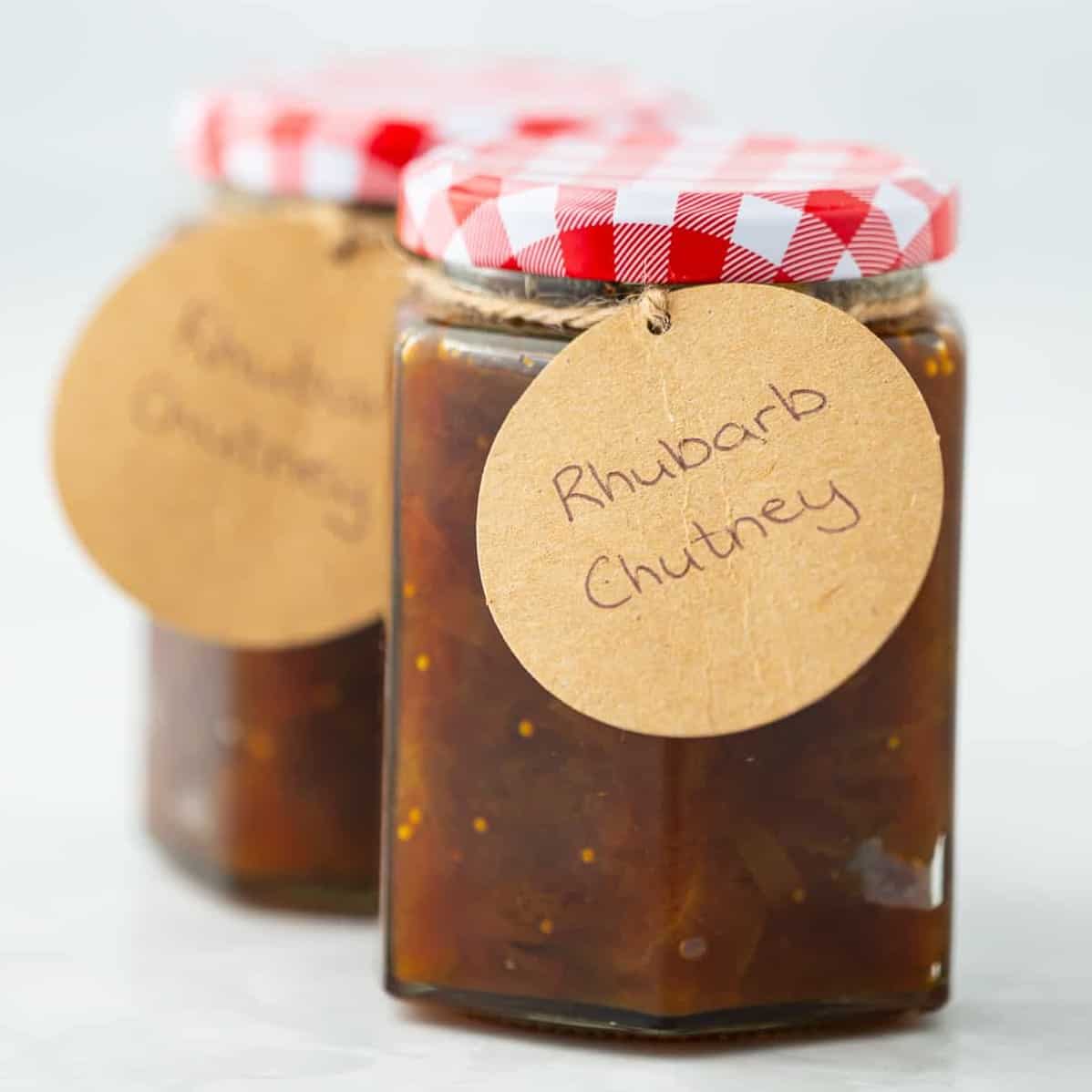 How to Sterilise Jars in Boiling Water
Yield:
sterilised jars
Prep Time:
5 minutes
Active Time:
15 minutes
Total Time:
20 minutes
Difficulty:
Medium
Estimated Cost:
£10
Did you know you can sterilize jars in boiling water? Sterilizing your jars will help keep your food fresh and prevent harmful bacteria from growing.
Tools
Preserving pan
Tongs
Small saucepan
Jars
Instructions
Check your jars for cracks or chips and make sure the lids seal properly.
Wash your jars and lids in hot soapy water. Rinse thoroughly using hot water and leave to dry, upside down, on a clean tea towel.
Place your jars inside a large clean preserving pan. Fill the pan with cold water until the jars are covered.
Bring the pan to the boil and leave on the highest heat for 10 minutes.
After 10 minutes, turn the heat off and cover the preserving pan with a lid, to keep the jars warm. Meanwhile, sterilise the lids in a small separate pan. Fill with a few inches of water and bring to the boil. Boil for 5 minutes, then turn the heat off.
Remove the jars from the pan using tongs. Place them upside down onto a clean tea towel to dry. Remove lids, again using tongs, and place onto a clean tea towel to dry.
More
Reader Interactions