Mozzarella is a delicious cheese with a sweet and creamy flavor. Popular in many cold dishes as well as melted into some of your favorites, mozzarella is a versatile cheese that you'll want to keep in your refrigerator all the time.
If you're looking for a mozzarella substitute, you've come to the right place. Let's learn more about the best mozzarella cheese substitutes.
What is Mozzarella Cheese?
Mozzarella cheese is a southern Italian cheese made by the pasta filata method. Mozzarella is created by stretching the formed curds, giving it elasticity and a semi soft texture.
Mozzarella cheese can be made from cow's milk, buffalo's milk, sheep's milk, or even goat's milk. Traditionally in Italy, mozzarella cheese was made from buffalo milk, known as bufala mozzarella.
What is the Difference Between Fresh Mozzarella and Mozzarella?
Mozzarella cheese is available in two main varieties, fresh and low-moisture mozzarella. Fresh mozzarella is slightly salty and has a creamy texture, and is best when eaten within seven days of being made, as it does not contain any preservatives and will spoil quickly.
Fresh mozzarella sometimes comes in a brine, made of water and salt, which lends flavor the mozzarella and keeps it fresh. There is around 50% moisture in the mozzarella, making it very watery when it is melted.
Low-moisture mozzarella is made when fresh mozzarella is soured and then carefully dried. This results in a hard, salty block of mozzarella cheese that can be grated easily.
The shelf life of low-moisture mozzarella is longer than fresh since it has less water. Low-moisture mozzarella is idea for melting into and browning on top of your favorite recipes.
Where Does Mozzarella Cheese Come From?
Mozzarella cheese originated in southern Italy, outside of Naples, from buffalo milk. Because of the lack of refrigeration at the time, the bufala mozzarella did not travel far outside of the region.
Mozzarella has since been produced all over the world, but is more commonly made with cow's milk. Mozzarella di Bufala Compana AOC is the Protected Designation of Origin, or law protecting the production of the cheese based on specific techniques and guidelines in the European Union.
This AOC protects the mozzarella cheese that comes from four regions in Italy; Campania, Latium, Puglia and Molise.
What Are the Best Non-Dairy Mozzarella Substitutes?
If you are a vegan looking for a mozzarella substitute, you have a couple of options. The mild flavor of mozzarella is simple to replicate with a vegan cheese with a nut base, as well as tofu.
Vegan mozzarella is easy to find in most grocery stores that have a vegan foods section. You can also make your own vegan version of mozzarella by combining soaked raw cashews, lemon juice, apple cider vinegar, water and tapioca starch. These ingredients are cooked over medium heat until they come together in a similar consistency to mozzarella.
Alternatively, tofu can be used as a nut-free mozzarella substitute. Whether by itself, or in a recipe for mozzarella cheese, tofu works as a stand in.
Depending on the mozzarella recipe that you are making, tofu will give you a satisfying creamy texture in dishes that are cold. Tofu will not melt like real mozzarella, so it is not recommended to use it in cooked dishes.
What Italian Cheeses Are Similar to Mozzarella?
The most similar Italian cheese to mozzarella is Bel Paese. A semi soft cheese made from cow's milk, it has a mild and buttery sweet flavor. More difficult to find outside of Italy, this Italian cheese is often used as a mozzarella cheese substitute when available.
Bel Paese has a great meltability and is used in lasagna as well as a pizza topping. Although it is has a mild flavor, there is sometimes a slight tang and great body to this cheese, depending on its age. Like Bel Paese, fontina cheese is also a semi soft Italian cheese with a similar texture .
Another Italian cheese, Burrata, comes in close second as a mozzarella substitute since it is extremely similar in taste as well as texture. Simply described as a mozzarella shell formed around a mixture of cream and delicate cheese curds, burrata is best enjoyed cold over greens with a drizzle of olive oil and balsamic glaze.
What Are the Best Substitutes for Mozzarella in a Salad?
There are several cheeses that work better as mozzarella alternatives in cold recipes like salads. Feta cheese, Cotija cheese, paneer cheese, and halloumi cheese are all good substitutes for mozzarella that will not melt.
Feta cheese can be eaten fresh, like mozzarella, and doesn't require any cooking to bring out the salty and tangy flavor of the cheese. Paneer and halloumi are better seared quickly in a pan before added to a cold salad to bring out the flavors of the cheese.
Cotija cheese is a Mexican cheese that can be easily crumbled and enjoyed in a salad. Similar in flavor to parmesan cheese, Cotija will give the dish more flavor than mozzarella.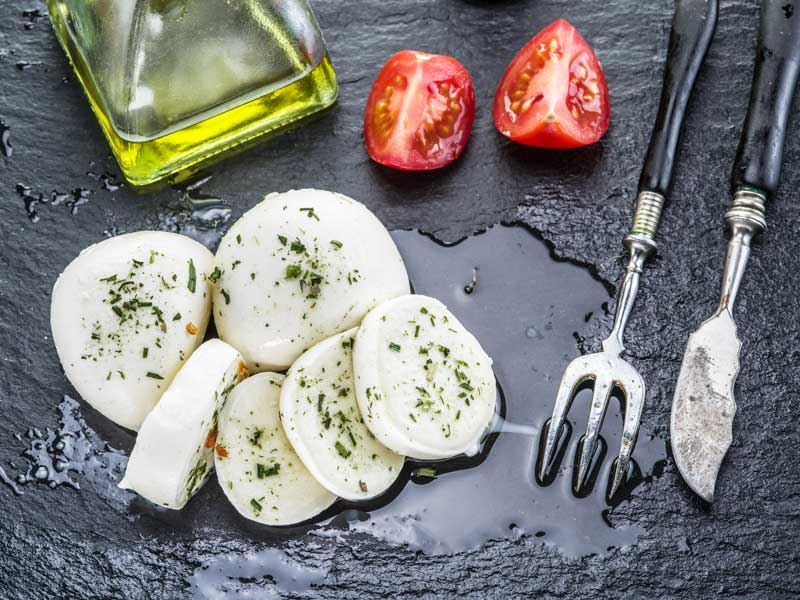 Popular Uses For Mozzarella
Some popular dishes with mozzarella include:
Caprese salad – Mozzarella combined with fresh tomatoes and basil make this classic salad with the colors of the Italian flag. Mozzarella pearls also work on skewers!
Lasagna – Sheets of pasta, tomato sauce, ricotta cheese, and mozzarella are baked together to make a delicious classic
Pizza – Everybody's favorite treat is classically topped with mozzarella, tomato sauce, and endless topping choices
Arancini or rice balls – Day old rice is combined with mozzarella cheese and coated in bread crumbs before being fried for a decadent appetizer
Chicken parmesan – Mozzarella cheese tops this breaded chicken dish along with tomato sauce and fresh basil
My Favorite Mozzarella Recipes
Cheesy Tomato Orzo – Mozzarella adds a gooey melted-cheese finish to this delicious and rich orzo dish with tomatoes, bacon and spinach.
Mozzarella Skewers – This lovely summertime canape combines salty Parma ham, sweet mango, and creamy mozzarella for a one bite delight packed with unique flavor.
The Best 8 Mozzarella Substitutes
It is easy to find a substitute for mozzarella cheese if you consider the dish you are making before selecting an alternative. Some cheeses will be better suited for cooked dishes, while others are better for cold salads.
There are several good options for cheeses that melt as well as mozzarella, while you will want to select a cheese with good flavor and texture for uncooked dishes.
Provolone cheese is an Italian cheese that like mozzarella, is also in the pasta filata family. Unlike mozzarella though, provolone is an aged cheese and ranges from piccante, which is sharp, to dulce, which has a softer sweet flavor.
Provolone is generally a mild cheese with a nutty flavor and great melting properties. Sometimes provolone is smoked, giving it extra layers of flavor and complexity. Provolone is aged for atleast two months before it can be enjoyed, making it an ideal substitute for mozzarella when it is younger.
When using provolone as a substitute for mozzarella, it is ideal in hot dishes like pizza and lasagna.
White cheddar is an ideal stand-in for mozzarella cheese as it has great meltablility, and creates a great "cheese pull". The more aged white cheddar becomes, the sharper in flavor it is and more crumbly it becomes, so using a young white cheddar in dishes where you are substituting mozzarella cheese is best.
White cheddar cheese comes from England, and is hard cheese, naturally white in color. The yellow color in yellow cheddar cheese comes from annatto, a natural food coloring. There is no difference in flavor between the two cheddars and one may be picked over the other strictly for presentation purposes.
White cheddar is a great cheese for dishes like grilled cheese sandwiches and flatbreads. Dishes like chicken parmesan benefit from white cheddar's stronger taste and melting quality when using it as a substitute for mozzarella.
Mild gouda, or young gouda, is a Dutch cheese with a sweet and creamy texture, aged under ten weeks. Unlike aged gouda, young gouda is not a hard cheese, and has a buttery flavor that serves as one of the best mozzarella alternatives.
As gouda ages it becomes crunchy and crumbly in texture and takes on nutty undertones and a caramel sweetness. Mild gouda remains soft, since it is not aged for very long, and can be used in place of mozzarella, unlike its aged version.
Mild gouda is one of the best mozzarella substitutes for melting into dishes like you would mozzarella. Since it is very mild and agreeable, young gouda can be used instead of mozzarella in quiches, hot sandwiches, and pasta dishes.
Ricotta cheese is a soft, fresh cheese with a milky and mild taste that can be used to substitute mozzarella. Ricotta is made as a byproduct of cheese production, using leftover whey and the addition of an acid such as lemon juice or vinegar. The whey and acid is then heated, causing the proteins to clump together, forming curds that are strained.
Ricotta cheese has a creamy consistency, lending itself to pasta fillings and sauces. Ricotta doesn't melt like mozzarella cheese, but can be used in recipes that call for a creamy addition.
As a pizza topping, ricotta substitutes for mozzarella, and gives a little richness to the dish. Ricotta cheese serves as a good topping for chicken parmesan, keeping the chicken moist and complimenting the rich tomato sauce.
Monterey jack cheese is a semi hard cheese from California. Known for its mild flavor, Monterey jack is one of the best substitutes for mozzarella.
Monterey jack sometimes has peppers and spices added to it, making a cheese called pepper jack. I don't recommend using pepper jack as a mozzarella substitute, unless you prefer a spicy flavor or it does not clash with the overall flavor of the dish.
Monterey jack is a fairly versatile cheese with a subtly sweet taste and makes a good melting component in many dishes. Monterey jack's white color gives a similar aesthetic to mozzarella when added to dishes like pizza and lasagna.
Swiss cheese is a style of cheese that comes from Switzerland. Sometimes called alpine style, Swiss cheese has a nutty flavor and is agreeable to most dishes.
Jarlsberg, a swiss cheese, is a popular semi-hard cheese. Jarlsberg cheese makes a good substitute for mozzarella since it melts well and lends subtle flavor to whatever dish it is used in.
Swiss cheese can be used as a mozzarella substitute in hot and cold dishes. Try Swiss cheese cubed in a caprese salad for some extra flavor. Swiss cheese is tasty grated into sauces as a replacement for mozzarella, or as a melted topping on baked dishes, like chicken parmesan.
Edam cheese is a Dutch cheese that is mild when it is young and becomes sharper as it ages. The semi soft cheese's mild and nutty flavor is a good substitute for mozzarella cheese in many recipes.
While edam serves its purpose on a cheeseboard alongside fruits and nuts, it is a well suited addition for cooked dishes that need a melted cheese boost. Although edam may add a bit more flavor to your recipe then mozzarella, if you enjoy the taste it will only be more delicious.
Try edam grated in a cheese sauce over macaroni, or sprinkled over baked pasta dishes. Edam can even be used on pizza to give it a slightly different flavor than a traditional pie.
Oaxaca is a Mexican cheese that is similar in texture and flavor to mozzarella cheese. Oaxaca has a mild flavor like monterey jack cheese, but a stringy texture like mozzarella. Oaxaca is made using the pasta filata method, same as mozzarella.
Oaxaca cheese has a creamy consistency that is very similar to mozzarella, and works well in any dish that calls for a melted cheese, such as quesadillas or enchiladas. This Mexican cheese is versatile and delicious.
Try Oaxaca Mexican cheese as an alternative to mozzarella in Italian dishes as well as Mexican dishes for a delicate flavor with lots of meltability.
More
Reader Interactions